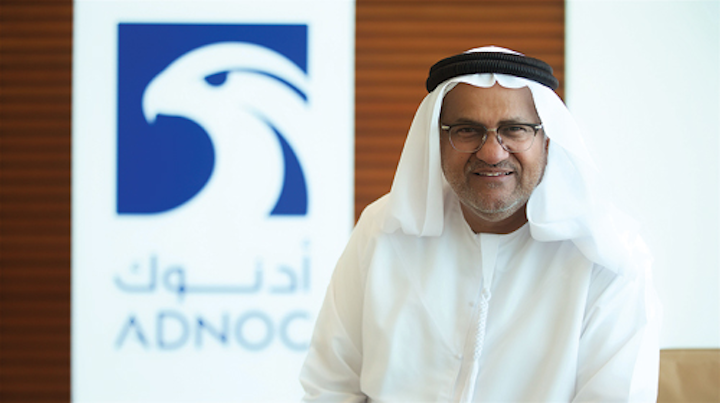 Incremental projects, licensing key to extending production
Jeremy Beckman
Editor, Europe
Abu Dhabi's national oil company ADNOC has launched a series of initiatives over the past year, as it seeks new ways of maximizing development of the country's proven and undiscovered hydrocarbon resources. These include overhauling Abu Dhabi's major offshore production concessions by appointing new consortia to run them, and for the first time introducing a license round for some of the country's under-explored blocks. Offshore spoke to Abdul Munim Al Kindy, Director, ADNOC Upstream Directorate about the reasons behind these decisions, and how they will influence the emirate's long-term oil and gas future.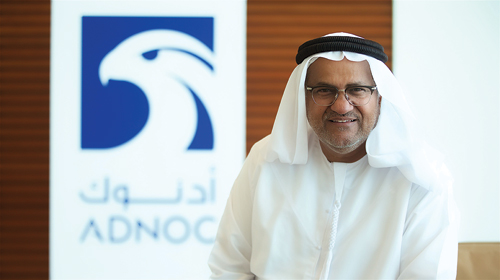 Abdul Munim Al Kindy. (All images courtesy ADNOC)
Offshore:What is the thinking behind ADNOC's '2030 smart growth strategy' and what does it mean for oil and gas exploration and production in Abu Dhabi?
Al Kindy: ADNOC's 2030 strategy is aimed at unlocking, creating and maximizing value and ensuring growth in our upstream, and downstream businesses, while strengthening market access. It will ensure a more profitable upstream, a more valuable downstream and a more sustainable and economic gas supply. For ADNOC's upstream business, a key area to bring our strategy to life is to maximize recovery from our mature reservoirs, while seeking ways to cost effectively unlock the potential of untapped resources and leverage technology economies of scale to keep the operating cost per barrel at the most competitive level.
In gas, we are focused on making targeted developments that will deliver a sustainable and economic supply of gas to help meet Abu Dhabi's growing demand. To achieve this we are, for example, exploring and appraising tight reservoirs, developing Abu Dhabi's giant offshore Umm Shaif gas cap and maintaining a focus on sour gas production, including the development of offshore the Hail, Ghasha and Dalma project.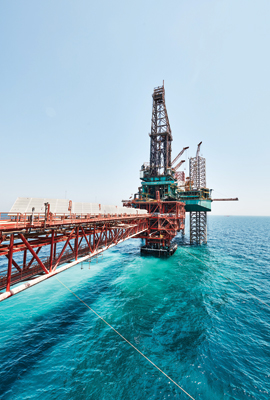 Nasr field
Offshore: Is ADNOC targeting defined certain levels of production from existing fields and new projects by certain dates? Or is the main aim to make sure all current and future commercial discoveries go forward to development to their maximum potential?
Al Kindy: We are on track to expand oil production capacity to 3.5 MMb/d by the end of 2018, while remaining in compliance with OPEC production mandates, and to ensure a sustainable and economic gas supply by 2030. Addressing the need to sustain and grow oil production capacity, we are, for example, making significant investments to reenergize the maturing Bab field, one of our largest onshore producing assets. When finished, production capacity from this maturing field will be increased from 420,000 b/d to 450,000 b/d of oil by 2020.
At the same time we are working with our partners to increase production capacity from the Upper Zakum oil field, the second largest offshore oil field and the fourth largest oil field in the world, to 1 MMb/d by 2024. Both projects are evidence of our intent to maintain our production capacity targets and replenish our reserves' base, through effective exploration and enhanced oil recovery, as we in turn deliver greater economic value and levels of recovery from our resources.
Abu Dhabi licensing block bid 2018.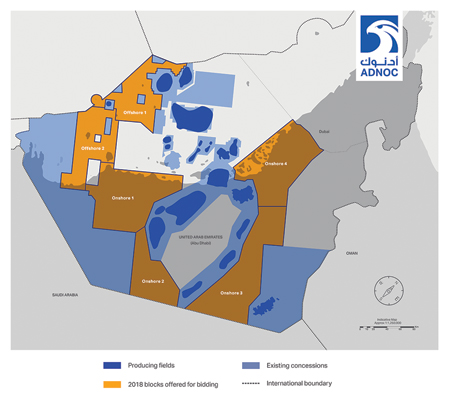 Offshore: Why did ADNOC see a need to reorganize the four main, ADMA-OPCO offshore concessions into three new concessions, and to invite new companies to bid for the associated 40-year agreements?
Al Kindy: The expiry of the former ADMA offshore concession agreements, in March, presented an opportunity to realign the concession areas with our focus on maximizing the commercial value of our resources and assets. Part of this was a competitive bidding and selection process for both existing and new partners, taking into account our strategic objectives of enabling access to finance and technical expertise, as well as greater market access for our products. The decision to bring in new partners, alongside the remaining existing partners, reflects our aim of achieving competitive advantage by broadening our strategic partner base.
Offshore: What will the new partners bring in terms of innovative technical solutions?
Al Kindy: On expiration in 2018, the ADMA-OPCO concession was divided into three new separate concessions in order to maximize commercial value, broaden ADNOC's partner base and develop the potential for partnerships that reach across the oil and gas value chain. Equally, through the three separate concessions, we enable greater market access, particularly in the major growth markets in the east and expand technical expertise and knowledge transfer from leading innovators in our industry. Every partner delivers against those core partnership objectives. A specific example of expanding our technical expertise would be in the development of the condensate-rich Umm Shaif Gas Cap which ADNOC had previously successfully led independently, and which Total, Eni, and CNPC will now help accelerate.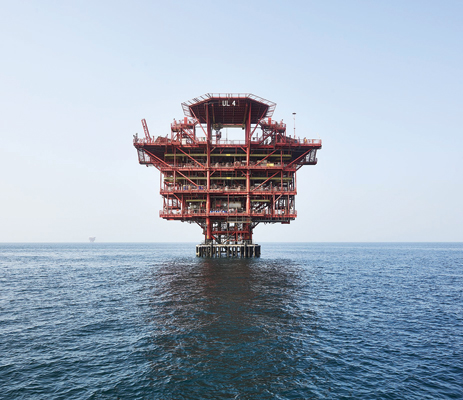 Umm Lulu
Offshore: Are there any particular technologies ADNOC is looking to introduce on these or other offshore projects to enhance production or to extend field life?
Al Kindy: We are deploying a number of enhanced oil recovery techniques to maximize the value of our maturing fields, with the aspiration to achieve 70% ultimate recovery at the end of field life, subject to commercial viability. For example, we have developed, with our partners, high temperature/high salinity tolerant chemicals tailored for our unique reservoir conditions. We are also using carbon capture and storage technology to enhance oil recovery and liberate natural gas for other purposes. While these and other EOR techniques are used onshore at the current stage, we ascertain their potential for future offshore leverage.
Meanwhile, digital field technologies are becoming an integrated part of our assets as we optimize operational performance and efficiencies. All new offshore fields are digitized and automated and our new onshore fields will be fully automated by 2019. This, and other digitization efforts across ADNOC allow us to leverage Big Data technologies and unite data, people and technology to make smarter exploration and production decisions. Within our Thamama Subsurface Collaboration Center, for example, we have the capability to monitor up to 120 live drilling sites simultaneously, comparing performance against historical wells, plans and benchmarks to reduce drilling costs, improve rig efficiencies, and increase productivity.
Our Panorama Digital Command Center draws from a massive set of data points across the company, from the upstream to the downstream and global distribution network, visualizing it on a state of the art 50-m [164-ft] wide video wall to provide a single access point to ADNOC's real-time performance. The center aggregates accurate, real-time information from ADNOC's operations and businesses, presenting data at a Group-wide level but also giving access to information from individual assets.
ADNOC's offshore concessions.
Offshore: What is the current status of the offshore sour gas project?
Al Kindy: In January, we awarded the two front-end engineering design (FEED) contracts for our offshore ultra-sour gas mega project, which consists of the Hail, Ghasha and Dalma fields. The awarding of the FEED contracts is a significant step forward in our plans to develop our undeveloped gas reservoirs and sour gas resources, to help meet Abu Dhabi's increasing energy requirement, which is forecast to grow at an average of 6% each year.
Ultimately, our aim is to ensure an economic and sustainable supply of gas to meet Abu Dhabi's growing energy needs and help realize the UAE's development goals.
Offshore: Can you provide some examples of other smaller-scale offshore developments ADNOC is working on, such as the Al Yasat joint venture? Is the company looking to form partnerships with more foreign consortia to develop other offshore fields?
Al Kindy: In July, Al Yasat Company for Petroleum Operations awarded the engineering, procurement and construction (EPC) contract, for the full development of the offshore Bu Haseer field. The agreement covers engineering, procurement, construction, and commissioning activities for offshore facilities, which will see production capacity from the Bu Haseer field increase from today's 8,000 b/d to 16,000 b/d in 2020. At this time, there are no plans to form additional partnerships to develop other offshore fields, with the exception of those offshore areas included in the previously announced six license blocks, for which bids have to be submitted by October.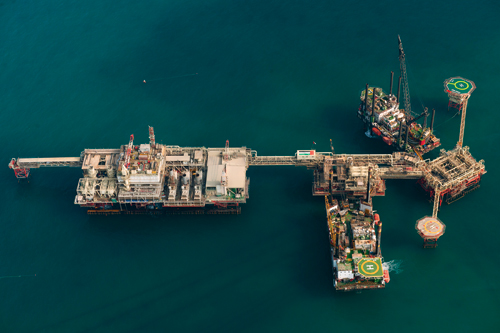 Adnoc offshore complex
Offshore: Why was it so important for Abu Dhabi to launch its first ever open offshore/onshore block licensing round, and what does ADNOC hope this will achieve?
Al Kindy: The licensing strategy represents a major advance in how Abu Dhabi unlocks new opportunities and maximizes value from its hydrocarbon resources. It is also consistent with our approach to realizing the full potential of our resources, through competitive bidding, and accelerating the exploration and development of new commercial opportunities. In addition, production from the new licensing blocks is expected to reinforce our long-term production growth ambitions and build on our successful legacy as a leading upstream player. For the successful bidders the blocks are a rare and exciting opportunity to participate in the exploration and development of commercial opportunities with great potential.
Offshore: Chinese contractor BGP will acquire an extensive seismic survey over this complex subsurface offshore/onshore area: can you provide more details on this campaign?
Al Kindy: Not only have we commissioned the world's largest continuous seismic survey, but the density of the data we will acquire will be up to five times that of existing industry standards. That means we will have more sources and more geophones, closer together, receiving more reflections within a particular area, thus the amount of data recorded will be greater; capturing high-resolution three-dimensional images of the complex subsurface structure, up to 25,000 ft [7,620 m] below the surface.
The use of advanced technologies and methodologies will improve efficiency and form part of de-risking the subsurface potential, maximizing value for ADNOC. It will also minimize HSE risks and help mitigate against the impact on marine life and other users of Abu Dhabi waters.
Offshore: Is the new licensing regime designed in part to accelerate E&P of the UAE's undeveloped resources?
Al Kindy: We have adopted a more commercial mind set and are applying it to everything we do, including our exploration, development and production operations. An example of this is the FEED phase of our ultra-sour gas mega project (Hail, Ghasha and Dalma). For the first time we are implementing an integrated project delivery (IPD) approach to help reduce the project's development schedule and cost by integrating and involving all relevant stakeholders. The latter are potential EPC bidders, major manufacturers and governmental bodies, all of which are critical to improve design quality, identify uncertainties and enhance the precision of required engineering jobs.
At the same time, we will continue to offer partners mutually beneficial terms and conditions that will allow us to grow together in a stable, secure and reliable investment environment.
Offshore: What are the capabilities of ADNOC's Panorama Digital Command Center and the Thamama Subsurface Collaboration Center?
Al Kindy: As one of the world's largest producers of oil and gas, and an integrated group of 14 companies, operating across the entire hydrocarbon value chain, our operations are both vast and varied. To continue to thrive, now and in the future, it is critical that we fully harness data, drive digital innovation and develop a future-ready workforce, enabling new solutions that optimize our performance, supporting agile, effective and verified decision taking, and create value.
Part of our efforts to drive digital innovation is the Thamama Subsurface Collaboration Center and the Panorama Digital Command Center. Symbiotic in their set up, they enable deep digital insights into Abu Dhabi's subsurface to maximize value from our reservoirs, and visually integrate them with our surface operations to create a single source of accurate real-time ADNOC information from across our value chain. The projects undertaken in the facilities are confidential but, for example, the ability to bring together our multi-disciplinary experts, with sub-surface data and cutting edge analysis and visualization tools in the Thamama Center has been used in our offshore projects to identify and maximize synergies between our overlapping Upper Zakum and Lower Zakum concession areas, as well as de-risking the gas cap portfolio within ADNOC.
At the same time as setting up both centers, we have taken the opportunity to standardize the naming of our main reservoir groups, enhancing simplicity and efficiency across the group.
Offshore: What has ADNOC's Technical Academy (ATA) achieved to date to help the company in its goal of developing a skilled national workforce in petroleum engineering?
Al Kindy: The ATA, established in 1978, has provided education and technical training to more than 5,000 UAE nationals who, upon graduation, have joined ADNOC's workforce. The ATA's classroom, workshop and simulated trainings are designed to equip students with the wide range of operational, mechanical, electrical and instrumental skills needed to control oil and gas industry processes.
The academy's 2.5-year academic program is regularly updated to reflect the latest technological advancements, and industry trends, to ensure ATA graduates are well-prepared to work in ADNOC's modern and innovative operational environments. The academy employs best-in-class educators and instructors from around the globe to ensure that students receive high-level general education and technical training before entering ADNOC's workforce. •