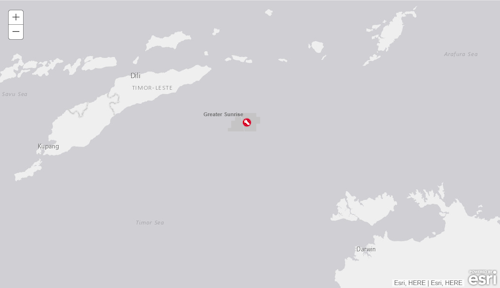 (Map courtesy Woodside)
Offshore staff
LONDON – Australia and Timor-Leste's governments have signed a Maritime Boundary Treaty in Dili that settles the border dispute between the two countries.
According to Wood Mackenzie senior analyst Chris Meredith, the agreement clears several hurdles for the offshore Sunrise and Buffalo projects, by defining the border and formalizing the governance structure and tax sharing arrangement between the two nations.
Before either project can be sanctioned, he added, the owners must accept PSC terms, finalize the development concepts, and complete engineering studies.
Timor-Leste's economy is heavily dependent on revenue from the Bayu-Undan field, which is due to cease production in 2022, making a development of Greater Sunrise a top priority.
Woodside, the upstream operator of Greater Sunrise, does not appear to favor an LNG plant onshore Timor-Leste, and an initial liquids-stripping scheme appears more likely to monetize the large liquid resource upfront.
The gas could then be produced later via the onshore liquefaction plant.
08/30/2019