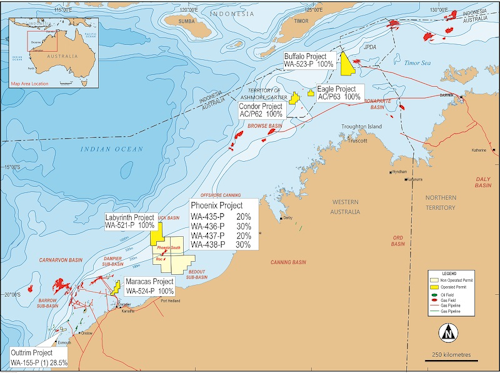 Offshore staff
PERTH, Australia – Carnarvon Petroleum is working on plans to redevelop the Buffalo oil field in Timor-Leste territorial waters.
BHP abandoned Buffalo in 2004 when the field was still producing around 4,000 b/d.
Carnarvon's technical team saw potential in the remaining oil reserves and decided to apply modern seismic data/reservoir mapping technology to resolve uncertainties.
As a result, the company says it has remodeled the project and identified a strong case for a redevelopment, supported by new exploration targets.
It assesses mean recoverable volumes at 31 MMbbl, as reviewed by independent consulting firm RISC, and would be able to finance all associated capex using its own resources.
At current oil prices the project would generate revenue of more than A$3 billion ($2.17 billion) over a lifespan of a few years, the company believes.
It is in talks with the Timor-Leste government, and has set up a representative office in the capital Dili.
Both parties are apparently keen to fasttrack the project through to development, but at the same time need to establish clear guidelines and regulatory processes.
The Australian government remains involved in this process to ensure the two countries' Maritime Boundary Treaty is ratified.
Carnarvon is aiming to drill the Buffalo-10 well in 2019, which should provide physical confirmation of the technical work required, while also serving as the re-development's first production well.
The company expects to prove up a resource with total project costs of around $20/bbl, which it claims would be attractive economics in any foreseeable oil price environment.
08/15/2018