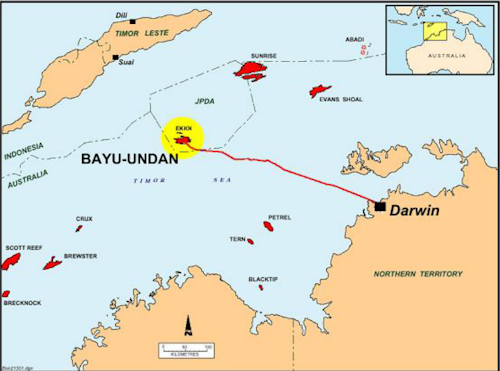 (Map courtesy ConocoPhillips)
Offshore staff
SINGAPORE – Wood Mackenzie sees potential for further upstream sell-offs by the majors in the Australasia region.
Eni's main Australian asset is the depleting Bayu-Undan field in the Timor Sea that feeds the onshore Darwin LNG plant.
According to David Low, Wood Mackenzie's senior research analyst, Australasia Upstream, the undeveloped gas fields Evans Shoal and Blacktip offer only limited potential for Eni when Bayu-Undan ceases production in 2022.
The company might therefore look to focus on more attractive opportunities elsewhere, such as in the Middle East and Mozambique.
ConocoPhillips sold its 30% stake in Sunrise to the East Timor government last October for $350 million, and the company could sell out of Australia entirely, Low said, based on recent market rumors.
By selling Darwin LNG, and the capital and emissions-intensive offshore Barossa-Caldita supply project, the company would free up capital for buybacks and re-investment in US tight oil.
Low added that a new LNG asset ownership model might be needed for Australia to maximize its undeveloped gas resources and remain competitive.
The North West Shelf (NWS) is running short of fresh gas supplies to maintain LNG output and will require third-party gas in the future.
Although there is a long list of potential backfill resources in the offshore Carnarvon basin, the current development pipeline is short, with a lack of alignment between the upstream partners and plant owners holding back investment.
But once the 17.6-MM metric ton/yr (19.4-MM ton) NWS LNG plant does start receiving third-party gas, and generating tolling/tariff revenue, a change in ownership of the downstream facilities could breathe revive various stalled upstream projects, Low suggested.
Incoming parties could include infrastructure-investors or pension funds, more concerned with maintaining maximum throughput, wherever the supply might come from.
But there remains a need to persuade all the NWS joint venture partners to relinquish control of this infrastructure, and to secure alignment on third-party access agreements and security of future gas supply into the facility.
Low claimed equity alignment between third-party upstream supply and the liquefaction facility through M&A could be a realistic option.
08/29/2019