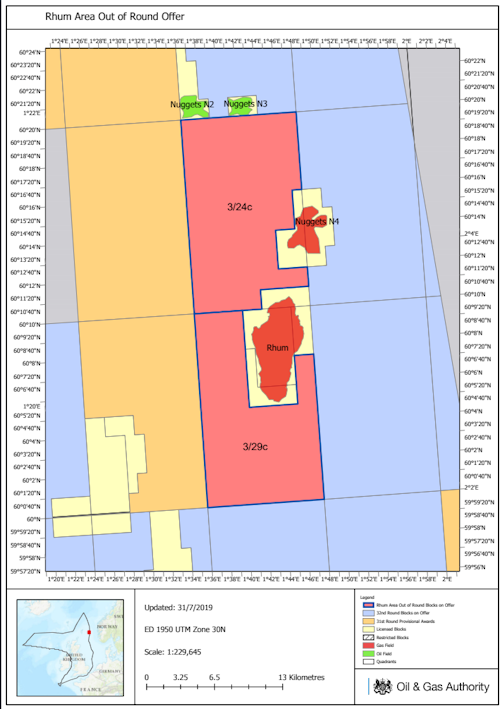 (Courtesy Oil & Gas Authority)
Offshore staff
ABERDEEN, UK – Britain's Oil and Gas Authority (OGA) has initiated a restricted Out of Round offer for two blocks - 3/24c and 3/29c - around the Rhum gas/condensate field in the UK northern North Sea.
Bidders must submit applications via the LARRY system on the OGA's Energy Portal, following the normal licensing round application process.
The offer will remain open until Oct. 30, 2019. Awards could follow later in 4Q.
In a separate development, the OGA has released final deliverables from a two-year post-doctoral Frontier Basins Research Rockall Trough project completed earlier this year by the University of Aberdeen.
This has produced a regional seismic interpretation over the area offshore northwest Scotland based on the OGA's 2D and legacy seismic data, a well look-back audit and a final project report that presents a series of play element maps.
In addition, the program has delivered new insights into the petroleum system in the Rockall Trough area, the OGA said, by assembling findings of other research projects in adjacent areas.
08/07/2019