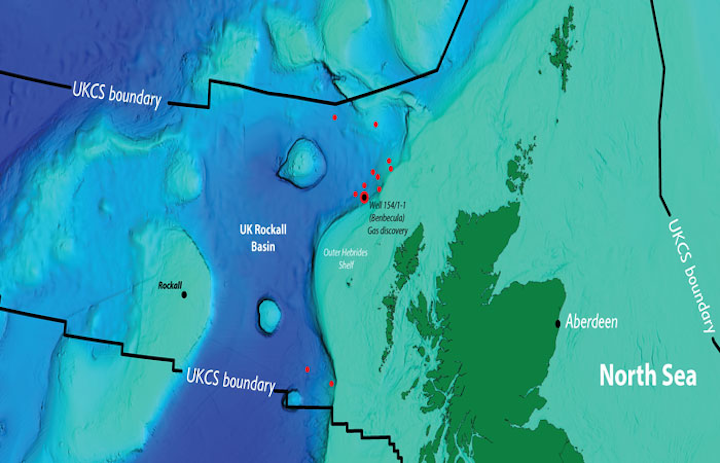 Offshore staff
ABERDEEN, UK – A new geological analysis of the Rockall area offshore northwest Scotland could help de-risk exploration in this area.
Geologists at the University of Aberdeen studied new seismic data supplied byBritain's Oil and Gas Authority (OGA) in an attempt to gain a clearer understanding of the Rockall basin.
The 12 wells drilled to date in the region have delivered one discovery. Further exploration may have been impacted by misconceptions concerning the subsurface geology, according to Dr. Nick Schofield from the University's Department of Geology and Petroleum Geology, who headed the project.
"By analyzing seismic data provided by theOGA and Petroleum Geo-Services (PGS), and using what we have learned through our work in the Faroe-Shetland basin," he said, "we found that the character of areas where operators hoped to find oil may have been misleading."
Previous wells targeted "bumps," or four-way closures, where oil was thought to have been trapped.
"In the case of Rockall, these bumps, in many cases, appear to have actually been caused by volcanic intrusions in the sub-surface," Dr. Schofield said. "We believe that the oil and gas is more likely to have migrated to the outer fringes of Rockall instead, away from these previous exploration targets."
The study has identified the eastern edge of the basin against the Outer Hebrides Shelf as an area of interest for future exploration activity.
Dr. Schofield and his team plan to apply a variety of techniques to improve analysis of the area. "We have also collected data from an aerial drone," he said, "which we have used to map outcrops, for example Kilt Rock on the Isle of Skye, where the rock structure is similar to what you would find in the subsurface and helps us visualize what we can't see."
02/20/2017