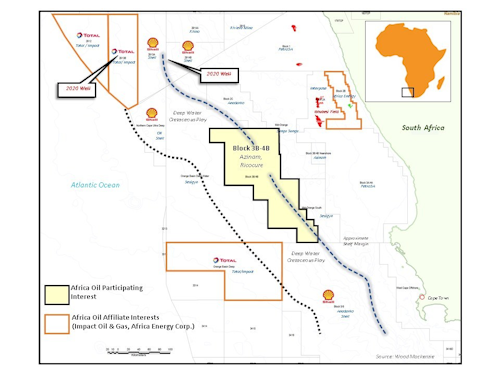 Wood Mackenzie/Africa Oil
Offshore staff
VANCOUVER – Africa Oil SA Corp. has entered into a definitive farm-out agreement with Azinam Ltd. whereby Africa Oil will acquire a 20% participating interest and operatorship of block 3B/4B in the Orange basin offshore South Africa.
Azinam will retain a 20% participating interest and Ricocure (Pty) Ltd. retains a 60% participating interest.
Block 3B/4B covers an area of 17,581 sq km (6,788 sq mi) in water depths ranging from 300 to 2,500 m (984 to 8,202 ft).
The partners have identified leads and prospects from an existing 10,020-sq km (3,869-sq mi) 3D survey that encompasses a majority of the block.
During the initial three-year license period, Africa Oil and its partners are to carry out regional subsurface review of existing seismic, geological and engineering data, and may also include some select reprocessing of the existing 3D data, leading to identification of exploration prospects and recommendations for subsequent renewal periods.
07/05/2019