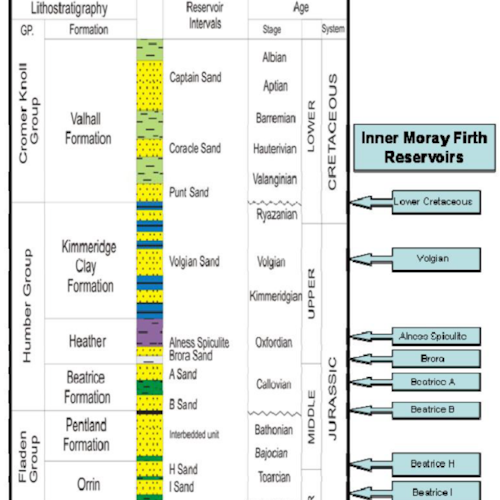 Oil and Gas Authority
Offshore staff
STAVANGER, Norway – Britain's Oil and Gas Authority (OGA) offered Equinor five licenses under the UK's 31st Offshore Licensing Round.
The company will operate four and act as partner in the other.
The licenses are in the Moray Firth off northeast Scotland and the East Shetland Platform, expanding Equinor's current position in these areas, and carry various seismic survey commitments.
In addition, the company secured an extension to the Frigg license in the northern North Sea to support the Frigg redevelopment project.
UK independents Corallian Energy (as operator), Upland UK, Baron Oil and Corfe Energy were jointly awarded blocks 12/27 (split); 17/5; 18/1 and 18/2 in the southern part of the Inner Moray Firth (IMF) basin and blocks 11/23, 11/24c and 11/25b (split) in the northern part of the IMF.
Block 12/27 (split) contains the 187-MMboe Dunrobin prospect updip of a gas column in mid-Jurassic Beatirce sandstone encountered by a well drilled by Burmah in the early 1980s. The tested gas was almost pure methane (98.6%) but the reservoir was also oil stained.
Corallian believes the structure drilled may have been oil charged, spilling updip to a series of tilted fault block closures on the Central Ridge, culminating in a gas cap with a DHI amplitude anomaly.
The smaller Golspie prospect, a separate fault block also updip of the 12/27-1 well, could hold 21.5 MMboe. Main reservoir intervals for Golspie and Dunrobin are Beatrice and Dunrobin Bay Group sandstones.
For Phase A of the Innovate licence, the partners must complete 3D seismic reprocessing and take a drill or drop decision within four years.
In IMF North the blocks are contiguous and close to the coast, 135 km (84 mi) northwest of Aberdeen, in 30 m (98 ft) water depth.
Block 11/24c block contains the Knockinnon Beatrice age oil discovery, 8 km (5 mi) offshore, drilled in 2000 by Talisman with estimated recoverable oil resources of 8 MMbbl, with potentially more recoverable from Upper Jurassic Buzzard-aged sandstones.
Beneath is a mapped sub-thrust footwall anticline (the Alpha prospect), and the block also contains the Whaligoe, Camster and Camster south prospects, all downthrown against the Great Glen fault system.
Block 11/23 contains the Dunbeath prospect, a Beatrice level three-way upthrown fault bounded trap. The commitment for Phase A of the Innovate license is 3D reprocessing followed by a drill or drop decision within three years.
06/06/2019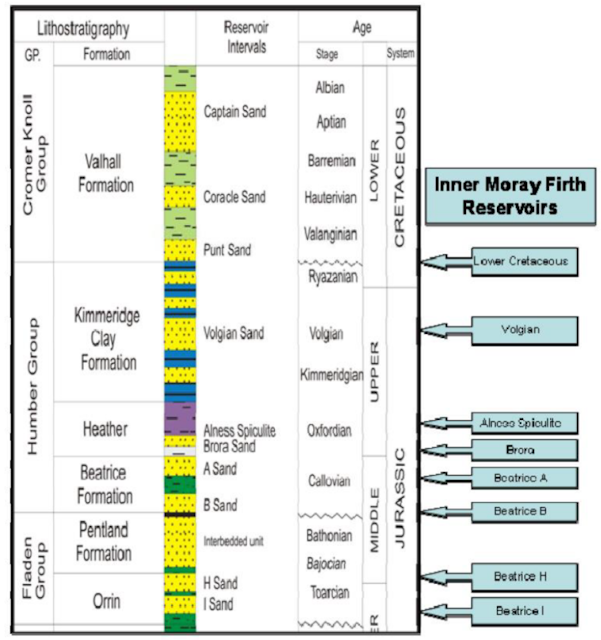 Typical stratigraphic column and primary reservoirs in block 11/24Oil and Gas Authority