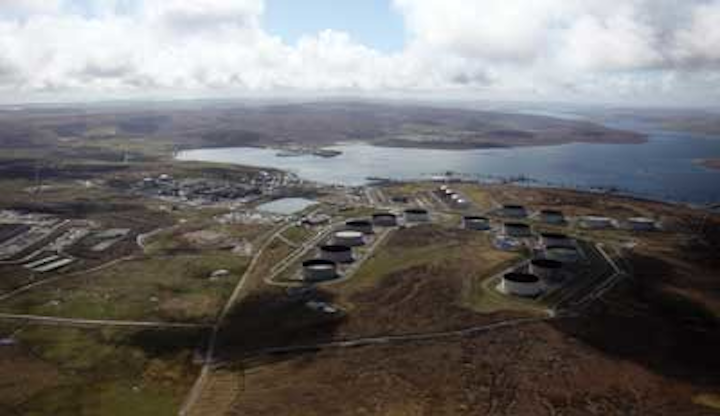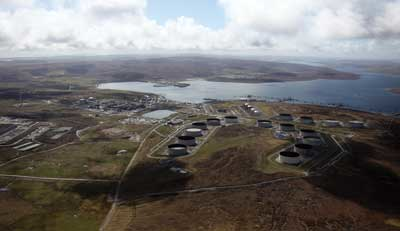 Aerial view of the Sullom Voe terminal. All images courtesy BP.
Offshore facilities investments underline area's long-term potential
Jeremy Beckman
Editor, Europe
Some large-scale projects are under way throughout the UK North Sea, reminiscent of the early days in the 1970s. None, though, are as coordinated and wide-ranging in scope as BP's programs on its fields in the far-north Shetland area. These vary from comprehensive overhauls of facilities west of Shetland to a life extension of Magnus in the east, one of Britain's longest-producing fields. In between, the Phase 2 development of the Clair field will take its production to a much higher level, while at the associated Sullom Voe terminal, new gas facilities are planned to help streamline offshore production.
Foinaven
Foinaven is 190 km (118 mi) west of the Shetland Islands in blocks 204/19 and 204/22. The field was discovered in 1990. When development was sanctioned four years later, it was the first UK oil and gas field development in the Atlantic Margin, and the sea depths of 330-520 m (1,082-1,706 ft) were at the time considered deepwater. First oil was produced in 1997 with all 20 Phase 1 wells in service by 2000, including BP's first offshore multi-laterals.
The field is produced via the FPSOPetrojarl Foinaven, formerly a Russian submarine tender ship which was converted at the Ferrol shipyard in northwest Spain. The 240-m (787-ft) long turret-moored vessel, operated by Teekay on BP's behalf, has never had to be taken off station despite the periodically severe wave conditions. The vessel is to remain in service into the next decade as BP reviews options to extend field life. In 2011-12, however, BP and partners Shell and Marathon invested £100 million ($151 million) in replacing parts of the field's 8-in. subsea pipeline network, which did require upgrading after 15 years in operation.
Petrojarl Foinaven is connected to five subsea drill centers with 43 wells, including 14 for water injection to enhance production. The vessel has an onboard storage capacity of 280,000 bbl. Oil is transported by two dedicated shuttle tankers direct to the refineries of northwest Europe. Gas produced with Foinaven's oil was compressed from the outset, initially for reinjection and for power generation on the vessel. In 2001, a new pipeline was installed, which since mid-2002 has exported commingled gas from Foinaven and Schiehallion to Sullom Voe. Another subsea pipeline takes the gas northeast to the Magnus field for use in a water-alternating-gas injection scheme.
Since start-up, Foinaven has delivered 335 MMbbl of oil, according to Peter Miller, BP's vice president, midstream.
Quad 204 redevelopment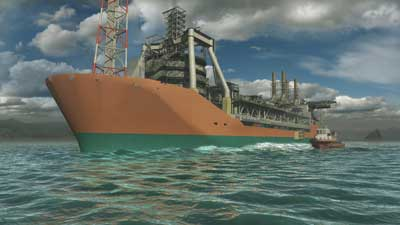 Artist's impression of Quad 204 FPSO.
Schiehallion/Loyal are mainly in blocks 204/20 and 204/25 in 350-450 m (1,148-1,476 ft) of water, and 175 km (109 mi) west of Shetland. Schiehallion was discovered in 1993, with recoverable reserves at the time estimated at up to 500 MMbbl; Loyal was discovered to the north a year later. Following an extended well test of both fields, the UK government sanctioned a combined £1-billion ($1.51-billion) development in 1996 via a newbuild FPSO, capable of producing up to 220,000 b/d of oil and 140 MMcf/d of gas, with oil storage capacity of 950,000 bbl.
Oil production started in summer 1998, with oil transported to Sullom Voe via BP Shipping's purpose-built shuttle tankerLoch Rannoch. Due to the proximity to Foinaven, 15 km (9.3 mi) to the southwest, the two production centers shared support facilities such as helicopters and supply vessels. However, that arrangement ceased early this year when operations were shut down to allow the existing Schiehallion FPSO to be shut down and disconnected, as the first step of the £3-billion ($4.53-billion) Quad 204 redevelopment.
According to Miller, Phase 1 recovered around 400 MMbbl, but BP geologists' more recent studies of the reservoirs and production performance suggest another 450 MMbbl could be extracted from the two fields and others in the area over the next 20-25 years. The existing FPSO was not suited to the extended and expanded service role envisaged, hence the decision to commission a larger newbuild floater which incorporates industry learnings into the design, along with other features based on BP's database of thousands of lessons learned from operating west of Shetland. These should result in improved operating efficiencies and reliability.
The vessel is under construction at Hyundai Heavy Industries in Ulsan, South Korea, and is due to be installed on Schiehallion in early 2015 and begin operating the following year. It will be 270 m (886 ft) long and 52 m (171 ft) wide, with the KBR-designed 21,000-ton topsides providing production capacity for 320,000 b/d of liquids and 220 MMcf/d of gas and 380,000 b/d of produced water and seawater injection, higher than the previous facility. Initial oil production rates are expected to reach around 130,000 b/d. The vessel will be moored by an internal turret of 10,000 tons supplied by SBM.
Phase 1 production came from a network of 54 subsea wells connected to five drill centers, nearly half of which were water injectors. Following a period of planned downtime in summer 2011 to replace the existing FPSO's mooring chains and other integrity work - BP's program was vindicated by the storm-induced disconnection of Maersk'sGryphon floater earlier that year - the production performance in 2012 was one of the strongest ever, almost equivalent to two years' output. This was partly due to a restricted maintenance program, a spokesman explained, ahead of the full-scale shutdown in 2013.
The existing wells are being suspended and will all be re-opened for production through the new FPSO, to be namedGlen Lyon. In addition, BP and its block 203/20 partners Shell, OMV, and Statoil plan to drill 20 new production and injection wells on Schiehallion and five on Loyal. The first six or seven wells will be drilled prior to installation of Glen Lyon by Odfjell's newbuild semisub Deepsea Aberdeen, which the DSME yard in South Korea is scheduled to deliver next spring. BP secured the harsh-environment DP-3 rig on a seven-year lease to work on Quad 204 - the company was anxious to tie up a high-spec unit in view of the tight market globally and the current high day rates in the UK sector, Miller explained.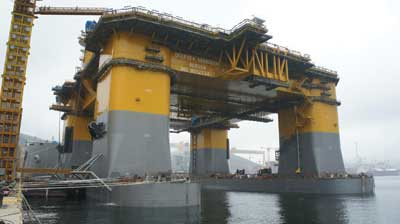 Deep Sea Aberdeen, which will drill on Schiehallion from 2015 for seven-plus years.
Much of the existing subsea infrastructure will remain in place for re-use when production re-starts - the company is in dialogue with the UK Department of Energy and Climate Change (DECC) over the pieces that need to be decommissioned and the timetable for doing this work.
Aside from Schiehallion and Loyal, BP has options to tie in other satellite accumulations in the area such as Alligin, and has an exploration prospect in a newly awarded license nearby. However, the company wants production experience from the new wells before committing to any further development projects. Around 2017, the company could also introduce enhanced oil recovery through a polymer injection scheme, currently undergoing refinement. Volumes needed for injection are unclear at this stage; however, BP has commissioned four new support vessels from Hyundai in South Korea, two of which are set to operate west of Shetland. Both will be equipped with large tanks for storing a liquid polymer formulation.
Clair Ridge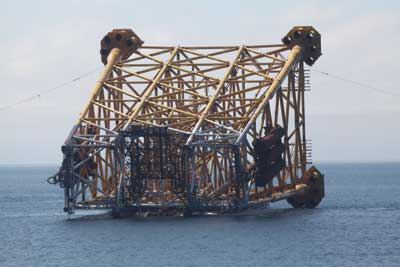 First of Clair Ridge jackets awaiting installation by Heerema'sThialf.
Clair was discovered in 1977 in 150 m (492 ft) of water, 75 km (47 mi) west of Shetland. It remains the UK's largest discovery, with 8 Bbbl of 22-23° API oil in-place; however, uncertainties over the impact of the highly fractured reservoir on productivity delayed development until 1997.
During the 1980s the four Clair license groups drilled a series of appraisal wells without proving economically recoverable reserves. Early the following decade they decided to pool resources, appointing BP as technical operator. Results from a new 3D seismic survey led to drilling of two horizontal wells to access compartments in the field's Core area (all previous Clair wells had been drilled vertically). The new wells demonstrated potential for commercial flow rates: they were followed by an extended test which confirmed substantial vertical connectivity in the Devonian sequences of the Core area, and two more appraisal wells that reduced uncertainty over the adjacent Graben and 3A segments.
The £650-million ($981-million) Phase 1 development, which came onstream in February 2005, was designed to extract up to 300 MMbbl of oil from the Core, Graben, and Horst segments of the southern part of the reservoir. It is based around a large, steel jacket platform with dry tree wellheads and high step-out, extended reach wells all designed to accommodate artificial lift, with oil and gas exported through subsea pipelines to Sullom Voe at rates of up to 60,000 b/d and 20 MMcf/d.
"This was the first fixed platform west of Shetland," Miller pointed out, "and it had to be designed for one of the most arduous environments worldwide, including landing helicopters in severe weather conditions." So far the facility has produced around 90 MMbbl, and it should have at least another 15 years of service ahead.
Clair Ridge is in block 206/8, northeast of the main Clair field. Successful appraisal drilling here in 2006-07 confirmed substantial oil and gas volumes could be recovered - up to 638 MMbbl, according to field analysts BritBoss. AMEC started conceptual engineering studies for development of the area in late 2008, with BP and partners Chevron, ConocoPhillips, and Shell winning approval for a £4.5-billion ($6.79-billion) development in October 2011. Start-up is scheduled for 2016, and production should continue past 2050. Oil processing capacity will be higher than for Phase 1 at 120,000 b/d, with up to 50 MMcf/d of gas.
AMEC is also providing engineering, hookup, and commissioning for the two bridge-linked platforms: a drilling and processing facility with a 33,500-ton topsides and 22,300-ton jacket, and a utilities and quarters platform with an 18,300-ton topsides and 9,000-ton jacket. Aker Verdal in Norway has completed both jackets, which were installed at the Clair Ridge location earlier this summer by Heerema's crane bargeThialf. "These were the biggest jackets put into the UK North Sea via a heavy-lift vessel since 1979," Miller claimed. Hyundai Heavy Industries in South Korea is fabricating both sets of topsides, which Thialf should install in mid-2015.
KCA Deutag subsidiary RDS was awarded front-end engineering design for the drilling facilities. The semisubPaul B Lloyd drilled and completed the first two development wells before departing for a long-term appraisal program on the southwestern part of Clair. Drilling will resume in late 2016 from the drilling and processing platform via a subsea template under the jacket, supplied and installed by Saipem in 2011. Eventually, 36 wells will be drilled, comprising 26 producers and 10 water injectors.
Produced oil will be transported via a new 6.6-km (4-mi), 22-in. pipeline bundle to the Clair Phase 1 platform, accessing the existing Clair oil pipeline to Sullom Voe via a new wye-piece. Gas will head through a new 14-km (8.7-mi), 6-in. line connected to the BP-operated West of Shetland Pipeline System (WoSP) to Sullom Voe. There, it will be transferred through the new SIRGE system handling gas from Total's Laggan/Tormore/Edradour fields and existing FUKA pipelines to the St Fergus terminal north of Aberdeen. Subsea 7 will perform pipelay for the BP lines in 2014.
Clair Ridge facilities will include pre-installed risers, umbilicals, J-tubes, and a topsides slug-catcher to facilitate additional production from future subsea tiebacks.
The current development will also feature BP's first deployment in Europe of its reduced salinity water injection technology, LoSal Enhanced Oil Recovery. The system was first used the Endicott field in Alaska, and is planned for Mad Dog Phase 2 in the Gulf of Mexico.
With conventional waterflood, injected water passes through layers of porous reservoir rock, causing the displaced oil to flow to the production well. The pore spaces often contain clays to which oil is bound via "bridges" of divalent cations such as calcium or magnesium. BP's chemical studies found that in high-salinity water, involving high ionic concentration, the oil particles are compressed to the clay by electrical forces. However, when salinity levels are lower, this force is reduced and the bridges expand, allowing the divalent cations to be exchanged with non-bridging monovalent ions such as sodium. The oil molecules are then freed to be swept toward the producer wells.
Essentially, LoSAL EOR combines reverse osmosis - the same principle used to produce drinking water from seawater - with ultra-filtration to remove particulates, colloids, and bacteria from the seawater. The result is high-purity injection water. The LoSal EOR facilities on the Clair Ridge platforms will include capacity to desalinate 145,000 b/d of seawater. BP expects to recover an additional 42 MMbbl of oil this way.
Magnus
BP discovered Magnus, 160 km (99 mi) northeast of Shetland, in 1974. The field, in blocks 211/12a, and 211/7a, is the northernmost producing field in UK waters. It was developed using a fixed steel platform, including the UK's largest-ever jacket, which weighed 40,000 tons, including piles. Production started in August 1983, and the field has delivered over 800 MMboe so far from platform and subsea wells. To sustain production, BP first added subsea water injection via a flowline linked to seven cluster wells. Next came the Magnus EOR project, which involved constructing a subsea pipeline from Shetland to take gas from Foinaven and Schiehallion to the Magnus platform. Gas is injected into the Magnus water injection wells to capture oil not recovered by water. This is a water-alternating-gas scheme, with four six-month cycles between water or gas injection. Currently the maximum three wells are being used to inject over 100 MMcf/d of gas.
More production wells and gas injectors are being drilled on the field, and the program could continue through 2020. BP aims to extract a further 100 MMboe over the field's remaining lifespan of up to 15 years. To do this, it is preparing a life extension program that will involve upgrades to the platform and its accommodations; crane replacement; upgrades of the test separator metering system and produced water handling system; remedial work on the fire water system; and elimination of the backlog of other maintenance tasks. This is the first platform addressed by BP's North Sea Renewal Program; lessons learned will be applied to the company's facilities worldwide.
Sullom Voe terminal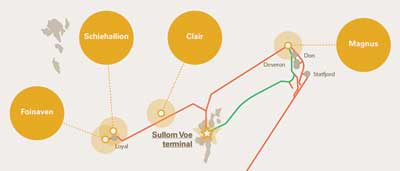 Location of the BP-operated Shetland area fields, either side of the Sullom Voe terminal.
The BP-operated Sullom Voe oil and gas terminal on the northeast coast of Shetland's main island is one of Europe's largest. It was built during the mid-1970s to receive oil and gas produced from fields under development east of Shetland via the new 36-in. Brent and Ninian subsea trunklines. First oil flowed through the Sullom Voe Terminal (SVT) in 1978; at peak, it was handling 1.5 MMb/d through both lines, according to SVT manager Arthur Spence. During the 1990s, it additionally started receiving oil and gas from new fields west of Shetland.
Facilities include equipment for stabilization, compression and fractionation, and 16 large tanks for storing crude. To date, SVT has processed over 8 BBbl of oil; stored and loaded 400 MMbbl delivered byLoch Rannoch from Schiehallion/Loyal; and accommodated vessels at its four jetties taking a total of 11,000 Brent blend cargoes and 14 MM metric tons (15.4 MM tons) of liquefied petroleum gas. The final shipment of LPG left the site in June 2010. SVT also has its own power station fired by gas, providing 40% of the Shetland Islands' electricity.
Total is building a plant to receive gas from its west of Shetland fields at an adjacent site in Sullom Voe, but from 2015 onwards SVT will handle up to 40,000 b/d of associated condensate from these fields, which will be mixed with Brent blend crude.
A three-year renewal and intervention project, managed by BP, Jacobs, and Stork, is underway at the terminal, which was originally built for 25 years' service. Aims include refurbishing tanks, stabilization trains and surge facilities, and small-scale pipeline renovation work.
In 2008, the SVT stakeholders, comprising more than 20 oil companies and power utilities, sanctioned construction of the new £100-million ($151-million) Aurora plant to handle gas produced with east of Shetland oil delivered via the Brent and Ninian systems. There are also plans to build a new £500-600 million ($755-$906 million) hydrogen sulfide (H2S) sweetening plant to replace the existing facility dedicated to west of Shetland gas. H2S is produced with the gas as a result of injecting seawater; the current facility employs a metal oxide catalyst to handle H2S, but its capacity is limited, and it needs to be changed out repeatedly. With much higher volumes of gas coming in over the next decade - more still if the Phase 3 Greater Clair development goes ahead - the terminal needs a more efficient gas-sweetening process. Construction could start in 2015, with the facility operational two years later.
Sullom Voe Terminal is currently increasing the number of engineers and operations managers working at the site. Most of these new roles are being filled by staff on rotation, but the company is looking to take on more trained technicians.