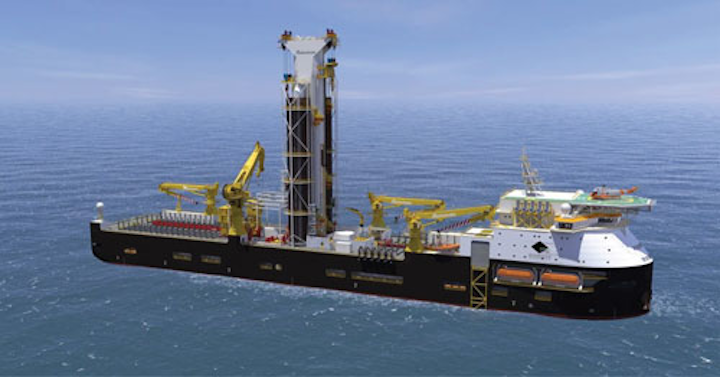 | | | |
| --- | --- | --- |
| Bruce Beaubouef • Houston"> | | Bruce Beaubouef • Houston |
A recent oilfield services report by Evercore ISI offered comment on "the future of the offshore rig" and "the floating factory." It was based on a recent visit to Huisman's facilities in the Netherlands, and a presentation that outlined these concepts. Much of the presentation focused on the Diamond Offshore-patented variation of the Huisman 12000, which was designed by Diamond Offshore with input from oil company customers and service companies.
According to Evercore, this "next-generation" offshore floating rig has "factory-like" automation, robotics, and deck space features which aim to reduce well duration by 15-30%, by significantly reducing non-productive time. Current floating rigs "drill" only ~20% of the time, with the balance characterized as "flat time." Flat time can include tripping, drill-line slip and cut, and the sequential rigging up and rigging down of equipment. This leaves considerable room for improvement through enhanced and new rig designs and equipment. In short, the floating factory is designed for the entire well lifecycle to incorporate better HSE (health, safety, and environment) standards, faster drilling, enhanced completions capabilities, and a reduction in logistics needs. The goal of the design is to create efficiencies, enhance safety, reduce overall well costs, and allow for the future optimization of 40,000-ft+ well designs in greater than 13,000 ft of water.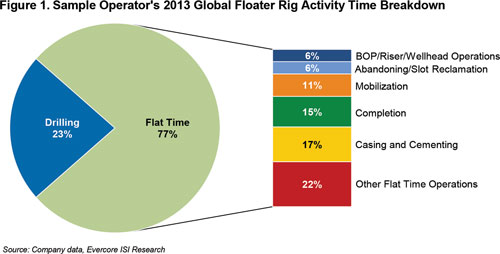 Sample customer's 2013 global floater rig activity time breakdown.
The new rig design is characterized by several major enhancements, including:
Greater functional deck space. A typical sixth-generation floater has 2,900 sq m of free deck space, a drill floor that is elevated by 15-20 m, and a total size of 230 m by 42 m. The new design has 4,600 sq m of free deck space, a drill floor on the same level as the deck, and a total vessel size of 216 m by 38 m.
Multi-functional tools. The drill floor is all robotics. The tools use condition-based monitoring and offline tool maintenance apps. The rig also sports a casing running tool integrated into the well center with automated changes to the casing clamp and employs a fully automated pipe handling system. The center of gravity on the rig is reduced and the weight is pushed outward which reduces vessel roll (very important in inclement weather).
Dual multi-purpose tower. The drill floor has replaced the standard derrick and substructure with a dual multi-purpose tower which can handle 180-ft stands of pipe. This reduces connection times, as the design is believed to be able to trip at speeds of 5,000-ft/hr. The hoisting system is also designed for 1,500 short ton (ST) static hook load compared to an average of ~1,250 ST for sixth-generation drillships.
Enhanced safety aspects. Roughly 40% of accidents happen on the drill floor and can range from people in mechanized areas and dropped objects to falls. The design has eliminated the potential for dropped objects by using welded connections (versus 1,000s of nuts and bolts) and an open character philosophy. The derrick is also on the drill floor, which lowers sideways movement.
Dual mud pit system. The rig also incorporates a dual mud system which allows for treatment of mud and completion fluids at the same time. The total mud capacity is an 8,200-bbl increase over typical sixth-generation rigs.
Reconfigured engine room. The next concept envisions three medium-sized engines in three rooms versus older generation designs with two large engines in three rooms. This should allow optimal engine loading, reduced fuel consumption and lower engine wear and emissions output.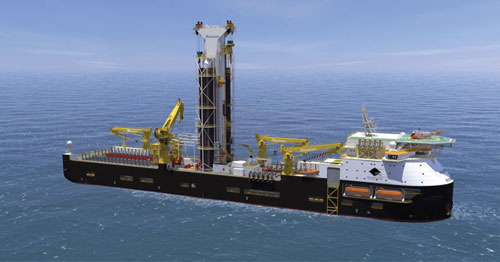 The "floating factory" rig design. Source: Company Reports, Evercore ISI Research
All of the design changes are expected to yield 15-30% faster well delivery. The design has been vetted by operators and service companies, and is said to reduce logistics through greater storage capacity, drill faster, and improve safety. The greater storage capacity also allows for equipment to be available for ongoing and subsequent operations such as completions and well tests.
Based off of a sample taken from a Gulf of Mexico deepwater well in 2013, the "floating factory" was forecasted to trim 18.4 drilling days (equivalent to 16% of total drilling days) and 9-to-22 completion days due to its design. The total drilling and completion (D&C) days saved was 27-to-40 days, which translates to 20%-to-30% fewer days to drill and complete a deepwater GoM well. Efficiency gains from the "floating factory" concept extended beyond the rig rate and fewer D&C days, Evercore noted, as operators also save on spread costs, which have not fallen as much as rig day rates in recent years.
BP acknowledges Maersk drilling achievement at Shah Deniz
Following a strong operational and safety performance last year at the Shah Deniz field in the Caspian Sea, Maersk Drilling'sMaersk Explorer semisubmersible has won BP's global 'Creating Efficiencies' award for 1Q 2017.
According to BP's criteria, this is issued to companies that identify opportunities for reduced spending or create significant efficiency improvements.
The Explorer crews won the award for the drilling performance on the SDG manifold, said Joe Mellor, Wells Superintendent, BP, adding that they delivered two best-in-class wells last year (SDG03 and SDG04).
"More importantly, the crews have managed to deliver this with good safety performance, and theMaersk Explorer has now achieved six years without any lost time incidents," he added.
Last year, the crews are said to have consistently improved performance well-on-well by applying lessons learned to the next well, and by implementing a more efficient after action review process.
Some of the wells drilled were considered among the most difficult on the field. For example, on the field's East South Flank, the nearest offset was drilled eight years ago and took more than 300 days to finish. By comparison, the SDG03 well in this area was completed in a record 170 days.