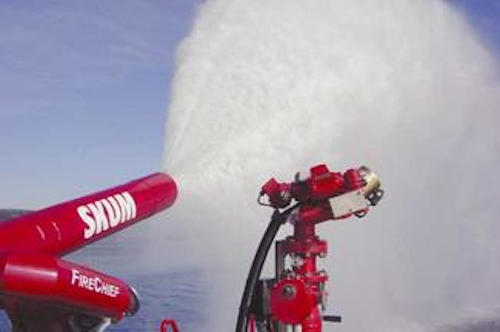 Svenska Skum recently fulfilled a major order for firefighting equipment for the White Rose FPSO at Korean shipyard Samsung. The 18 oscillating monitors, with a total capacity of 108,000 l/min, were the biggest job the company has had for an FPSO, said Henry Pap, area manager.
For other recent FPSO projects, Skum supplied the end user through the Singapore division of its former owner Unitor, for Shell's Bonga FPSO, delivered in September 2001, and A.P. Møller's White Rose FPSO, delivered in January 2003. Both were also built at Samsung Heavy Industries. Skum is fulfilling a monitor order for Petrobras' P-50, set for delivery later this year.
null
"The monitors are the most significant part of the firefighting (FIFI) system," Pap said.
The systems can shoot water and foam or just water.
"Most applications that we do have the foam line" for firefighting, he added, noting that the foam line can also be used to form a water screen to protect people from flames. Skum designs the water cannons and sells them to Unitor, which then designs fire systems for a vessel.
The LA Fireboat 2 has monitors with outputs ranging from 3,780 l/min to 40,000 l/min.
The company's monitors have a reach of 150-160 m, which puts them in line with capacity requirements for ISO and DNV levels FIFI 2 and FIFI 3. The high-capacity monitors can pump 60,000 l/min of water.
"It's a massive water capacity," Pap said. "At sea, you can't really call the fire department."
Skum also recently provided monitors for a number of dedicated firefighting vessels, one example being for the Los Angeles Fire Depart-ment's new FIFI vessel, the LA Fireboat 2.
For more information, contact Henry Pap, Svenska Skum. Tel: +46 303 577 17; fax: +46 303 582 00; hpap@tycoint.com; www.skum.com.