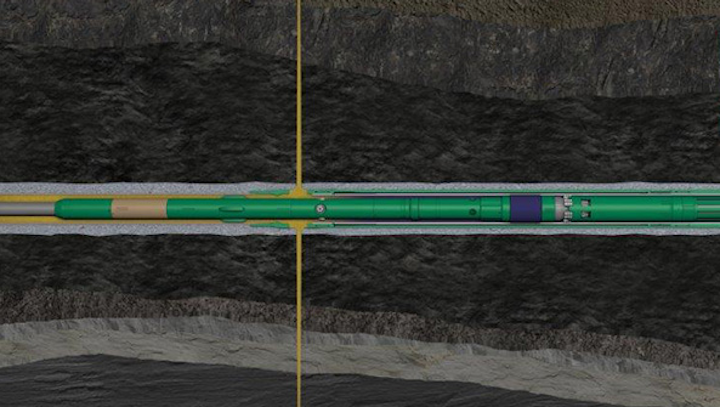 (Courtesy Aker BP)
Offshore staff
LYSAKER, Norway – Aker BP and its partners have executed their first 'Single-Trip Multi-Frac' campaign on the Valhall field in the southern Norwegian North Sea.
This was a first-ever application of the well stimulation method offshore, the company claimed, adding that it reduces the cost of the well as less time is needed for vessels and equipment.
"The traditional method takes two-three days to fracture a single zone of the reservoir," said Stian Ø. Jørgensen, head of the Aker BP's Well Intervention and Stimulation Alliance.
"With 'Single-Trip Multi-Frac', we can now do two zones in a day. We also see a potential for doing this more efficiently."
"The new method," added Tommy Sigmundstad, senior vice president Drilling and Well at Aker BP, "provides more flexibility; we spend less time per well, and it decreases the unit cost of the operations.
"In turn, this results in a reduced price for the stimulation and we can bring the well onstream earlier compared with the conventional stimulation method that has been used."
Valhall has always required stimulation to maximize production from the wells because of the low flow rates from the field's chalk formations. That means using a stimulation vessel and coiled tubing.
Stimulation takes place by creating fractures in the reservoir and by high pressure pumping in sand mixed with a fluid system into the reservoir. Several zones in the reservoir must be fractured.
With the normal method, the coiled tubing is pulled out completely for each zone – an extensive and time-consuming process, Aker BP said.
The company stimulated four zones using the new method on Valhall's G10 well at the field center in November. Three of the zones were stimulated in one trip down in the well, and the method was also successfully applied on the first well at Valhall Flank West.
Also in November, the company entered an alliance for well intervention and stimulation with Stimwell Services and Schlumberger, two of the partners in the Single-Trip Multi-Frac project.
12/13/2019