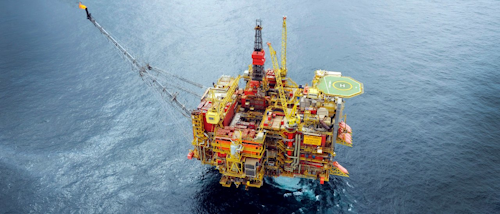 (Photo: Harald Pettersen/courtesy Equinor)
Offshore staff
STAVANGER, Norway – Equinor has commemorated 40 years of production from the Statfjord oil and gas field in the Norwegian North Sea.
Since operations started through the Statfjord A platform on Nov. 24, 1979, the field has produced a cumulative 5.1 Bboe.
The lifespan has exceeded expectations, with discussions at one point of closing down Statfjord A in 1999.
During the 2000s, oil production was declining rapidly, despite large remaining reserves. The problem was finding drilling targets that provided good returns, Equinor said.
The solution turned out to be producing more gas and less oil. Under the Statfjord Late Phase project, gas production has risen by 20% and the field's lifespan being extended by at least 10 years.
Mobil discovered Statfjord in 1974. Statfjord B entered service in 1982, followed 18 months later by the C platform.
All the concrete jackets for the Statfjord platforms were built in Jåttavågen in Stavanger. Aker Stord constructed the Statfjord A deck, and Rosenberg in Stavanger built the decks for the other two facilities.
Gas is exported through a pipeline runs to the Kårstø gas plant on Norway's west coast, and mostly on to Continental Europe. The UK share of the gas (14.53%) heads through a pipeline via the Brent field in the northern UK North Sea to Scotland.
The layers containing oil and gas in the field are 2,500-3,000 m (8,202-9,842 ft) subsurface. Statfjord's single-day production record was set on Jan. 16, 1987, when the facilities produced 850,204 bbl of oil.
11/25/2019