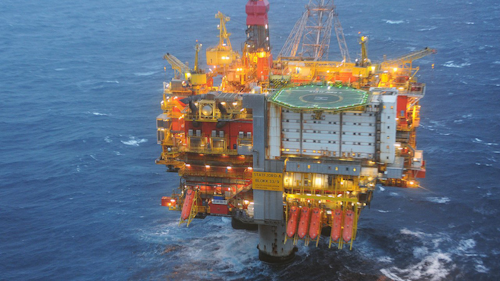 Offshore staff
STAVANGER, Norway – Equinor will shut down production from the Statfjord A platform in the Norwegian North Sea for good in 2022, 43 years after first oil.
The company has contracted Allseas' Pioneering Spirit to remove and dispose of the topsides, and Kvaerner to dismantle and recycle the structure at the company's yard in Stord, western Norway.
The Pioneering Spirit's present lifting capacity will be increased to allow it to remove the 48,000-metric ton (52,911-ton) topsides from the platform's supporting concrete gravity base structure in a single lift.
Allseas will manage all engineering, preparation, removal and disposal work, including the marine operations, and the subsequent transport to shore.
On arrival at Stord the topsides will be transferred to Allseas' barge Iron Lady before load-in to the disposal site. Kvaerner's scope includes preparation of the quays, and aiding during load-in.
The decommissioning site is located next to Kvaerner's facility for construction of new platforms.
Originally, Statfjord A was scheduled to be shut down in 1999 but it has since undergone various upgrades leading to the platform's life being extended several times.
Since first oil on Nov. 24, 1979 the Statfjord field has produced more than 5 Bboe of oil and gas, generating more than NOK1,500 billion ($172 billion) in revenue.
The two other platforms on the field, Statfjord B (installed in 1982) and Statfjord C (1985) will remain in service until at least 2025.
Equinor submitted its impact assessment for the Statfjord A removal for public consultation during the fall of 2018. It must now submit the disposal part of the decommissioning plan to the Norwegian authorities, detailing the proposed disposal solution and timing of the final shutdown of production for Statfjord A.
The company also plans to start permanent plugging of wells on Statfjord A this year using the platform's drilling facilities.
Other partners in Statfjord are ExxonMobil and Spirit Energy.
05/02/2019