Gazprom
Offshore staff
MOSCOW – Gazprom has issued progress reports on its two current offshore gas pipeline projects in Eastern Europe.
To date, around 1,450 km (901 mi) have been laid of the Nord Stream 2 pipeline in the Baltic Sea (more than 59% of the total length).
Pipelay is currently taking place in Finnish waters, while construction continues of the Russian and German sections.
Also in Russian territory, Gazprom continues to work on development of facilities (including compression) for the northern gas transmission corridor that will feed gas into Nord Stream 2.
The new pipeline will have an annual capacity of 55 bcm from Russia to Germany. ENGIE, OMV, Royal Dutch Shell, Uniper, and Wintershall Dea are financing 50% of the total project cost.
As for TurkStream in the Black Sea, installation has finished of the pipeline's offshore section and the Russkaya compressor station and the landfall in Russia are both in the start-up phase.
A reception terminal for the gas in Turkey is more than 80% complete.
The two strings of TurkStream will each have throughput capacity of 15.75 bcm/yr.
06/24/2019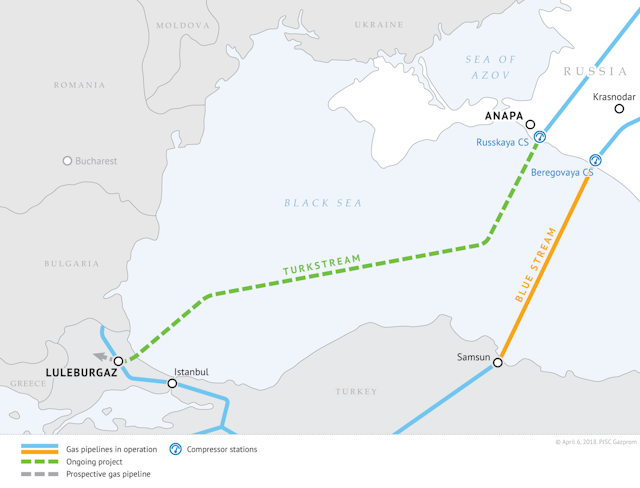 The two strings of TurkStream will each have throughput capacity of 15.75 bcm/yr.Gazprom