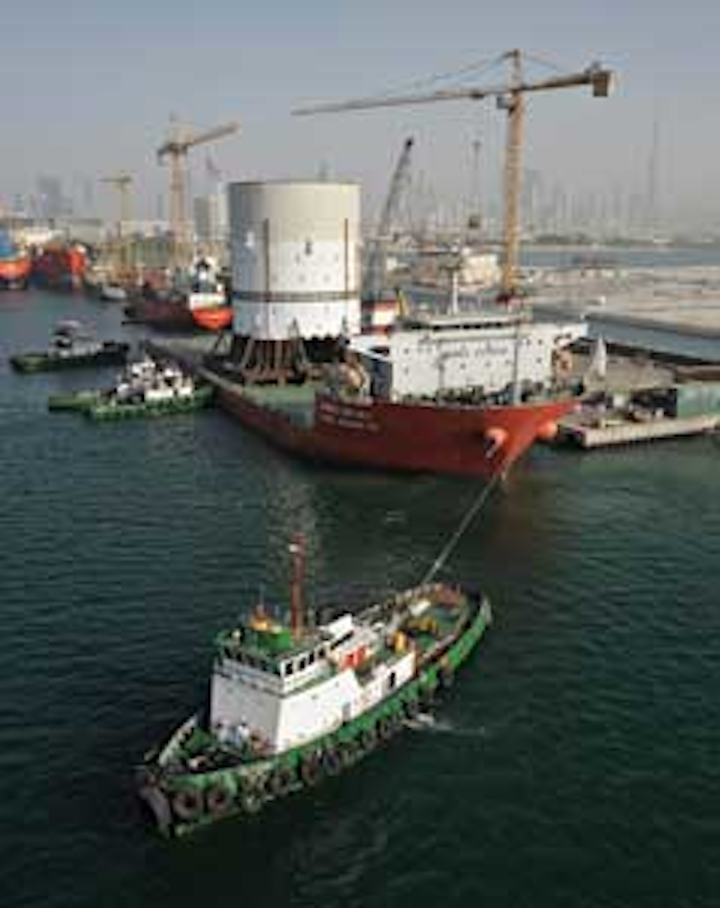 Displaying 2/2 Page 1, 2
View Article as Single page
Prelude will have six LNG tanks, four LPG tanks, and two for condensate which can store up to 220,000 cu m of LNG, 90,000 cu m of LPG, and 126,000 cu m of condensate.
"The total storage capacity is equivalent to around 175 Olympic swimming pools," said van Loon in relating the capacity numbers to a more familiar comparison.
After the first 25-year assignment, Prelude FLNG could be refurbished and moved to a different field for another quarter century.
"The facility is designed to have a 50-year life span. We expect to have the facility at one location for around 20-25 years, before bringing it back to dry dock for refurbishment and then potentially moving it to a new development," said Nicholas Kauffmann, Shell's FLNG project manager.
"We have had to adapt our processes and change the layout of the plant so some elements are stacked rather than placed side by side, reducing the overall size of the facility so that it can be sent out to sea," said Kauffmann. "Don't forget that while the Prelude facility is big, it is also small – taking up one-fourth the area of an equivalent onshore LNG plant."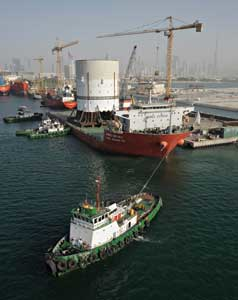 The Prelude mooring turret begins its trip from Dubai to South Korea.
To accomplish that, Shell has adapted a lot of existing technology to use. Among these, Kauffmann said, are the following:
Close coupling between the producing wells and the LNG processing facility – This is the physically short length from one to the other
Mooring systems – making it bigger for the largest floating facility ever built and dealing with the associated forces
The marinization of processing equipment, so that it will work on a moving facility
Water intake risers, as water will be used as part of the cooling process needed to turn the gas into LNG
LNG tanks that can handle sloshing – that is the motions of the liquid LNG within the hull if and when there are stormy seas
LNG offloading arms which will transfer LNG from the facility to the ships moored alongside – two moving facilities instead of just one.
"We feel there is large potential for FLNG projects going forward and many deployment opportunities," said van Loon. "We expect Prelude to be the first of many more FLNG projects to come. We have developed a long term relationship with TSC to ensure that the key lessons and replication opportunities are applied to our future FLNG projects. We are working further partnerships and plays for future projects."
Shell is the operator of Prelude FLNG in joint venture with INPEX (17.5%), KOGAS (10%) and OPIC (5%), and is working with long-term strategic partners Technip and Samsung Heavy Industries (the Technip Samsung Consortium).
"FLNG will enable the development of gas resources ranging from clusters of smaller more remote fields…to potentially larger fields…via multiple facilities where for a range of reasons an onshore development is not viable," said Peter Voser, CEO, Royal Dutch Shell.
"In addition, FLNG reduces the cost and environmental footprint of LNG development," Voser explained, "because there is no need for long pipelines or onshore development such as roads, laydown areas, and accommodation facilities."
Voser also noted that Shell has established a center of excellence for FLNG. "We have called it the FLNG Program Team," he said. "This team captures, applies, and extends key lessons from Prelude FLNG. It provides a growing pool of commercial and technical expertise for new FLNG projects."