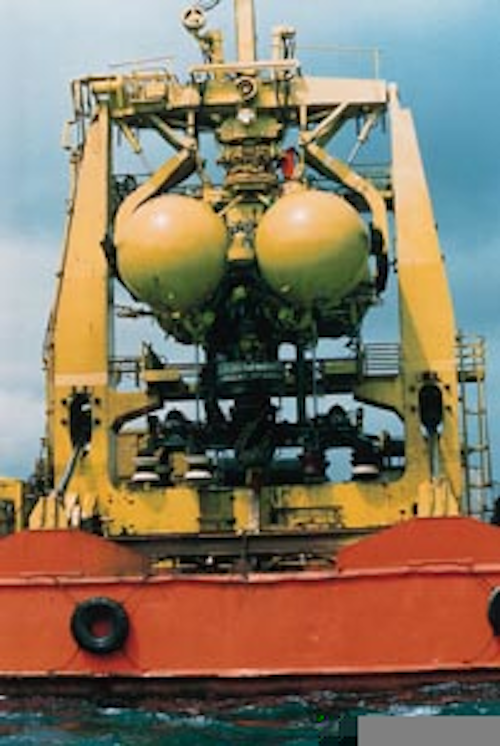 Jeremy Beckman
European Editor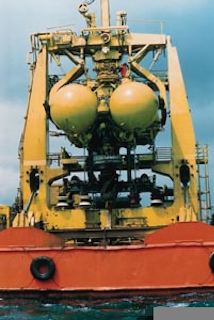 The HAM 950 trencher, contracted for NorFra this summer.
Europe's unrelenting appetite for Norwegian gas is keeping the giant pipelay vessels afloat in the North Sea. Gaps in the calendar are scarce as a succession of major new trunkline projects is hustled through.
Elsewhere in the region, fast-track developments abound, providing bursts of activity for the small diameter line brigade. However, there are a couple of lengthy installations in prospect in the UK and Danish sectors.
NorFra on hold
Despite still bickering in some cases over sourcing of supplies, Norway's gas developers are generally uniting to urge new infrastructure forward. Laying of trunklines is typically forging ahead within two years of project sanction.
The exception is NorFra, the 860 km, 42-in. diameter link between Dunkerque, France and the Draupner E riser platform (the connection point for the Europipe and Statpipe systems). Installation should have kicked off late last year, but the schedule was hit by technical hitches during laying of the 300 km Zeepipe IIB link between Draupner E and the Kollsnes gas terminal.
McDermott-ETPM is the main installation contractor on both projects. Pipe-bending problems on the LB200 barge's stinger, although eventually solved, necessitated re-laying of a small section of the 40-in. dia. line. Bad weather in November then curtailed operations for the season with Zeepipe IIB still 60 km incomplete. Work should resume in March, finishing in April, allowing first gas throughput in October.
Directly afterwards, McDermott-ETPM must compress installation of the NorFra line into the 1997 season, using the laybarge ETPM 1601 in tandem with the LB200. NorFra is due to be operational by October 1998: Gaz de France has contracted for 40 bcm from 2001-27.
Recently, the NorFra consortium announced further contracts. EMC will install the 10 km landfall approach section to Dunkerque using the Castoro 2 barge. Under a joint venture with Rotterdam dredging specialist HAM, EMC will also from July trench 567 km of the NorFra line using its jet trenching vessel Castoro 10 and the HAM 950 trencher.
Since its introduction in 1978, the 950 has evolved into a computer-controlled, remotely-operated trencher suited to water depths to 500 metres. HAM has also added a handling package to extend the trencher's operational range in rough weather.
The 950 comprises four buoyancy chambers capable of neutralizing the trencher's weight in water; four vertical and four horizontal thrusters; and four pairs of self-powered wheels that clamp the system onto the pipeline, allowing it to move along the line route. The trencher's neutral buoyancy allows it to cross unsupported pipes without risk of over-stress. The machine is powered and controlled via an umbilical from the support vessel.
A trench is formed along the pipeline by the cutterhead which excavates the soil, removes it by suction and discharges it at the side of the trench. Gravity makes the pipe slide into the trench, following which sand fills up the remaining space. Depending on soil conditions, trench depth and pipe diameter and stiffness, the pipe will subside between 30 and 150 metres.
The control cabin on the mother vessel monitors information about the trencher's route and works by means of a movable video camera and two sonar profilers mounted in the front and back of the trencher. Information is displayed in real-time on a TV screen.
Haltenbanken link
McDermott-ETPM's next Norwegian assignment is the 840 km ?sgard Transport line between the new Mid-Norwegian gas-gathering hub in block 6506/12 and the Kaarstoe terminal. The field partners agreed on a diameter of 42 inches to take onboard future Haltenbanken gas developments as well.
Laying should be performed next year, leaving the line operational by 2000, in time for first production from ?sgard. Around 200 bcm of ?sgard gas will be fed into the Statpipe trunkline via Kaarstoe over 27 years, entailing doubling of the capacity at the treatment terminal.
Before the ?sgard line hits the seabed, Allseas's new large-diameter pipelayer Solitaire may have started its first major project, installing the 635 km, 42-in. dia. Europipe II from Kaarstoe to Nordeney in Germany. In December, Norway's parliament approved the basic route which will cross the island of Bokn, south of Kaarstoe, before entering the North Sea.
This line may yet be diverted to land first at Nybro in west Denmark - or a spur line could even be fitted - if annual sales of 2 bcm can be agreed with Dansk Olie og Naturgas (Dong). The detour would add around 50 km to the line.
As groundwork for these various projects, Fugro undertook geotechnical studies of 1,360 km of export pipeline routes along the proposed ?sgard and Europipe trunklines; 80 km of infield flowlines; and the Zeepipe IIB - Kollsnes shoreline approach - all under a framework contract from Statoil. The work was performed mainly from DSND's DP geotechnical survey vessel M/S Bucentar.
Boreholes were drilled at the Kollsnes approach through a pre-laid rock berm with samples taken from the underlying strata. Around the berm, seabed cores were taken and in situ probes performed using the cone penetration test (CPT) rig Seacalf, to confirm the berm's stability prior to pipelaying. DSND also deployed a modification of the Seasprite CPT unit, which allowed shear strength of very soft near-surface soils to be tested to an unusuallly high degree of accuracy, according to Fugro.
Two new mid-size Norwegian gas lines out to bid will run from the Heimdal area to Esaso's Jotun and Norsk Hydro's Oseberg facilities. The Oseberg line will be 110 km long, 36-in. dia. with planned capacity of 10 bcm/yr. It will connect into Statpipe either directly, at a point south of Heimdal, or via the Heimdal platform riser. A decision is due before June. Jotun's line could also be used to tie in gas from the Hermod and Balder extension fields.
Hydro is hogging current new Norwegian oil line activity. Rockwater is assigned to tie in a cluster of subsea flowlines, umbilicals and risers to the Troll B platform. In the longer term, an 85 km line is planned to export oil from the new Troll West Gas Province platform, probably terminating in Mongstad. Elsewhere this season, EMC will shortly install the 27 km, 14-in. oil export line between Hydro's new Visund platform and Gullfaks.
Flexible options
In the UK North Sea, an upsurge in short-term FPSO or subsea developments is keeping the flowline installers reasonably active. Vessels are increasingly being adapted for multi-purpose construction duties, allowing them to be switched to West Africa or the Americas during the winter and odd quiet months.
At the same time, increased competition in flexible flowline alliances may be spurring the new field projects. Rockwater will have access to a newly established Wellstream manufacturing plant on Tyneside; and Stolt Comex Seaway has teamed up with NKT Cables of Denmark. Their first joint project will be Seaway Falcon's installation this April of a 7.7 km, six-in. dia. NKT flexible flowline to provide fuel gas for Oryx's Hutton TLP.
Seaway Falcon was converted two years ago to handle both rigid and flexible pipelaying. Stolt Comex Seaway has now commissioned a similar job on a vessel renamed Seaway Eagle: this was designed as a cable-layer, but never entered service. Following the current overhaul in a Belgian shipyard, it will soon move to China to work on Statoil's Lufeng project, but it may also be available for a North Sea project this summer.
The 6,000 ton vessel is 138 meters long with a 19.5 meter beam and a 1,300 sq meter deck space. It will be dynamically positioned, with a 450 meter saturation diving system as well as ROV deployment. In time it will be further developed to manage rigid flowline installations.
Upcoming small diameter lines for high pressure and temperature projects include (Castoro 6) and Kingfisher (Norlift). Awards are also expected on the major outstanding HP/HT developments, Elgin/Franklin and Shearwater, which will generate by far the longest new gas line in the UK sector. Diameter has not been fixed, however the reception terminal will be Bacton, 460 km to the south-west.
This will be a dry gas line with processing completed offshore. Although more costly than an alternative wet gas line to Teesside, the partners felt there was a bigger market in Bacton as a tie-in point to the new Interconnector pipeline to Belgium, and they could access a larger customer base in southern England. The new line may also be available to third party exporters.
The other main British gas/condensate pipelay project nearing completion is the Britannia export system. The field's 15 km infield pipeline bundles, to be installed shortly by Costain Stolt, are claimed to be the longest towed bundles ever produced - each 7.5 km long and weighing 6,000 tons. They will be towed from north-east Scotland 300 km to the field.
Flight Refueling of Wimborne, Dorset will monitor towing depth to forestall damage to the bundles from seabed pipelines or wellheads, using its DTS 2000 communications technology. Instruments will provide depth of tow from locations along each bundle, as well as a communication link between each subsea site and the tugs. The system will also monitor the bundles' internal pressure at the trail and towhead structures.
Further north in the East Shetland basin, a new 40 km liquids export line is planned to carry product from the Alwyn area fields Alwyn North, Dunbar and Ellon to Sullon Voe. The current medium is the BP-operated Ninian-Sullon Voe system, but Alwyn operator Total plans to switch to Shell's Brent system, via the Cormorant A platform which is some way off abandonment.
Danish extension
A spate of gas finds in the Dutch North Sea could inspire some new spur lines, as operators seek to fill under-used capacity in the Dutch offshore trunklines. Castoro 6 is booked this season to install duplex and carbon steel lines totaling 25 km in length for NAM in block K/14.
In the Danish sector, Amerada Hess and Dong are considering a new line taking gas from offshore fields 250 km to the west coast of Jutland, including Amerada's South Arne. Capacity in Denmark's two existing offshore trunklines is virtually full already, and Dong sees potential for a further 2 bcm/yr in the next decade.
According to London analysts Scanboss, the line would head from a new riser platform in the Central Graben area. There may be complications, however, if Europipe II is diverted to Denmark.
Copyright 1997 Offshore. All Rights Reserved.