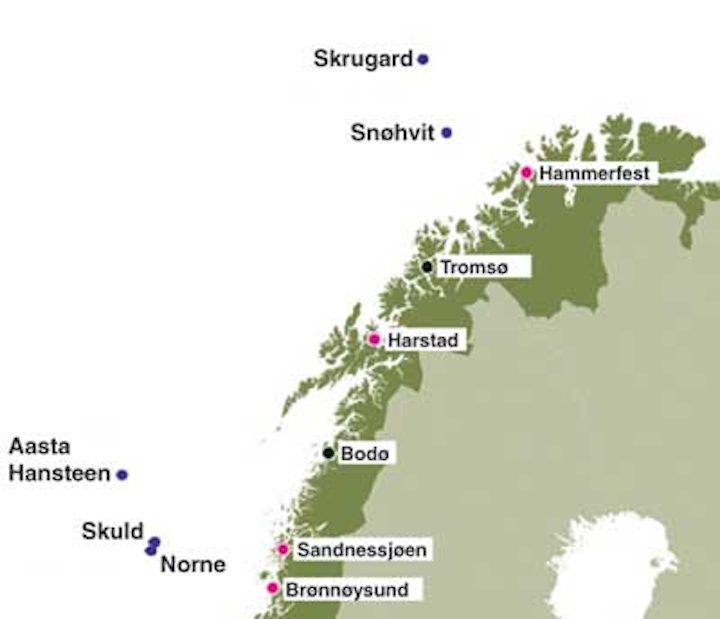 Statoil has been appointed working operator of preparations for the Johan Sverdrup field development in the North Sea. This follows a "pre-unit agreement" signed by the various partners in the field, which extends across two licenses and is thought to be Norway's largest discovery for many years. It will therefore require a new processing and transportation hub on a similar scale as other multi-platform complexes such as Gullfaks and Statfjord.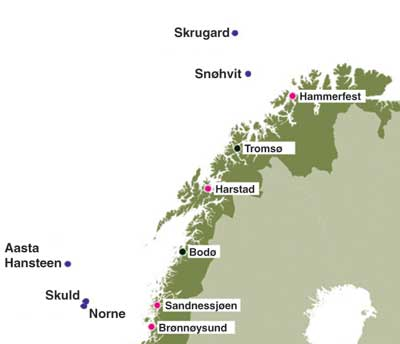 Statoil plans to set up a new base in Harstad to serve field developments in the Norwegian Sea and Barents Sea.
Lundin Norway and Statoil will continue to operate their own exploration programs on respectively licenses PL 501 and 265, but will cooperate on planning and data exchange. Lundin's first appraisal well this year on its part of the structure proved a 54-m (177-ft) oil column in Upper and Middle Jurassic sandstones – theBredford Dolphin was due to drill a side track last month investigating a potentially deeper oil/water contact in the area.
Belly-Spar under review for Aasta Hansteen
Aker Solutions has won a FEED contract for a spar platform for Statoil's deepwater Aasta Hansteen field in the Norwegian Sea – Technip is also working on a study. The location is in the Voering area, 300 km (186 mi) offshore in 1,300 m (4,265 ft) water depth.
The spar will be the world's largest, Aker claims, with an overall hull length of 193 m (633 ft) and a draught of 170 m (558 ft). It will also be the first with capacity for condensate storage. Aker will apply its "Belly-Spar" concept for the design, the "belly" referring to the increased diameter on the section of the hull housing the condensate storage tanks.
Another first for a production platform offshore Norway will be the deployment of steel catenary risers. These will be suspended in a bow shape to help the risers compensate for motions on the spar, which will be moored via polyester lines – another first for Norway.
Statoil has now turned its attention to building a local supplier network in northern Norway to support the Aasta Hansteen development. Petro Arctic is drawing up a list of companies to work on all phases of the project through to operation. Statoil also plans to set up a new area base in the region in Harstad to assist this project and eventually also the Skrugard Havis development in the Barents Sea.
Budget measures provide UK image boost
Britain's government has taken on board the industry's concerns following last year's unexpected petroleum tax changes. The Budget in March announced a series of measures designed to reassure investors and stimulate activity. Oil & Gas UK claimed the package could lead to $63 billion being poured into UK oil and gasfield projects, and boost reserves recovery by 1.7 Bboe over time.
Among the changes, legislation is promised to end the uncertainty over tax relief on decommissioning costs by allowing North Sea companies to enter into contracts with the government that guarantee future tax relief. The lack of clarity has caused problems for certain operators and small independents looking to buy or sell mature production assets, particularly those with large platforms. Deloitte Petroleum Services estimates that UK North Sea decommissioning costs could near $50 billion over the next 30 years.
Last year, Deloitte added, exploration drilling activity on the UK shelf was at its lowest level since 2003. But the new measures can reverse the decline through underlining the government's willingness to work with industry to create an environment that will maximize reserves recovery.
WoS drilling activity heating up
One of the new initiatives is a £3-billion ($4.7-billion) new field allowance west of Shetland, which is thought to be most applicable to Chevron's deepwater Rosebank project. But Faroe Petroleum said there were tax incentives generally for deepwater fields in this area. Faroe has talked up its exploration prospects such as Grouse on the Corona Ridge, in what it claims is an exciting new play above the basalt layers. It plans to commission an electromagnetic survey to reduce risk ahead of a drilling decision. The company also operates a license west of BP's Clair field containing another drilling candidate, Aileen, and participates in the Glenlivet discovery, which it says could be tied into Total's new gas-gathering pipeline system for the Laggan-Tormore fields.
One exploration well newly under way is BP's North Uist on block 213/25c, 125 km (78 mi) northwest of the Shetlands, drilled by theStena Carron drillship. The water depth of 1,290 m (4,232 ft) is thought to be the deepest of any UK offshore well to date. As requested, BP's emergency response plans included confirmation that it had taken into account findings from the Macondo investigation reports, covering BOP management and inspection; auditing of well cementing procedures; and interaction with key contractors.
Concrete removal raises questions
The Norwegian Petroleum Directorate (NPD) has outlined the findings of a new report into disposal of Norway's offshore concrete facilities. Some are nearing the end of their working lives.
According to OSPAR decision 98/3, all redundant offshore installations in the North East Atlantic region must theoretically be removed, although licensees of concrete structures can apply for an exemption.
Norway has little experience to draw on concerning removal of concrete facilities or subsequent scrapping onshore. In the new report, NPD, Petroleum Safety Authority Norway, and Norway's Climate and Pollution agency Klif found that although some of the concrete structures incorporate equipment that would allow them to re-float, it is unclear whether this could be done in a controlled manner. An accident during preparation, re-floating, transport to shore, or scrapping could lead to loss of life, while setting facilities ashore for scrapping and material recycling could cause discharges to the sea.
Wintershall delivers tight gas
Wintershall has started production from the K18-Golf field, its first of a tight gas reservoir in the Dutch North Sea. Initially, one single subsea well is in service, tied back 10 km (6.2 mi) to the K15-FA platform, with a second well to follow this summer on the north of the field. The location is in a restricted military zone which necessitated a fasttrack subsea development.
The K18-G1 well descends vertically for 3,750 m (12,303 ft), followed by a 1,400-m (4,593-ft) horizontal section in the gas-bearing sand of the Rotliegend reservoir. Based on the results so far, Wintershall intends to focus on more tight gas field developments in the Dutch sector.
More Offshore Issue Articles
Offshore Articles Archives
View Oil and Gas Articles on PennEnergy.com