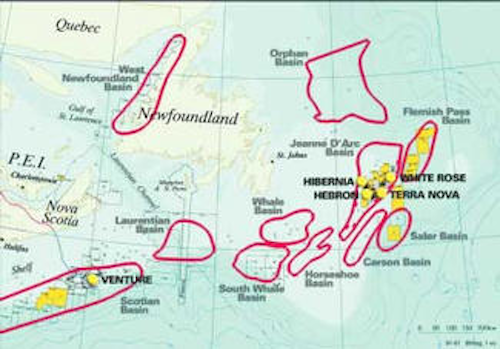 The $1.8 billion Terra Nova Field came on like gangbusters in early 2002 after nearly a year of widely publicized setbacks. "Start-up has gone exceptionally well. We actually hit our peak allowable throughput of 125,000 b/d in about nine days," said Gary Bruce, Vice President of Petro-Canada's offshore development and operations. The first shuttle tanker had to be called in 11 days earlier than planned, and the third tanker load of oil was transferred only 22 days after production began.
Now that production is underway, Terra Nova is performing well beyond expectations. Four of the five wells in the field were brought online by early February. Production has been so successful that Petro-Canada already asked regulators to approve a production rate increase to 150,000 b/d. "If we can safely produce at 125,000 b/d for the next few months, we should secure approval for the increased production level," Bruce said. The field should be able to produce at this rate for 14-15 years, and additional discoveries could extend the field life.
Pan-Canadian recently drilled a test well in the far east fault block of the field, which yielded 80 meters of net pay. If the find proves to hold a predicted 100 million additional barrels, the life of the field could be extended another couple of years, Bruce said.
High-tech equipment functioning well
With all of the hold-ups resulting from technical difficulties over the past few months, it looks as if the project met with all of its difficulties up front. Since production began, there have been no incidents of malfunctioning equipment. The subsea system is working well, and despite severe storms and 70-ft waves, the turret has worked flawlessly, allowing the floating production, storage, and offloading (FPSO) vessel to weathervane and to continue producing. "We're particularly pleased with how well the separation system has worked in harsh sea states," Bruce said.
All that remained to be completed as of February were water injection and gas compression. Regulations allow for all of the gas to be flared for the first three months and permit some flaring through the first year. However, the company anticipated eliminating flaring by mid-March, when gas compression and water injection are expected to be implemented, Bruce said.
The next step in development will likely be an intelligent completion system. "We're looking at the possibility of a smart well this year," Bruce said. Although a final decision has not been made, Bruce called this development plan "a no-brainer," given the economic benefit to developers.
White Rose
The next development in the region will be Husky Energy's $1.45 billion White Rose Field. The project secured government approval on Dec. 19, 2001. Now, Husky is finalizing contractual arrangements to determine the true value of the resource in order to move forward with the project, according to William Roach, General Manager of East Coast Development. Husky is optimistic about going ahead with White Rose as the first step in regional development. "We're just developing the first part of what's already been discovered in a quite extensive hydrocarbon system," Roach said.
In fact, exploration efforts could move forward quickly in an area Roach believes will yield some significant opportunities. Husky plans to drill one or two exploration wells this summer if agreements can be put in place.
With 283 MMbbl of recoverable oil, White Rose is by far the smallest field to be developed, but Roach believes it will be "a good investment on a stand-alone basis." Husky has already spent $44 million "getting the engineering right and the bidding process right before moving into the contract phase," Roach said.
Like Terra Nova, White Rose will be developed with an FPSO. However, the new FPSO will be built using a copy of a hull used for trading tankers that currently operate in Eastern Canadian waters. Husky has worked to design its way around issues that proved to be obstacles for Terra Nova, but Roach credits advances in technology for opening up the area for development. "The main reason we can develop White Rose right now is the result of horizontal well technology and the reliability of floating production systems increasing," he said.
Exploiting natural gas resources
When White Rose moves into development, Husky will be the single largest unconnected gas owner in the basin, with about 2 tcf of gas in the associated reservoirs. "We're looking very carefully at gas. It's not ready yet, but we have a long-term goal of gas exports," Roach said.
Estimates have placed reserves upwards of 60 tcf of natural gas potential, and growing demand in the US is making development of Canadian petroleum resources attractive. To date, offshore exploration has resulted in the discovery of almost 10 tcf of recoverable natural gas and approximately 400 MMbbl of natural gas liquids. The majority of these resources are in the Jeanne d'Arc Basin and adjacent Ridge Complex.
"It would be relatively inexpensive to convert the facility we have got to export gas because there is gas reinjection in the north of the reservoir anyway for conservation," Roach said. "That could very easily be turned with a little bit more processing into an export system." Husky estimates that gas development could be achieved in the 2007-2010 timeframe, with White Rose contributing as much as 400 MMcf/d.
The provincial government has expressed a willingness to discuss gas development opportunities and is working to attract investors.
Deepwater development on the horizon
Development projects have comprised the bulk of recent activity, but there has not been a lot of new exploration off Newfoundland. That trend is about to change. Now, the attractive frontier is in deepwater, particularly the Flemish Pass Basin, where oil companies have been building up acreage inventories over the past five years.
A 1,000 sq km seismic survey on the Annie Block in the Flemish Pass last summer marked the beginning of a seismic campaign by Petro-Canada. Both Petro-Canada and PanCanadian have identified a number of large, attractive drilling targets, but it looks as if Petro-Canada will be the first to test the drill bit. The company is already looking for a deepwater rig. "We'll probably only spud one well in the deepwater Flemish Pass this year," Gary Bruce said. A second is planned for next year. Petro-Canada is also planning a well in the Salar Basin (south of Jeanne d'Arc in 3,900 ft water depth) that could identify a 400+ MMbbl structure. "We really need a discovery in a new basin to kick-start the next phase of oil development," Bruce said.