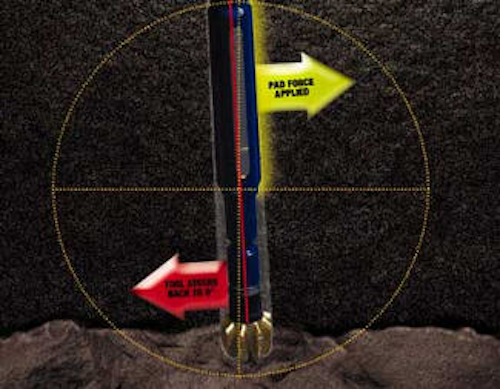 The industry's first automated vertical drilling system has been developed. The system has deviation control in multiple applications, ranging from salt drilling to faulted zones and highly-fractured formations, without compromising preferred drilling parameters.
The VertiTrak System (VTS), developed by Baker Hughes Inteq, incorporates a new high performance power section and pad steering technology plus a downhole closed loop system with two-way communication developed from another proven system. This unit can operate in both steering and rotary mode. The developers claim the following results for the system:
Improved well stability (less stress and reduced time to casing)
Fewer drilling days
Lower tortuosity
Less likelihood of twist-off
Reduced torque and drag
Stick-slip avoidance
Decreased bottomhole assembly (BHA)/ casing wear.
Reduced gross measured depth (MD)
Reduced overall drilling costs
Improved penetration rates
More precise directional control
Reduction in the number of casing strings required to reach total depth (TD).
System history
A predecessor to the VTS was first deployed on a developmental basis on the KTB ultra-deep scientific wellbore in Germany, with the aim of keeping the borehole absolutely vertical. In this well, the target true vertical depth (TVD) of 9,000 meters was achieved by keeping the well absolutely vertical.
In 1996, improvements were jointly developed with Agip in Italy. Agip wanted to address critical formations with high dip angles of 30-60 degrees in the Mediterranean region. These formations tend to deviate the well from vertical when drilling with conventional pendulum BHAs. The system also was used to drill cluster wells using a lean profile (slim casing concept). Also, this eliminated the need of correction runs with tilted motor BHAs to keep the well straight. In 1999, the system was used for the first time outside Italy. The first application was in the Gulf of Mexico and afterward, on a well in Colombia.
Automated steering
This is an automated steering system for drilling vertical wells without string rotation. The tool keeps the well absolutely vertical, reduces wellbore stability problems, and increases the gross rate of penetration (ROP).
The downhole-closed loop steering system measures frequently any deviation from vertical and generates the necessary steering forces at the stabilizer pads. An integrated mud pulser transmits inclination and tool status information.
Although the steering system is based on previously developed technology, it can only steer when there is no drillstring rotation because the steering ribs are an integral part of the downhole motor and are not mounted on a non-rotating sleeve. However, the steering function of the tool can be switched off by sending a downlink (recycling the pumps) so that the tool can also be used with drillstring rotation. This allows operators to keep the inclination within a small window by switching between steering/slide drilling and rotary mode, when a higher overall ROP is more important than a perfectly vertical well.
Drilling a vertical well reduces torque and drag and improves well bore quality, enabling lean casing profiles, and helping to extend the wells horizontal reach. Compared to standard steerable motor assemblies, hole spiraling as well as drilling an oversized hole in rotary mode is eliminated.
MWD control
The measure-while-drilling (MWD) control package provides inclination measurements (0.1 degrees) and two-way communication with surface. The turbine-driven generator and hydraulic pump generate steering pressure to each pad to maintain verticality through continuous downhole corrections.
Although the integrated unit provides only directional and temperature sensors, a full logging-while-drilling (LWD) suite can be incorporated within the BHA to provide comprehensive, real-time formation evaluation. In this configuration, the mud pulser is deactivated to eliminate potential interference between its signal and the LWD pulser. Although this prevents the tool from transmitting inclination and other sensor data to the surface, the system's closed loop steering capabilities remain unaffected.
Case I history
The following parameters apply to a Mississippi Canyon, Gulf of Mexico, subsalt well in which the technology was applied:
Water depth: 4,650 ft
Date: April 2000
Hole size: 14-3/4 in.
Well type: vertical
Formation: salt
An oil and gas company was experiencing difficulty in drilling truly vertical wells through a deepwater salt formation. Due to the deviation tendencies common with polychrystalline diamond compact (PDC) bits when drilling through salt, traditional drilling systems would have required the operator to restrict penetration rates in an attempt to maintain a vertical well-bore. In addition, the well had experienced BHA and string failures while drilling with conventional systems.
After switching to this system, the operator was able to drill a quality wellbore while maintaining verticality through the salt section. Although the system typically drills in a sliding mode, the steering pads were disengaged to permit rotary drilling and optimized ROP, as the salt required only intermittent course corrections. Near bit sensors monitored and pulsed inclination data to the surface.
Whenever hole inclination exceeded acceptable limits, rotation was stopped and the pads were re-engaged to steer the wellpath back to vertical while sliding. Switching between the system's two drilling modes allowed the operator to achieve excellent penetration rates in both rotary (137 ft/h) and sliding (90 ft/h) mode - a record for this area of the Gulf of Mexico.
Case II history
The following parameters apply to another well in the Walker Ridge region of the Gulf of Mexico. The well was drilled through salt.
Water depth: 5,500 ft
Date: January 1999
Hole size: 16-1/2 in.
Well type: vertical
The operator wanted to improve drilling efficiency in a Gulf of Mexico subsalt well. The well was located in approximately 5,500 ft water depth in the Walker Ridge area. The operator wanted to drill a vertical well through the salt with minimal inclination. Other goals included eliminating downhole mechanical failures by reducing vibration, while optimizing penetration rates and on-bottom time.
Consultants recommended running a VertiTrak straight hole drilling system incorporating a downhole thruster to deliver constant weight on bit for improved vibration control. The closed loop MWD/steering system measures any deviation from vertical and automatically applies hydraulic force to the expandable steering pads - steering the hole back to 0 degrees independent of operating parameters.
The operator was able to drilled 7,277 ft of salt in 6.2 days - delivering a quality 16-1/2-in. hole with a maximum deviation of 2.5 degrees. Over a total of 113.5 drilling hours, the system achieved an average ROP of 64.1 ft/hour The thruster performed well and no mechanical failures occurred. The drilling required 113.5 hours, with an average ROP of 64.1ft/hour The 1,174 ft/day average exceeded the operator's technical limit goal by 34%.