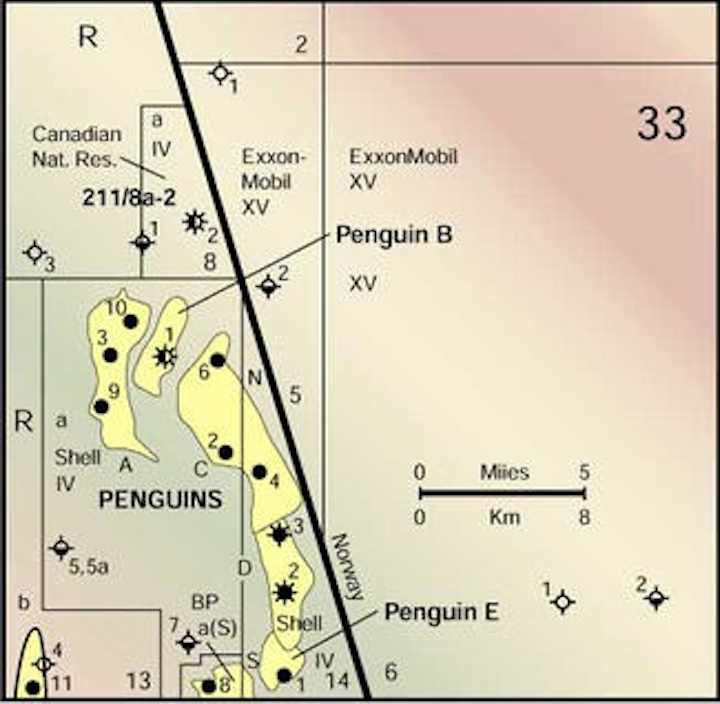 Snøhvit LNG progress resumes
Norway appears to be on course for its first LNG plant, following fiscal concessions by the Finance Ministry. A development plan has been submitted for the Snøhvit Field in the Barents Sea, following disagreements over taxes on the proposed offshore and land-based facilities. Under the new scenario, the government would not lose out in revenue, but the partners would benefit through relaxation of upfront payments.
Snøhvit's partners, led by Statoil, plan to build a liquefaction plant at Melkoya, northern Norway. This would receive gas first from Snøhvit (around 2006 on), followed years later by supplies from the Askeladd and Albatross reservoirs. (Total reserves of both are estimated at 316 bcm. Like the current Corrib and Burullus developments off Ireland and Egypt, this would be a wholly subsea development exporting directly to the plant through a 160 km, 30-in. pipeline.)
Statoil also intends to lay another flowline for re-injecting associated carbon dioxide into a subsurface reservoir. Up to 21 producer wells could eventually be drilled, in 2004-2005, assuming the US$5.3 billion scheme is approved by Norway's parliament (Storting). Project finance is already precarious, with at least two partners in Snøhvit known to be seeking buyers for their percentages.
Rimfaks switch pays off
Statoil's latest appraisal drilling salvo has brought mixed results. Well 34/10-J-4H on the Rimfaks Field Lunde reservoir was initially planned as an injector, but later extended with an exploratory section. The high angle well identified hydrocarbons 490 meters into this section, followed by reportedly promising production tests. Oil, gas, and condensate were extracted from two levels. Rimfaks is a satellite development to the Gullfaks complex.
On the east flank of the undeveloped Gudrun Field, north of Sleipner, a four-month appraisal well yielded hydrocarbons from Middle and Upper Jurassic sandstone intervals. The high-pressure, high-temperature reservoir had been part of Statoil's inventory backlog since its discovery in 1975.
Midway between Sleipner and Frigg, a well drilled by semisubByford Dolphin on the B prospect failed to find anything in its Tertiary target. The same rig then drew another blank on the Skuld prospect, south of Balder and Grane, again scouring Tertiary horizons. And sister semisubmersible Borgland Dolphin's disappointing well test on Svale in the Norwegian Sea led to oil reserves there being downscaled from 80-50 million bbl, postponing development. Statoil had viewed Svale as a potential tieback to its Norne floating, production, storage, and offloading (FPSO) vessel.
Central North Sea developments dominate
Penguins is one of numerous field clusters in the UK Northern North Sea undergoing re-appraisal, following an inordinately long development hiatus. Confidence in modern subsea techniques is aiding economics, as is the general resolve to mop up stray UK continental shelf (UKCS) oil and gas pools. These are estimated cumulatively by the government at 33 billion BOE.
In its latest forecast for the sector, analyst Wood Mackenzie has identified 32 potential near-term developments relating to 45 fields. As always, the Central North Sea holds most promise, with 16 possible projects totaling 860 million BOE. Of these, Shell's Puffin and Goldeneye and BP's Kessog are the main contributors. BP's imminent Rhum and Devenick gas-condensate developments head the line-up in the Northern North Sea, with combined potential of around 350 million BOE. The biggest single project, however, will be BP's 250 million bbl Clair Southern Area development, 55 km west of Shetland.
Wood Mackenzie foresees 38% of these projects involving new platforms, most of these being normally unmanned or minimal facility. Only one is a likely contender for an FPSO, confirming the tail-off of interest in this technology on the UKCS. Subsea solutions will continue to dominate, increasingly at the expense of extended reach wells.
In the Southern North Sea, Conoco is aiming to fasttrack development of this summer's VE gas discovery, 80 miles east of its Theddlethorpe terminal in Lincolnshire. The well, drilled on block 49/16 by the jackupEnsco 92, encountered 242 ft of gas-bearing Rotliegendes sandstone. Conoco has numerous platforms in the area. Phillips had less luck with an exploratory well by the Ensco 80 on its Litle Dotty reservoir. Gas quantities found were sub-commercial. Phillips had hoped for something substantial to prolong operations at its Hewett hub to 2009.
Faeroes drilling disappointing
Two out of three wells slated this year off the Faeroes have now been plugged with only minor hydrocarbon shows. The second, following Statoil's failure on the Langan prospect, was managed by the drillshipWest Navion in 1,075 meters water depth for the BP/Shell partnership. The well, in license 004, intersected the targeted objectives before being terminated in the Paleocene.
The Faeroese Ministry commented that although the result was below expectations, it did establish the presence of a working petroleum system on the Faeroe Shelf. Now, Amerada Hess carries the Ministry's hopes with its current well on the Marjun prospect, in 900 meters water depth.
BP's block lies in the same Judd Basin that has generated all its oilfield discoveries to date west of Shetland in the UK sector.
The operator also announced plans for a possible third-phase development of the nearby Schiehallion Field. This may involve two new drill centers on the Claw and North Channel prospects, which would be connected to the Schiehallion floater via subsea flowlines. Up to 20 wells and one further production riser could be required.
Record subsea tieback for Penguins
Shell UK Expro has gained approval for one of the UK's most ambitious subsea developments to date, including the longest tieback to a platform in the sector. The three-phase, $500 million program will focus on four of the Penguins accumulations in East Shetland blocks 211/13a(N) and 211/14(N), first discovered in 1974. BP's Magnus is the nearest processing center, but Shell UK Expro's Brent C, 67 km distant, will serve as the host.
Under Phase I, three drill centers will be installed, with four production wells across the Penguin A, C, and D fields. Production will head through a 67 km, 16-in. pipe-in-pipe flowline to the modified Brent C platform. An 8-in. umbilical will also be deployed - five more producers and two further drill centers will be added in Phase II on Penguin A, C, D and E, with a gas lift line also installed, in tandem with modifications to the Brent C gas injection compressor. Finally, up to four gas injector wells will be drilled on A and C under a third development phase, also entailing a new gas injection line.