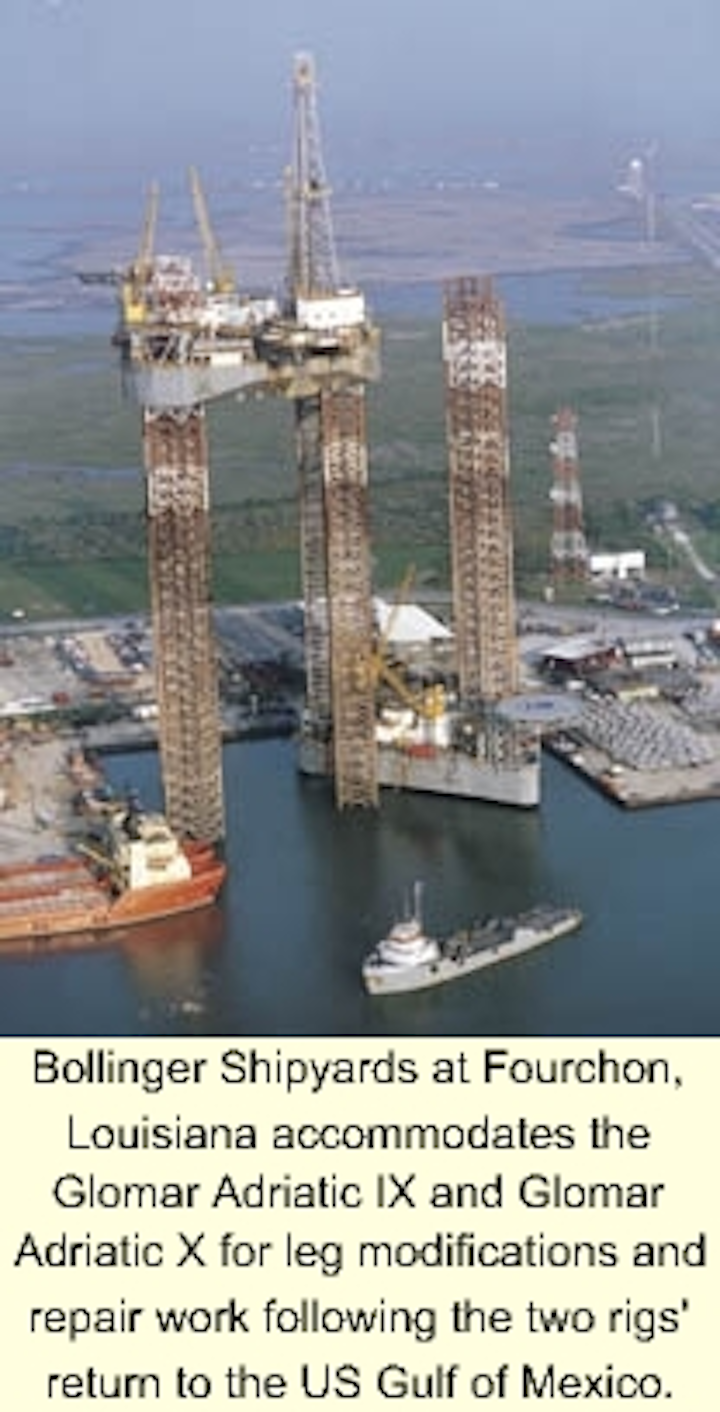 El Paso Production agreed to farm-in to Leviathan Gas Pipeline Partners' 100% working interest in the Ewing Bank 958 unit, located in the Gulf of Mexico. Under the terms of the agreement, Leviathan subsidiary Flextrend Development will farm-out its interest in the unit, which contains Sunday Silence field, to El Paso Production in exchange for an overriding royalty interest that is convertible to a working interest in the unit once the project has achieved payout.
El Paso Production plans to begin drilling the fourth well on the unit later this month and anticipates first production from a subsea tieback to a shelf-based platform in the second quarter 2001. Previously, Leviathan had awarded a turnkey Moses mini-TLP contract to Modec International to develop Sunday Silence. However, now Leviathan is looking for a different location for the tension leg platform in the Gulf of Mexico. In the meantime, it has suspended construction of the unit. El Paso Energy owns 34.5% of Leviathan Gas Pipeline Partners. Leviathan Gas Pipeline Partners was scheduled to change its name to El Paso Energy Partners on December 1, 2000.
MMS awarding RIK contracts
The US Minerals Management Service (MMS) awarded contracts to Duke Energy Trading and Dynegy Marketing & Trade to take advantage of the royalty-in-kind (RIK) gas pilot program in the outer continental shelf. Starting in December, Duke and Dynegy will take the government's share of natural gas production from federal leases and deliver processed gas to the federal General Services Administration, which will use it to meet energy needs in federal facilities.
MMS Director Walt Rosenbusch said that with the new pilot program, the government will be accepting over 275 MMcf/d in royalty gas - more than 10% of offshore natural gas royalty production. Duke contracted for 65 MMcf/d from the Pelican and Stingray pipeline systems, and Dynegy contracted for 133 MMcf/d from the High Island Offshore Systems. Both contracts will run from November 1999 through March 2000. MMS said inadequate bids were received on two other pipelines. This winter, the MMS will solicit bids for gas production starting in April.
Florida must pay back Coastal Petroleum
Florida's First District Court of Appeal ruled that the state of Florida must pay fair recompense to Coastal Petroleum since the state's interpretation of its environmental plan precludes Coastal's drilling of its St. George Island prospect in its 800,000-acre leaseholding along the Gulf Coast. Coastal (a subsidiary of Coastal Caribbean Oils & Minerals) has been seeking a drilling permit since 1992.
Coastal said two previous court reviews had held that Florida's Department of Environmental Protection's denial was unlawful. First District Court of Appeal said there is no dispute that Coastal has a viable contract with the state of Florida. If Coastal cannot exercise its rights under the contract, compensation must be paid. Coastal President Phillip W. Ware said the company is considering its options.
Vastar planning eight deepwater wildcats
Vastar has outlined eight deepwater wells it plans to drill in 2000-2001. The eight are Anvil (Mississippi Canyon 815) in 5,200 ft water depth, Entrada (Garden Banks 782) in 4,750 ft water depth, Yumuri (Mississippi Canyon 382) in 5,000 ft water depth, Aspen (Green Canyon 243) in 3,200 ft water depth, Cypress (Mississippi Canyon 568) in 7,500 ft water depth, White Ash (Mississippi Canyon 393) in 7,200 ft water depth, Mt. Etna (Mississippi Canyon 823) in 6,500 ft water depth, and Wild Thang (Walker Ridge 500) in 6,800 ft water depth. The deeper wells are beyond the capacity of Vastar's contracted deepwater rig Ocean Victory, and the wells will be drilled by R&B Falcon's Deepwater Horizon, to be delivered in 2001.
Vastar Resources recently participated in four finds, make two dry holes, and will announce the results of three prospects soon. Vastar estimates gross potential reserves at Bart (Grande Isle 63) at 30-50 Bcfe, at East Calgary (High Island A-4) at 10-20 Bcfe, at Beretta (Main Pass 264) at 40-70 Bcfe, and at Pinarello (Ship Shoal 187) at 5-15 Bcfe. The first two may begin production this quarter, and the other two could startup in 2Q2000. Donut (High Island 87) and Paradise (East Cameron 134) were dry. The three other prospects are Schwinn (Sabine Pass 6), Atlanta (High Island A-5), and Arrow Head (High Island 202).
US Gulf gains 23 rigs in four months
For the month of October 1999, the US Gulf of Mexico summery of current offshore rig economics (SCORE) improved 4.4%, overcoming generally weak international markets to push the worldwide SCORE slightly higher. The only other market to show improvement during October was West Africa. Twenty-three more rigs went back to work in the US Gulf of Mexico over the past four months.
FPSOs in the Gulf by 2001?
Speaking at the American Association of Drilling Engineers meeting in Houston Nov. 9, Petroleum Geo-Services spokesman Bill Pyke predicted the first floating production, storage, and offloading vessel will start work in the US Gulf of Mexico in about 2001, which is when the pioneering environmental impact statement will be completed. Each project will require a separate EIS, Payke said. He also predicted the FPSO fleet in the Gulf will grow by one to two a year through 2005, presuming prices hold. By about 2005, he said, the fleet will reach critical mass in the area and start to turn over. Pyke said that the Minerals Management Service, perhaps because of industry fear of their reaction and because of low prices, has so far received no serious applications to use FPSOs in the Gulf. He feels that the MMS will not stop the use of FPSOs, but may limit them. For instance, companies will not be able to use FPSOs in the environmentally sensitive Garden Banks area, where now not even lightering is allowed.
New global industries yard
Global Industries said it would officially open its new yard in Carlyss, Louisiana, in December. The new 625-acre site is located 17 miles from Lake Charles along the Calcasieu Ship Channel, which has 40 ft water depth. The company closed its other two sites, located in Houma and Lafayette, Louisiana, in October to consolidate in Carlyss.