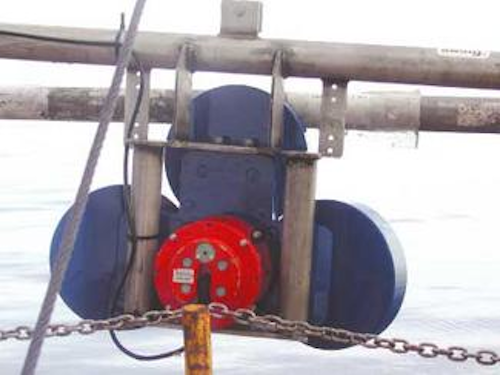 Jennifer Pallanich Hull Houston
Ultradeep gas
Just as operators have become comfortable with pursuing deep gas, the US Minerals Management Service has started thinking about the next frontier – ultradeep gas.
During The Energy Forum in Houston in March, Chris Oynes, the Gulf of Mexico regional director for the MMS, told explorationists that companies have begun approaching him about potential royalty relief schedules and lease changes aimed at producing gas from 25,000-40,000 ft on the outer continental shelf. Just in the last few years, operators have begun producing gas from below 15,000 ft under a structure of special royalty relief incentives.
Oynes said companies interested in the ultradeep gas have spurred thought about revising lease terms, but he cautioned that any changes would not occur until after meetings with representatives have been held. He said the MMS is moving toward setting up forums to discuss the topic.
"We may have inadequate lease terms ... for going after this kind of potential, this kind of target," he said.
Because of the length of time it might take to identify the most promising well site, as well as how long it could take to receive steel, he said, the lease term approach might need to be reconsidered.
"Additional discussions may even need to take place regarding 15,000 ft to 25,000 ft," Oynes said.
In late March, Interior Secretary Gale A. Norton proposed extending royalty relief incentives for deep gas production. Under the current plan, new production from leases awarded after March 2001 qualifies for the royalty-free status for the first 20 bcf from gas below 15,000 ft. Under the proposal, still subject to public comment, the first 25 bcf of gas from below 18,000 ft would also receive royalty relief. About 2,400 existing leases are in the area targeted for relief in the proposed rule.
Boris onstream
BHP Billiton brought its Boris field in the deepwater Gulf of Mexico onstream earlier this year. The find, in 2,400 ft of water, went from discovery to production in 15 months.
The Boris-1 well is producing 7,500 b/d of oil and is expected to deliver flow rates exceeding 10,000 b/d of oil and 15 MMcf/d of natural gas. With the second development well, gross production is expected to reach 18,000 b/d of oil and 27 MMcf/d of natural gas. The estimated commercial life of the field is six to eight years.
Boris was developed with a three-slot subsea manifold tied back via a single production flowline to the production facility on Typhoon, 5 mi away. Two of the three slots on the subsea manifold are designated for the Boris-1 and Boris-2 wells while the third slot is available for other potential targets in the area.
"Development and production from the Boris field is an important milestone for BHP Billiton Petroleum," said Mike Weill, president of Americas/Australia operations and technology, about BHP's first operated field in the deep-water Gulf of Mexico."
BHP Billiton holds 50% in Boris in Green Canyon block 282, and partners ChevronTexaco and Noble Energy Inc. each hold 25%.
Measuring surface currents from drillships
Fugro GEOS in Houston and RD Instruments in San Diego deployed a new horizontal acoustic Doppler current profiler (H-ADCP) to collect data on the influence of a dynamically positioned (DP) platform on surface currents and the noise from its thrusters. The two companies operated from GlobalSantaFe drillship C.R. Luigs in 2,000-m water depths in the Gulf of Mexico.
"The results were remarkable," said Caroline Nicholas, senior oceanographer at Fugro GEOS. "Despite the drillship's thruster noise, the new instrument was able to detect and display, in real time, currents up to 250 m away in the upper 20 m of the water column. We could clearly see wave-generated currents and the vortices from the thrusters."
null
Strong deepwater currents can significantly affect exploration activities, especially in surface layers where the currents can be strongest. The influence of the DP platform on surface currents and the noise from its thrusters have restricted the collection of key data. It is now possible to measure currents influenced by the platform and its thrusters as well as the "true" currents outside the platform's influence, according to Fugro.
"We can do this right up to the sea surface," Nicholas said. "Previously the noise problem has restricted us to data from below about 50 m from the surface. But it's in that top layer that the currents are often strongest and where operators need the most information."
Tarantula development crawls forward
Anadarko Petroleum Corp.'s Tarantula discovery on South Timbalier block 308 in the Gulf of Mexico will see an $86-million production platform. The fixed four-leg platform will have a capacity of 100 MMcf/d of natural gas and 30,000 b/d of oil. Anadarko expects first production in 4Q 2004.
"The Tarantula discovery is in relatively shallow water and very economical to develop. It's the kind of bread-and-butter project we like for a balanced portfolio of properties," said then Anadarko President and CEO John Seitz. Former Anadarko CEO Robert J. Allison Jr. resumed the role in March after Seitz resigned.
The Tarantula sub-salt discovery well was drilled in July 2001 in 480 ft of water to a depth of about 18,000 ft. Since then, three successful offset wells have been drilled. The four wells have encountered, on average, 117 ft of net pay. Anadarko holds 100% working interest in the field.
In deepwater, Anadarko said six successful delineation wells have been drilled on Anadarko's Marco Polo field, located on Green Canyon block 608 in 4,300 ft of water. The majority of the wells have encountered better-than-expected reservoir thickness, with average net pay of 292 ft.
The Marco Polo TLP is under construction and on schedule for installation late this year. The Kiewit Offshore Services in Ingleside, Texas, is performing the topsides structural fabrication. Modec Inter-national in South Korea is constructing the TLP hull. First production is expected to begin in 1Q 2004. Anadarko holds 100% in the Marco Polo field.
El Paso Energy Partners and Cal Dive International will own and Anadarko will operate the TLP. It is designed to process 120,000 b/d of oil and 300 MMcf/d of gas. Anadarko will have firm capacity of 50,000 b/d and 150 MMcf/d. The remainder of the platform capacity will be available to Anadarko for additional produc-tion and/or to third parties that have activity in the area.
Anadarko is considering its K2 discovery, on nearby Green Canyon block 562, as a subsea tieback to Marco Polo, which could mean first production from K2 in early 2005.