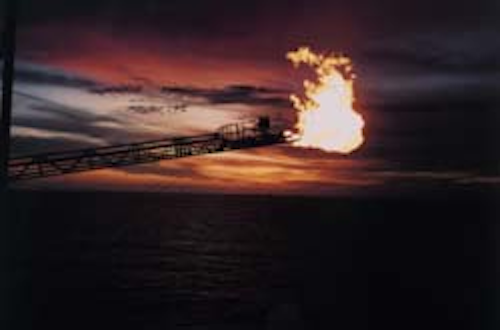 Work indicates more than 50 bcf gas reserves; 16 successful wells have been drilled so far
Dev George
Managing Editor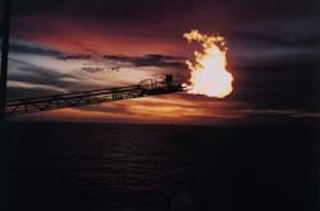 Testing of Norcen's SS190#3.
---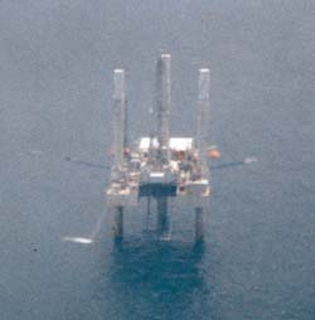 The Falcon 20 drilling Norcen's SS190#3.
When Western Geophysical defined its goal of undertaking a unified, wide area spec 3D seismic survey of what is likely the most prospective parts of six Gulf of Mexico blocks in the shallow shelf off Louisiana, and of doing it all with ocean bottom cable, a group of nine operating companies underwrote the project. One of them was Norcen Explorer, a division of the Calgary, Canada-based company, Norcen Energy Resources.
Norcen had acquired the Ship Shoal Block 190 about four years ago in a lease sale and had purchased an existing 3D survey of the area that gave them cause to believe more was there than met the eye.
"We saw some hints of amplitudes and hydrocarbon indicators (HCIs) in a very faulted up section, both on some 2D that we had and on the older 3D data, but it was such a poor quality that we couldn't make a very reliable structural map," said L.A. "Al" Poprik, Norcen's district geophysicist. "When we learned that Western was going to come in with a much longer offset cable, 3D geometry, and a closer bin spacing, we thought that that would probably give us a better chance of solving the complex structure that we pretty well knew existed at that level."
The Ship Shoal area of the Gulf, Block 190, was part of the first phase that was shot of Western's Mega Survey. According to Richard White, president of Western Geophysical, the water depth ranged from 78 to 150 ft, putting it on the outer limits of Western's bottom cable capabilities, but because Norcen was an underwriter with first choice of where the acquisition would start, Block 190 of Ship Shoal was chosen.
A Miocene to Pliocene trend, the area is very mature, yet very prospective. White notes that there are scores of platforms each with six to 12 wells, all over the area, and there are pipelines already in place, making it a highly obstructed area. As a consequence, very little 3D data had been obtained in the area, due to operational problems associated with working under such congested conditions.
Western began the single source, dual sensor shoot in June and completed it in September 1993, just prior to Norcen's exploration expiration date. It was the area's first bottom cable survey and was designed by Western to be an integral part of the company's Mega Survey.
"We designed the acquisition technique - the spacing, survey configuration, parameters, equalizers, all the processing sequences," said White. "We shoot source lines perpendicular to the receiver layout in our OBC surveys, so this was the first time that that kind of acquisition was performed on such a large scale. Before, cables would typically be laid out in a fashion, and the boats would shoot in the same fashion. We lay out cables and shoot this particular way because we believe it gives us a little bit more resolution, maybe a little bit more detail. Cell size was 25x25 meters."
Western used four vessels ranging from 160 to 220 ft in length: two cable-laying boats, a recording boat - one of the smaller seismic vessels from the fleet - and a shooting boat. No specific vessels, however, since many different vessels were used during the course of the Mega Survey. "It was a good place to use our smaller vessels. As we upgrade our vessels to pull more and more streamer cables, this is a good way for us to utilize those assets," White said.
Once completed, Western did the processing, which White describes as "pretty much conventional, differentiated only by it being co-sensor processing and a cross-line shoot that made DMO particularly complicated."
"We've been very pleased with the data Western acquired," said Poprik. "The quality is far superior to the old 3D. It has better penetration because of the longer offsets and dual- sensor technique. All of the original Mega Survey underwriters are pleased with the structural resolution of the data, the HCIs, and the quality that Western achieved. One of the big advantages is that everything in the Mega Survey has been merged, thus an amplitude you see in Ship Shoal will compare with an amplitude you see in Mississippi Canyon. It's been shot exactly the same all the way across. So now it's a single giant data set that is seamless.
"A disadvantage with the way Western acquires OBC data is, however, that they loose shallow resolution by shooting perpendicular to their lines. They have no data above .5 of a second, but there's nothing they can do about it, it's a function of their geometry. It can make a significant difference if you're looking for real shallow objectives, which we do. We drill some horizontal wells at 1,200 ft that are producing 30 million cf/d. Another drawback is they don't easily have the raw or processed data that allows you to run an AVO, you've got to generate it separately, and its almost as expensive as it is to process the data from scratch. They're trying to overcome it, but it will take two or three years to get it unraveled. It's very computer intensive.
"Nevertheless, Western's OBC system is superior to a streamer acquisition. The use of bottom cable eliminates a lot of the surface noise, and the fixed position of the receivers, the geophones, on the bottom makes you pretty certain what that position is, whereas with a streamer situation, on a 4-5,000-meter streamer, which tends to snake, it is necessary to estimate where the position is. You also get much longer offsets, and, in this case, where they shot with dual-sensors, you get a higher frequency content to the data."
Norcen's objective was to map the area and more closely investigate the bright amplitudes that they believed were gas that they had seen indications of in the older data.
"We have always been very attune to HCLs," said Poprik, "and they were numerous in Ship Shoal and the Eugene Island areas. Generally they indicate a better chance of finding hydrocarbons when you see them. We got a good map out of the Western data, and it showed some pretty good amplitudes, particularly in a faulted up section that we first noticed on our 2D, but the new data showed it much better than either the 2D or the old 3D. So, based on the new data, we drilled our first well, and it was a success. We estimate reserves at between 50 and 60 bcf. We're drilling two wells now, will probably drill 10-11 this year. All in this area."
Poprik says Norcen has become a 3D-oriented company. "We use 2D to zero in on what we might like to look at, but we won't drill a well without 3D. We've drilled only one dry hole with 3D over the last 18 months."
The company is now looking into further acquisitions and farm-ins and at going out into deepwater.
Western Geophysical has now completed the Mega Survey, which is a 700-block fully merged 3D dataset. It was acquired and processed in 3 1/2 years. The company is now undertaking a deepwater streamer survey over sections of the Gulf of Mexico ranging in water depth from 3,000 to 10,000 ft.
Copyright 1996 Offshore. All Rights Reserved.