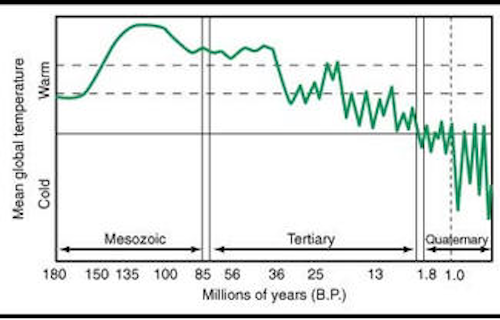 Global heating - again
The fossil energy we are using today is "stored heat" from ages past. The carbon dioxide removed from the atmosphere by plant action made it possible for oxygen-based animal life to thrive. In the longest possible Earth-cycle terms, the release of this stored carbon is a way to balance the wide fluctuations of climate the earth has experienced (see figure).
Over the course of the Earth's history, temperatures have fluctuated widely. During the warmest times of the Mesozoic, plant life flourished. It absorbed the sun's heat and energy, and fixed atmospheric carbon into fibers and carbon-rich fluids. Enormous coal measures are part of the result. Similar processes occurred in the oceans, which show significant thicknesses of chalk and other hydrocarbon-bearing strata.
Both Science and Nature publications are calling (finally) for a review of historic (geological) data to get a better understanding of the larger forces driving climate. This is a moderation of earlier positions on the criticality of increasing carbon dioxide levels. The cycle times on carbon dioxide in the Earth's historic cycle are too large to be of immediate concern, and humanity has time to evaluate the issue scientifically, without falling prey to political pressures or panic.
Adding value
PGS's recent purchase of Diamond Geophysical spotlights an evolving development in the seismic contracting business - adding value clients will pay for. Shooting efficient surveys is not enough anymore, with survey prices at commodity level. The outsourcing trend gives seismic companies new ways to add value through allied services. PGS has chosen processing and interpretation services through its successful Gulf of Mexico partner.
Mauritania survey
Veritas DGC announced the signing of an exclusive agreement with the Ministry of Mines and Industry of Mauritania to acquire a new multi-client seismic survey offshore Mauritania. The survey will in deep water out to 3,000 meters. A test line acquired by Veritas in the area last year revealed the extension of a thick sedimentary succession, outboard of the currently licensed acreage. It contains large structures, slope channel packages, and numerous amplitude anomalies.
The recent Chinguetti-1 discovery well drilled by the Woodside group (Woodside/Agip/Hardman/Fusion/Elixir) proved the existence of an active petroleum system along this West African margin. The first phase of the 2D program will cover 6,000 km and will begin in late September.
---
Expanded IR range
Fakespace Systems and StereoGraphics has developed an infrared transmitter for use in immersive environments. The jointly developed extended-range emitter provides a strong signal, covering an expanded area, for reliable stereo viewing in large-scale visualization systems. "For engineers, researchers and others working in (immersive) environments, it is essential that they move about freely without experiencing flicker or drop-out," said Steve Fine, Vice President of Engineering at Fakespace Systems Inc. The emitter provides a range of up to 100 ft, compared to the current 30 ft maximum range of available emitters, with an improved cone or emission angle. By increasing the power of the IR beam, the emitter decreases the number of emitters needed for immersive viewing in large areas and reduces the potential for signal loss. , while the former required 14 devices.
Interactive services
Spotfire, Inc. launched DecisionSite 6.2 for the energy/oil and gas industries. This is the industry's first XML-configurable eAnalytic tool, and includes Map Interaction Services (MapIS). The software offers easy accessibility to ESRI's ArcIMS Internet Map Services, enabling users to map geographic areas and pinpoint areas for oil drilling. It provides the ability to accelerate decision-making with useful applications.
The software provides a unique integrated work environment in which researchers can easily access critical geographic mapping data, proprietary tools, and databases. Key capabilities include: accessibility to ESRI's ArcIMS Internet Map Services; data unification across local files, corporate, relational databases, Web-based information systems, and geographical information; dynamic investigation and visualization of data; and enhanced communication and collaboration.
ASP solution
Schlumberger Oil & Gas Information Solutions (SIS) has introduced LiveQuest(TM) application service provider (ASP) solutions through the Houston data management center. The system provides Internet access to GeoQuest software without requiring users to download the software to the users' workstations or PCs. It offers information technology and support services including: data loading, data management, hosting of project data, backup, and project management and administration. Applications offered through LiveQuest include the GeoFrame (R), Eclipse (TM), Finder (R), Drilling Office suite, Merak Value Management suite, and FieldView.
Interpretation
Petris Technology has released Winds Enterprise 3.0, an improved performance version, a new adapter to Geoplus' Petra (TM) interpretation package, a well log viewer function, and a unique three-frame graphic user interface (GUI). The software is a web-based application that enables rapid data management. Multiple types of data can be easily accessed, viewed, and transferred between disparate applications within a secure web environment. The software uses a common model that facilitates the exchange of data between disparate data models without a requirement for any standard or fixed model. This technology was developed cooperatively with Anadarko Petroleum Corporation. The new GUI provides users with the capability to navigate the information accessed across application, archival, and other data stores, and provides a framework for adding new data types.