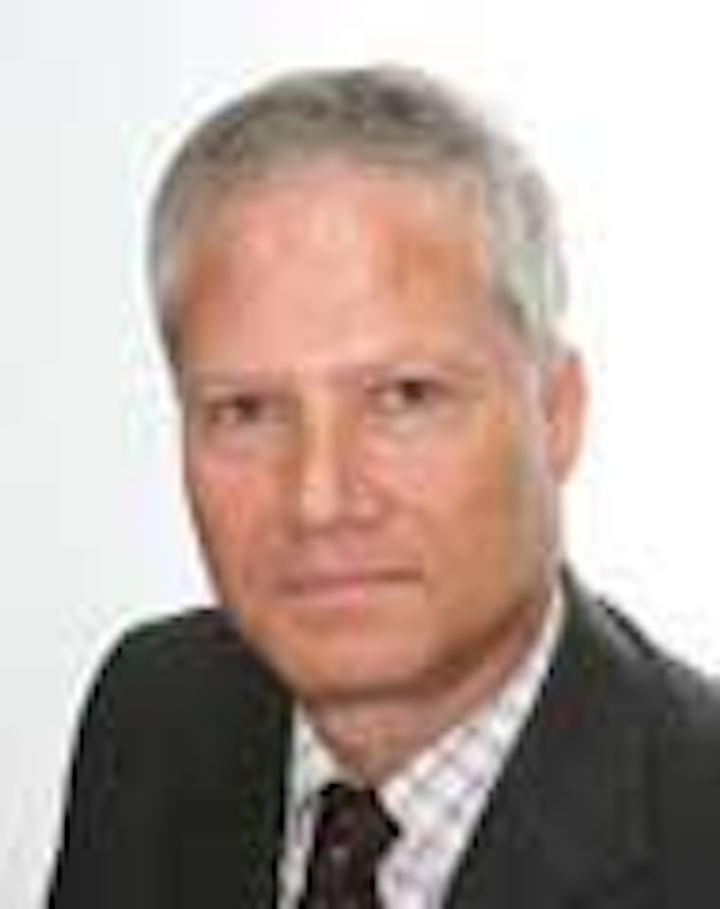 | | | |
| --- | --- | --- |
| | | Jeremy Beckman • London |
Nova Scotia's government has awarded Petrofac a development study for a prospective oil reservoir in 2,000 m (6,562 ft) of water. Petrofac subsidiary KW Subsea is leading the project which is expected to be completed in early 2015. The government already has assigned blocks to BP and Shell, and expects deepwater drilling off the province to start next year.
•••
Versabar has installed the 2,850-ton topsides for PEMEX's Balam-A wellhead platform in the Bay of Campeche offshore Mexico. The US contractor employed its heavy-lift vesselVB 10000 for the job, following transportation of the topsides from Sabine Pass, Texas.
Brazil
Petrobras and Pré-Sao Petróleo have agreed on terms for development of the Tartaruga Mestiça field in the southern Campos basin, 125 km (77.7 mi) from Macaé in 650-1,200 m (2,132-3,937 ft) of water. The Albian carbonate oil and gas reservoir lies partly in the Petrobras-operated BM-C-36 concession area and partly in the non-contracted area of the "Presalt Polygon." The two parties plan a joint development with the nearby Tartaruga Verde field via an FPSO, and expect start-up through the first well in 2017.
In the Iracema Sul area of the presalt Santos basin, the FPSOCidade de Mangaratiba has begun operations for Petrobras on the Lula field. The vessel is moored in 2,200 m (7,218 ft) of water 240 km (149 mi) offshore, and can process up to 150,000 b/d of oil (offloaded to shuttle tankers) and 8 MMcm/d (282 MMcf/d) of gas. Elsewhere in the same presalt region, Petrobras expects the FPSO Cidade de Ilhabela to enter service before year-end on the northern part of the Sapinhoá field.
•••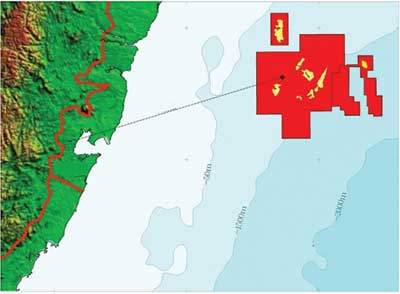 Location of the Lontra discovery in the Espírito Santo basin. (Map courtesy Petrobras)
Logs have confirmed a deepwater gas/condensate discovery for Petrobras in the Lontra structure in the postsalt Espírito Santo basin. The location is in 1,319 m (4,327 ft) of water in the Golfinho concession, 81 km (50.3 mi) offshore Vitória. In the presalt Santos basin, the company and its partners in the Libra consortium have proven good-quality oil with their first extension well in the Libra area, drilled on the northwest section of the structure, 170 km (106 mi) from Rio de Janeiro.
West Africa
The Genel-operated SM-1 exploration well has discovered oil in the Sidi Moussa block offshore Morocco, according to partner Serica Energy. If confirmed, this would be the first oil find of the current multi-operator Morocco campaigns testing different plays in varying water depths.
To the south off Senegal, Cairn Energy has proved more oil with its second well in the Sangomar Offshore block. SNE-1, drilled in 1,100 m (3,609 ft) of water, encountered hydrocarbons in the Cretaceous clastics target. There appear to be analogies with Cairn's earlier FAN-1 discovery, 24 km (15 mi) away. SNE could hold at least 150 MMbbl recoverable, Cairn believes.
•••
Yinka Folawiyo Petroleum and its partners have committed to a $220-million first-phase development of the shallow-water Aje oil field off western Nigeria. Stage 1 will target 10,000 b/d from two wells in the OML 113 license tied back to a modified FPSO that previously served Rubicon's Puffin project in the Timor Sea. The partners aim for start-up at the end of 2015.
•••
Ophir Energy and GE Petrol have signed an amendment with Equatorial Guinea's government to the production-sharing contract (PSC) for offshore block R. This establishes fiscal terms for a proposed floating LNG project, drawing initially on gas from the 1.3-tcf (37-bcm) Fortuna field. Ophir has appointed Excelerate Energy as head of a consortium likely to include Samsung Heavy Industries for provision of a floating liquefaction, storage, and offloading (FLSO) vessel.
•••
Woodside Petroleum has agreed to farm into 30% of the Tilapia PSC that covers 3,875 sq km (1,496 sq mi) in the Douala basin offshore southwest Cameroon. Noble Energy will remain operator. The concession extends from the shoreline out to 1,100 m (3,609 ft) water depth.
•••
Shell has discovered gas in a deepwater presalt frontier play offshore Gabon. The company says the Leopard-1 well intersected a substantial gas column with around 200 m (656 ft) of net pay. The location is west of Gamba, 145 km (90 mi) from the coast, in 2,110 m (6,922 ft) of water. Shell and partner CNOOC plan appraisal drilling to firm up volumes.
Ophir Energy has signed exploration and production-sharing contracts for two blocks adjacent to the company's existing acreage in the offshore North Gabon basin. A3 and A4, to be renamed the Nkouere and Nkawa PSCs, cover more than 2,760 sq km (1,066 sq mi) in water depths ranging from 2,000-2,500 m (6,562-8,202 ft). Ophir's focus includes the oil-prone Cretaceous section.
•••
Eni believes Minsala Marine, its latest presalt discovery in Republic of Congo's Marine XII permit, could hold 1 Bboe in place, of which 80% is oil. Prior finds Litchjendjili and Nene Marine are under development. In the Marine IX block, SOCO has also proved oil with its Lidongo X Marine 101 well in a shallow-water clastics sequence, 23 km (14.3 mi) northwest of Pointe Noire. There appear to be analogies with Litchendjili, the company says. A stimulation frac program was due to follow, owing to the tight nature of the reservoir sands.
•••
Vaalco Energy and Sonangol E&P have entered into the subsequent exploration phase for Angola's offshore block 5. This extends the license, originally awarded in 2006, until end-November 2017. The partners have committed to four exploratory wells, with the semisubmersibleTransocean Celtic Sea due to arrive on location this month to drill the postsalt Kindele oil prospect in 101 m (331 ft) of water.
•••
Total has had to suspend operations on South Africa's first deepwater exploratory well in the Outeniqua basin, 175 km (109 mi) from the country's south coast. Drilling started in 3Q but was later impacted by mechanical issues with the rig's marine equipment, and the available drilling window has now closed. Operations may not resume until 2016.
Middle East
Noble Energy has submitted an initial-phase development plan for the giant Leviathan gas field in the offshore Levantine basin to Israel's Ministry of Energy and Water Resources. This is based around a 1.6 bcf/d (45 bcm/d) FPSO, with gas sales due to start in early 2018.
•••
ADNOC has produced first oil from the offshore Umm Lulu field 30 km (18.6 mi) northwest of Abu Dhabi, according to partner INPEX. The first-phase development involves use of existing facilities for the adjacent Umm Al-Dakh oil field, with oil transported through a subsea pipeline to Zirku Island. Once development is complete, Umm Lulu will deliver 105,000 b/d at peak.
ADMA-OPCO has contracted Atkins to provide structural analysis of existing production infrastructure in connection with a planned expansion program. Atkins' brief includes assessing 31 wellhead towers on Abu Dhabi's offshore Umm Shaif field.
•••
Dubai Petroleum Establishment (DPE) has discovered potentially large volumes of gas with the HP/HT T-02 well on the Fatah field offshore Dubai. This was drilled to a depth of 18,248 ft (5,562 m) in the pre-Khuff formation, the deepest of any well to date in Dubai. DPE has suspended the well for a future re-entry, to include production testing.
East Africa
Statoil and ExxonMobil have proven a westward extension of the gas play in block 2 offshore Tanzania. TheDiscoverer Americas drilled the Giligiliani-1 well in 500 m (1,640 ft) of water, encountering gas in Upper Cretaceous sandstones. This was the seventh find on the block, lifting estimated in-place volumes to around 21 tcf (595 bcm). The rig was due to transfer to the central part of the block to drill the Kungamanga prospect.
•••
KBR and Daewoo Shipbuilding & Marine Engineering have started a front-end engineering and design study for an FLNG vessel for Eni's proposed ultra-deepwater Coral South gas development offshore Mozambique. The study covers the topsides, hull, and marine system of the turret-moored vessel. KBR/DSME are also one of three consortia bidding to build and install the vessel.
India
ONGC has awarded a $215-million contract to Valentine Maritime and Supreme Offshore Construction & Technical Services for the Mumbai High North redevelopment Phase III pipeline project in the Arabian Sea, 165 km (102 mi) northwest of Mumbai. The duo will fabricate and lay 171 km (106 mi) of pipelines and will also modify 12 existing platforms. The work is expected to be completed by April 2016.
Asia/Pacific
Thailand's government plans to offer six blocks in the Gulf of Thailand under its latest bid round in February 2015, according to reports. Also in this region, KrisEnergy has chartered the FSORubicon Vantage and a CALM buoy for its Wassana oil development in the G10/48 license, which it plans to bring onstream during 2Q 2015.
•••
CNOOC is claiming a potentially large shallow-water oil find in Bohai Bay offshore China. The well on the Jinzhou 23-2 structure in the northern part of the Liaodong Uplift encountered oil and gas pay zones with total thickness of 68.4 m (224 ft), and flowed 260 b/d on test. In deeper water in the Pearl River Mouth basin of the South China Sea, the company has brought onstream the Enping 24-2 oil field. Facilities include a drilling and production platform, an FPSO, and 17 production wells. By 2017 output should peak at 40,000 b/d.
•••
Eni has proved gas in the deepwater Merakes prospect offshore East Kalimantan (Borneo). The Merakes-1 well was the first on the East Seppingan block, which the company secured under Indonesia's 2012 bid round. It intersected a 60-m (197-ft) hydrocarbon column within a lower Pliocene clastics sequence. The location is in 1,372 m (4,501 ft) of water, 35 km (22 mi) from Eni's offshore Jangkrik field and 170 km (106 mi) south of the Bontang LNG plant.
Ophir Energy has an agreement with Niko Resources to acquire stakes in seven deepwater PSCs off Indonesia, six of which it will operate. They are spread over proven and frontier oil and gas plays. Ophir expects to start drilling in 2016.
Petronas subsidiary PC Ketapang II has contracted McDermott to transport and install the BTJT jacket and topsides to the Bukit Tua field development, 21 mi (34 mi) from Madura Island off East Java. McDermott expected its Batam Island yard to complete construction of the 1,212-ton jacket last month. TheDB3O barge will perform the installations in 190 ft (58 m) of water, with all offshore work due to be completed by the end of 1Q 2015.
Australia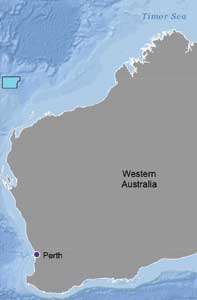 Statoil's new deepwater permit in the Northern Carnarvon basin. (Map courtesy Statoil)
Statoil has secured the deepwater WA-506-P exploration permit in the Northern Carnarvon basin on Australia's North West Shelf. The concession was awarded under the 2013 Offshore Petroleum Exploration Acreage Release. It extends more than 13,000 sq km (5,019 sq mi) in an untested part of the basin, 300 km (186 mi) from the coast in 1,500-2,000 m (4,921-6,562 ft) of water. Statoil's initial commitments include 2D and 3D seismic acquisition.
Apache says the FPSO for its Balnaves oil field in the same basin, 190 km (112 mi) northwest of Damper, came onstream during 3Q.
•••
Offshore southeast Australia, Lakes Oil has been awarded two new six-year exploration permits in the Gippsland basin. Carnarvon Hibiscus plans to drill two wells in its VIC/P57 permit using the Seadrill jackupWest Telesto, probably starting in 2Q 2015 with a well on the Sea Lion prospect. A successful outcome could lead to a tieback to the company's West Seahorse development.