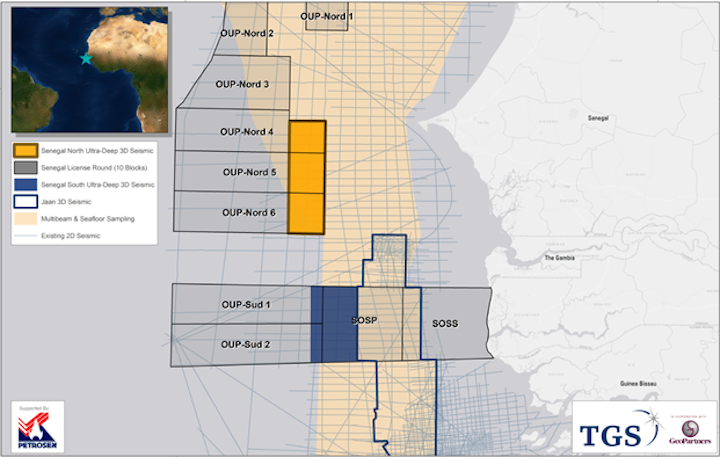 (Courtesy TGS)
Offshore staff
ASKER, Norway – TGS and GeoPartners have initiated a new 3D seismic survey over the MSGBC basin offshore northwest Africa.
Over the next 75 days the BGP Prospector will acquire more than 5,100 sq km (1,969 sq mi) of data for the Senegal North Ultra-Deep Offshore (SN-UDO-19) survey, which is supported by the Senegalese state oil company, PETROSEN.
According to TGS, it will form a continuation of the recently completed SS-UDO-19 3D acquisition off southern Senegal.
Fasttrack data should be available three months after acquisition has been completed for evaluation by bidders for the Senegal Offshore 2020 License Round, due to get under way early next year. The full data set will be ready by 4Q 2020.
Kristian Johansen, CEO of TGS, said: "The MSGBC basin remains a key region for TGS where our unique combination of multibeam, seafloor sampling, seismic, interpretation and imaging products deliver the best subsurface knowledge in the industry."
11/22/2019