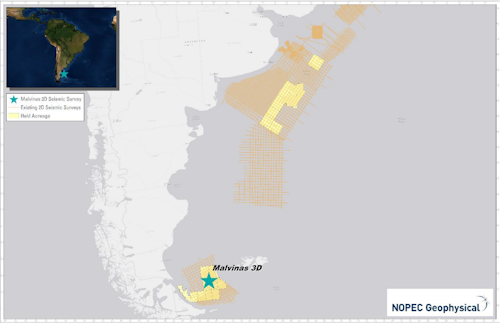 (Map courtesy NOPEC Geophysical)
Offshore staff
HOUSTON – TGS expects to start a new 3D multi-client project offshore Argentina before the end of the year.
The Malvinas 3D survey will cover about 7,300 sq km (2,819 sq mi) over the Malvinas basin, which saw spirited interest during Argentina's offshore licensing round earlier this year.
One Shearwater vessel will acquire the survey which is expected to run until 2Q 2020. Initial products are expected to be available in early 2021, with final products slated for H2 2021.
Kristian Johansen, CEO of TGS, said: "The Malvinas MC3D survey clearly supports TGS' growth initiative in the South Atlantic and will build on the great momentum seen by the previous Spectrum 2D campaign in helping to open up this frontier area for further exploration."
The project is supported by industry funding.
TGS operates as NOPEC Geophysical in Argentina.
10/30/2019