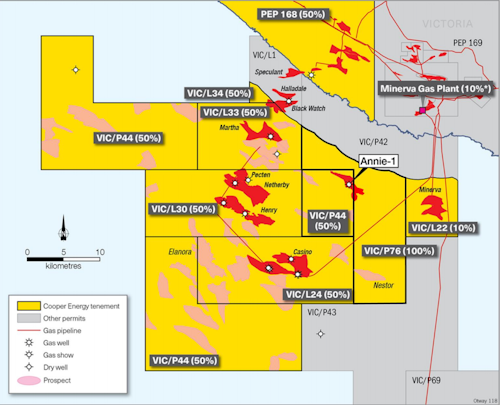 (Map courtesy Cooper Energy)
Offshore staff
ADELAIDE, Australia – Cooper Energy has been awarded exploration permit VIC/P76 in the Otway basin, offshore Victoria.
The permit, which Cooper has 100% equity, has been awarded to for a six-year term, of which the first three years have a guaranteed work program consisting of geological and geophysical studies and the drilling of one well.
VIC/P76 comprises an area of 162 sq km (62.5 sq mi) in water depths ranging from 60 m to 70 m (197 ft to 230 ft).
Commercial gas discoveries surround the permit, including the recently depleted Minerva gas field to the east and the producing Casino, Henry, and Netherby gas fields to the west. The recent Annie gas field discovery adjoins the western boundary of VIC/P76.
There are no previous wells drilled within the permit area, according to Cooper. Good quality 3D seismic data covers most of the permit, from which the company has identified several amplitude-supported prospects. The most significant, Nestor, has many similarities to the Annie gas discovery including the Waarre C reservoir, trap configuration, and potential resource size. Nestor is 9 km (6 mi) east of the Casino gas field.
Cooper Energy Managing Director David Maxwell said: "The fact that VIC/P76 possesses an 'Annie-look-alike' makes the permit particularly attractive, especially as the proximity to our existing pipelines and access to the Minerva gas plant makes for very supportive development economics."
09/19/2019