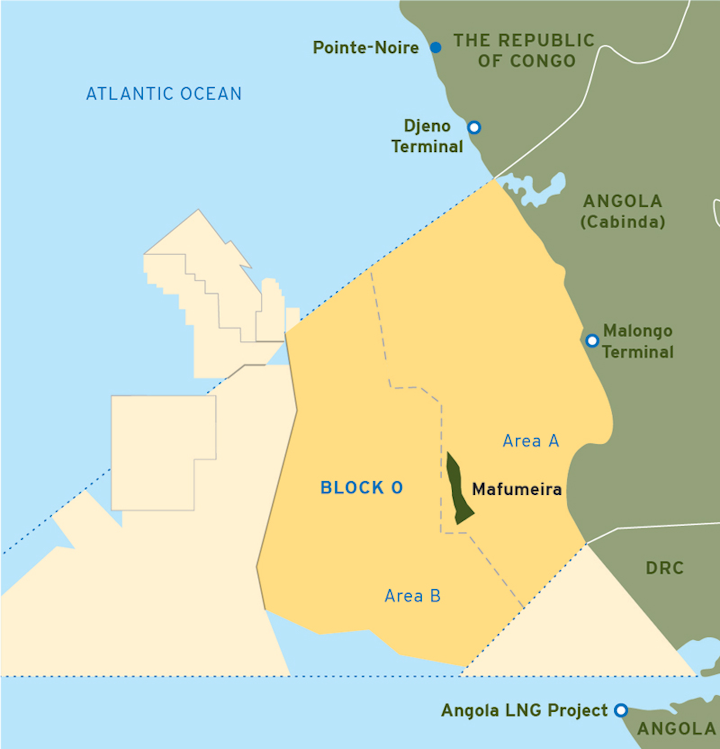 Offshore staff
SAN RAMON, California – Chevron Corp. subsidiary Cabinda Gulf Oil Co. Ltd. (CABGOC) has started oil and gas production from the Mafumeira Sul project offshore Angola.
Located 15 mi (24 km) offshore Cabinda province in 200 ft (60 m) of water, Mafumeira Sul is the second stage of development of the Mafumeira field in block 0. It includes a central processing facility, two wellhead platforms, about 75 mi (121 km) of subsea pipelines, 34 producing wells, and 16 water-injection wells.
The production facility has a design capacity of 150,000 b/d of liquids and 350 MMcf/d of natural gas. Early production from the project began in October 2016 through a temporary production system. Ramp-up to full production is expected to continue through 2018.
CABGOC is the operator and holds a 39.2% interest in Mafumeira Sul. Partners are Sonangol E.P. (41%), Total (10%), and Eni (9.8%).
Jay Johnson, executive vice president, Upstream, Chevron Corp., said: "This milestone supports our priority of completing major projects and improving free cash flow. The Mafumeira Sul project generates new production and value for Angola, our partners, and the corporation."
03/08/2017