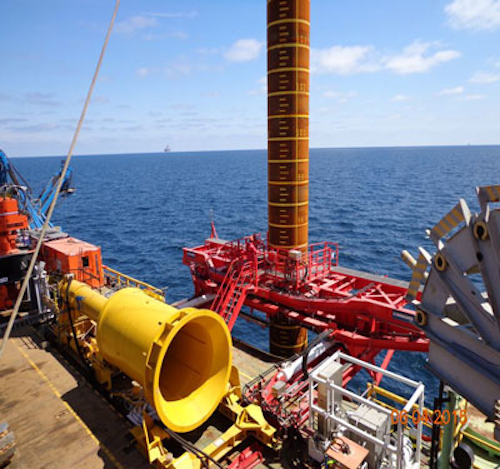 Offshore staff
BAKU, Azerbaijan – Houlder's Marine Equipment division has delivered a pin pile installation and restraining frame to Saipem for the Shah Deniz gas field development, 100 km (62 mi) offshore Baku in the Caspian Sea.
The project requires installation of eight steel jacket foundations for two new platforms. Houlder's frame is being used to install eight temporary pin pile foundations prior to placement of skirt foundations.
Saipem has installed the restraining frame on the deck of theDerrick Barge Azerbaijan (DBA) that will install the jackets. The system horizontally restrains and adjusts the inclination of the 140-m (459-ft), 525-ton steel foundation monopiles, keeping them vertical as they are driven through 95 m (311 ft) of water.
The frame must deliver operational horizontal force resistance of 75 tons in any direction within a 4-m (13-ft) diameter operating envelope.
Dario Frisinghelli of Saipem said: "The system, acting by hydraulic jacks on two degrees of freedom in the horizontal plane, proved greatly effective during operation. This allowed Saipem to maintain the verticality of the pile during the transient phase of self-weight penetration to a depth of 24 m [79 ft] into the seabed.
"This control was particularly important during the first meters where a layer of hard soil resulted in an extremely reduced penetration speed affecting the overall instability of the pile."
The equipment comprises:
A cantilever base structure – a steel bolted sub-assembly welded to the side of theDBA vessel
Base horizontal restraining frame, which can adjust the pile position through +/- 2 m (6.6 ft) of port/starboard transverse movement driven by large transverse cylinders
Top horizontal restraining frame, which can adjust the pile position through +/- 2 m of for/aft longitudinal movement driven by two cylinders attached to the cantilever base structure
Restraining arms that grip the 2.5-m (8.2-ft) diameter monopiles directly with non-friction pads, maintaining a 50-mm air gap. They are hydraulically driven, and their closed position is at maximum cylinder extension to prevent crushing
Access gangways bolted to the top frame structure, simplifying access for human intervention at the pile and restraining arms as required, while secondary gangways provide access to pins and cylinder valves.
Under normal operation the transverse cylinders work under closed loop position control. This ensures they remain aligned with an expected accuracy of 20-30 mm.
07/01/2015