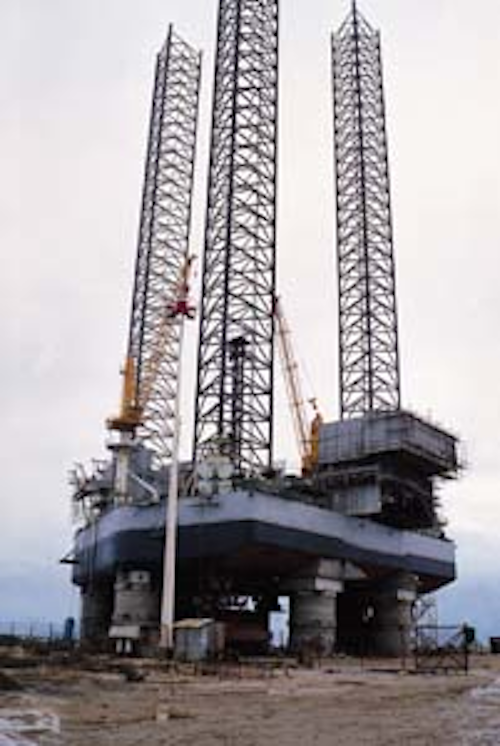 The Sika jackup, built at the new Iranian fabrication yard for NIOC under Rauma Offshore Contracting's supervision.
Investing in Finland has opened doors for Aker in the Former Soviet Union and Middle East. Pori-based Rauma Offshore Contracting, bought by Aker this April, has become uniquely influential in these regions over the past decade.
It is also a member of the Spar consortium, currently the most fashionable alternative floating production concept - thereby adding to Aker's range of deepwater development solutions.
Takeover talks between the two companies started in the early 1990s, but only became serious last autumn. ROC's parent, the Rauma construction group, had taken the view that the offshore sector was no longer part of its core business.
Not part of this deal is fabrication yard Rauma Offshore Works which has now been renamed the Mantyluoto Works. ROC had used this former sister company on many projects, including construction of Oryx's Neptune spar hull, but from now on it will have to compete with Aker's yards and third parties for offshore jobs.
ROC itself will undergo a name change (except in Russia), but will stay headquartered in southwest Finland. And it will retain its commercial links with local subcontractors like Finnyards. This shipbuilder teamed up with ROC, Mantyluoto Works, and Odfjell for the Seagull deepwater, reusable platform: a concept rejected by Texaco last year for the UK Captain Field, but which could be resurrected for future field bids.
The Finnish trio lined up against Aker for the Njord bidding process. According to ROC sales manager Jarmo Eerola, they could now link up with other Aker companies for a combined platform/floating production system package, especially for FPSOs, as Aker does not have its own shipyard.
Iran jack-up
Renaming of ROC will be delayed until a new jack-up has been delivered to the National Iranian Oil Company. This Friedman & Goldman Mod II design, called Sika, is suitable for 90 meters water depth. It was built at a new shipyard in Neka on Iran's Caspian coast. Construction of both the yard and the rig have been managed by ROC.
According to Eerola, there is potential for further rig newbuilds or conversions at Neka, but NIOC will want to see first how its new consignment performs offshore. Neka will also be potentially available for non-Iranian, Caspian developments as will other yards in the region in Astrakhan and Baku.
ROC has built links with these yards as possible re-assembly sites for rigs broken up for transport to the Caspian via the Volga River, or for eventual upgrading of the drilling semi Kaspmorneft for Santa Fe and AIOC. Recently, ROC also opened an office in Baku which, aside from Azerbaijan, will be used to develop possible oil and gas opportunities in Tajikistan, Russia, and Kazakhstan.
This May, ROC won its first Caspian contract in a long while, from Brown & Root Services on behalf of Amoco and the Azerbaijan International Operating Company. It is surveying the Israfil Guzeinov pipelay barge, one of the fleet owned by the Socar/McDermott joint venture MacDock and originally built in 1988 by ROC.
ROC is also preparing a specification for upgrading work on the vessel, including a schedule and cost estimate. If findings are favorable, says Eerola, "The main task would be to replace existing welding machinery with a western make. Pipeline diameter will also be evaluated."
Currently the vessel can operate in water depths down to 300 meters, laying pipe in OD varying from nine to 34 inches at a rate of 1.5-2 km a day. "The barge will mainly lay steel pipe, but there is a possibility for concrete covering."
Arctic prospects
This spring, Aker signed a letter of intent with Russia's Rosshelf over possible collaboration in design and fabrication of platforms, pipelines, and land-based facilities for northwest Russian oil and gas fields. The two Russian companies involved would be the Sevmash submarine yard in Severodvinsk and Moscow's offshore institute Vnipimorneftegaz.
There may be room for ROC to participate. It is negotiating an agreement with a yard in the White Sea to supervise building of Arctic duty jackups, as well as procuring the equipment packages. Gazprom may place an order this summer. The design offered would be an ice-resistant exploration drilling unit capable of year-round duty in Arctic waters.
Kurilskaya, an exploration jackup, should be on its way to owner Sakhalinmorneftegaz in Russia's far east following a cantilever conversion managed by ROC at the Mantyluoto Works. Now ROC is looking to convert another jackup, Okha, for the same owner: this was originally built in Japan in the early 1980s.
"China would be a potential place for the upgrade," says Eerola. "It could be the Dalian New Shipyard, which we're bidding with. There the drydock will be modified this November, which is good for the conversion schedule. It would take around six months."
Dalian and ROC have been discussing a partnership for a while now. "They are also capable of floater conversions," Eerola says. One target for the team would be Ampolex's Lufeng project off China. "Ampolex is in the final stages of choosing a concept for the field development. They have an FPSO in mind, but a Spar is also possible: Dalian could be used to construct the hull."
Eerola also sees further rig conversion management possibilities for Vietsovpetro: ROC has supervised two in the past three years. This dovetails neatly with Aker's own ambitions in Vietnam: the group has an office in Ho Chi Minh City from where it coordinated the water injection module package for Vietsovpetro's Bach Ho field life extension program.
Aker's partnership with fabricator Sime Darby also brings Rauma into the picture in Malaysia. And Aker's base in Port Harcourt, Nigeria could be used as a launchpad for applications of the Spar concept in the deepwater West African fields.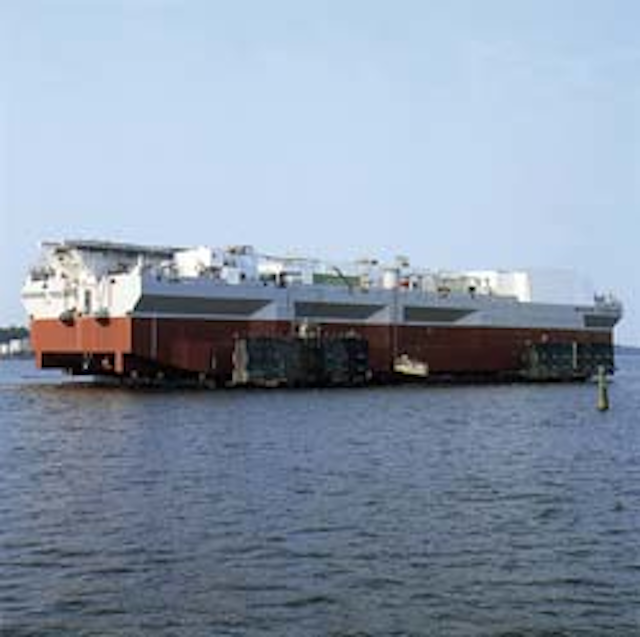 Rauma Offshore Contracting is currently performing a survey of the Israfil Gzeinov for MacDock in the Caspian
Spar construction
The Spar floating production concept was invented by California-based Deep Oil Technology (DOT) and will be realized for the first time in Oryx's Neptune development in Viosca Knoll block 826. ROC, which took a 20% stake in DOT in 1989, is managing construction of the 11,000-ton steel hull for Neptune - a $50 million contract which also includes supply of the mooring system.
The completed hull will be transported to the Gulf of Mexico late next year for mating to the 2,250-ton, three-tier topsides deck built by J Ray McDermott, the other member of the Spar consortium.
Recently, the consortium won a front-end engineering contract for studies on another development in Chevron/Exxon's Green Canyon 205 Field. If a Spar is selected here, Mantyluoto Works or Aker Gulf Marine in the US are potential candidates for building the hull and theoretically, McDermott could also subcontract part of the topsides to Aker.
Other candidates for Spars in the Gulf are Amoco's Marlin Field (a front-end decision is due later this year). Amerada Hess is also interested in applying the concept with Oryx in Garden Banks 260, and Shell is looking at further possibilities.
The Spar concept is currently suitable for water depths of around 400 metres. Studies are ongoing to take it to 1,000 meters, says Eerola. "We have had discussions about this with Petrobras, but they seem keener on converting semis for floating production." BP has also been approached about West of Shetlands scenarios, but currently ship-shaped floaters dominate thinking in this province.
Copyright 1995 Offshore. All Rights Reserved.