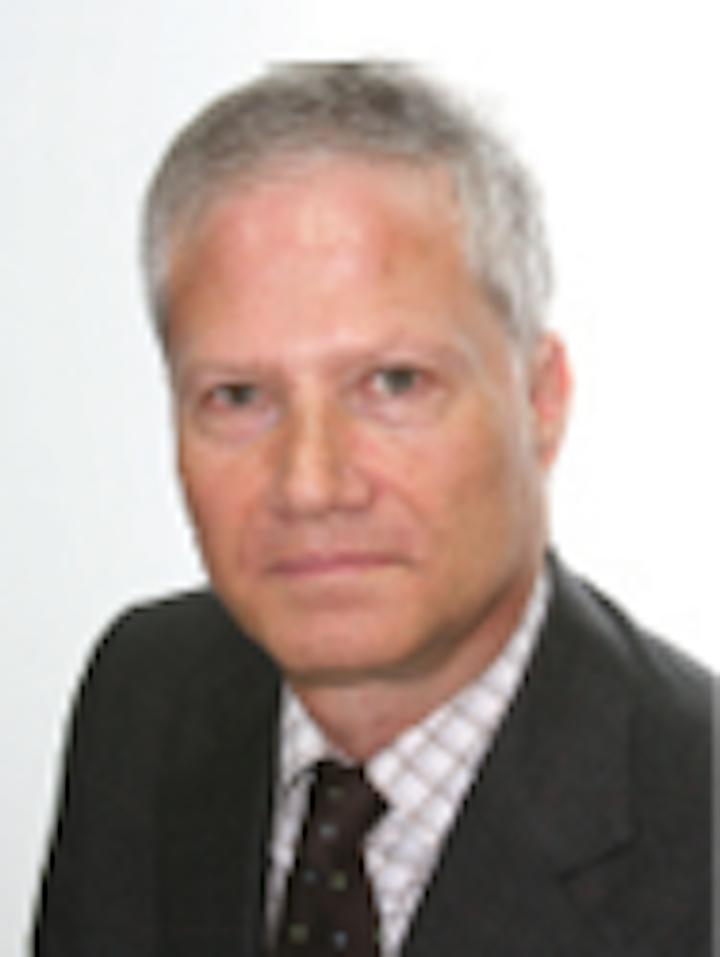 North America
Wison Offshore & Marine will develop the basis of design and front-end engineering design for a proposed floating LNG vessel offshore western Canada for Western LNG LLC. The execution methodology will follow a similar approach to that adopted for the Caribbean FLNG, delivered last year from the company's yard in China. Western is looking to export natural gas from the Montney, Horn River and other western Canadian sedimentary basins to markets in northeast Asia.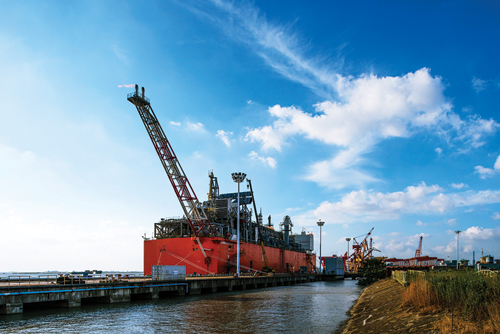 Caribbean FLNG vessel. (Courtesy Wison Offshore & Marine)
•••
PGS' Ramform Sterling has been acquiring the Lewis Hills 3D Geostreamer survey over the Flemish Pass basin offshore eastern Canada and additional data for the 2017-conducted Harbour Deep and Cape Broyle 3D campaign. TGS is processing the results onboard using its Clari-Fi broadband technology. This marks the conclusion of the two companies' eighth consecutive season of seismic acquisition off the east coast.
•••
McDermott International is working on an EPCI/design contract for two subsea flowlines for Pemex's heavy-oil Ayatsil field development in Mexico's Bay of Campeche. These will be short-distance oil and gas lines which McDermott will install next year between various platforms in the field complex.
Talos Energy expects the semisub Ensco 8503 to shortly spud the first of three wells appraising block 7 in the Mexican sector. The concession contains the giant shallow-water Zama oil discovery. In addition, the company plans to drill its first well next spring on block 2, testing the Bacab prospect in 100 ft (30.5 m) water depth.
South America
Recoverable resources from discoveries in the deepwater Stabroek block off Guyana exceed 4 Bboe, according to ExxonMobil's latest estimate. In addition to the current phased Liza project, the company and its partners expect to sanction the Payara development next year with a 180,000-b/d capacity FPSO. Two more fields in contention for development are the Turbot and Longtail discoveries, and by 2025 five FPSOs could be in action on fields in the block, the company said, producing over 750,000 b/d combined.
Kosmos Energy expected to spud the Pontoenoe-1 well last month in Guyana's offshore block 42, 70 km (43 mi) west of Stabroek, chasing a similar play type to Turbot/Longtail.
•••
MODEC has contracted Keppel FELS to fabricate and integrate the topsides for the FPSO Carioca MV30 that will serve Petrobras' Sepia field development in the presalt Santos basin, 250 km (155 mi) off the coast of Rio de Janeiro. The BrasFELS shipyard in Angra dos Reis in the Rio area will start construction of the modules shortly. The completed vessel will be able to process 180,000 b/d of oil and 212 MMcf/d of gas, and to store 1.4 MMbbl.
Petrobras has submitted declarations of commerciality for oilfields close to the ultra-deepwater Sapinhoá field in the presalt Santos basin. The company and partners Shell and Repsol Sinopec were awarded the Entorno de Sapinhoá area last year under Brazil's 2nd bid round. It has suggested names for three new fields in this area, and all should be unitized with the Sapinhoá field, 300 km (186 mi) offshore following definition of a corresponding production individualization agreement. Two floaters currently produce 250,000 b/d from Sapinhoá.
West Africa
Mauritania's government has awarded Shell two production-sharing contracts for offshore blocks C-10 and C-19, marking the company's entry into the West African Atlantic margin exploration basin. The concessions cover 23,765 sq km (9,140 sq mi) in water depths ranging from 20-2,000 m (65-6,561 ft). Shell also offered a 10-20% future back-in right to Chariot Oil & Gas for C-10, which the London-based independent originally analyzed before relinquishing the block in 2016.
•••
Remediation of the turret for the FPSO Kwame Nkrumah at the Jubilee field offshore Ghana is nearing completion. Following measures earlier this year to stabilize the turret bearing, the turret is now secured to a newly installed bearing plate. Operator Tullow Oil plans a final short shutdown at the end of the year to allow the vessel to rotate to its new permanent heading and for installation of the final spread mooring system.
•••
Total has started producing oil through the first floater for the deepwater Kaombo project in block 32 off Angola, 260 km (161 mi) from Luanda. Kaombo Norte is the first of two converted VLCCs, both designed to produce around 115,000 b/d; Kaombo Sul should enter service in 2019. The project, which should eventually provide 15% of Angola's oil production, is targeting 650 MMbbl from the Gengibre, Gindungo, Caril, Canela, Mostarda, and Louro fields.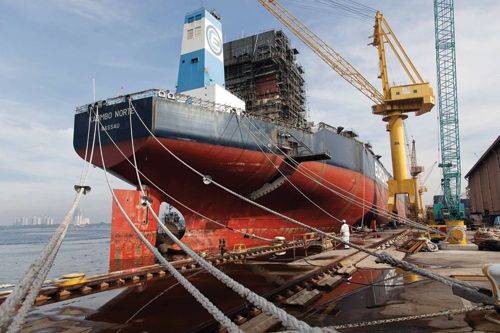 FPSO Kaombo Norte. (Courtesy Total)
•••
Keppel Shipyard was preparing to deliver the converted FPSO La Noumbi to Perenco for the Yombo field offshore Republic of Congo. The yard had earlier installed and integrated topsides skids and a new accommodation module on the former crude tanker. The vessel will process up to 12,000 b/d of oil and 120,000 b/d of water.
•••
ExxonMobil is set to farm into a deepwater license in Walvis Bay offshore Namibia. The company has agreed to acquire 32% of local company Azinam's interest in PEL 44, where water depths range from around 300-2,500 m (984-8,202 ft). Azinam is currently interpreting new 3D seismic over the concession – Maurel and Prom is the operator.
Northern Europe
Gazpromflot's jackup Amazon has been drilling the first well for PAO Novatek subsidiary OOO Arctic LNG 3 in the shallow-water North-Obskiy license in Ob Bay off northern Russia. Operations have been designed for zero discharge, with all drilling waste collected and transported 125 km (78 mi) to the Sabetta onshore base. The program is intended to produce gas for conversion to LNG.
•••
Saipem's Castoro 10 was recently operating offshore Lubmin, northern Germany, undertaking preparations for the landfall approach section of the Nord Stream 2 gas lines from Russia. Excavators were also digging a 29-km (18-mi) long trench for the subsequent pipelay through the Bay of Greifswald.
Mediterranean Sea
Panoro Energy has agreed to acquire DNO Tunisia, assuming all interests and work obligations for three Tunisian concessions including the Sfax Offshore and Hammamet Offshore exploration permits. DNO, which at the same time took a minority stake in Panoro, will receive up to $13.2 million from any future production from Sfax Offshore.
•••
GSP Offshore's jackup GSP Jupiter should have started drilling for Energean's Epsilon field development in the Aegean Sea offshore western Greece, following installation of the permanent drilling template. Three wells are due to be drilled from the new minimal facility Lamda platform, 4 km (2.5 mi) west of the producing Prinos complex, with three inter-connecting pipelines to the Prinos Delta platform.
Caspian Sea
Lukoil has committed to develop the Rakushechnoye field, discovered in 2001, 100 km (62 mi) from the Russian northwest Caspian coast. Facilities, to be built by yards in the Astrakhan region, will include a fixed offshore ice-resistant platform, crossover bridge, and subsea interfield lines and cables for connection to the second ice-reinforced platform at the V. Filanovsky field 8.5 km (5.3 mi) distant. All production from Rakushechnoye – due to peak at 1.2 MM metric tons/yr (1.32 MM tons/yr) – will head to the Filanovsky field center for treatment and onward export through existing pipelines.
In addition, Lukoil has installed the substructure for the new wellhead platform for Filanovsky's third development phase, focused on the western part of the reservoir, with production due to be sent to the first-phase central processing platform. Lukoil-Nizhnevolzhskneft is constructing the new platform's topsides.
•••
SOCAR AQS is forming a joint venture with KCA Deutag. Turan Drilling & Engineering Co, based in Baku, will provide and develop well drilling engineering services both in the Caspian offshore and other parts of the Central Asia region. KCA Deutag has operated in Azerbaijan since 1995 where it currently employs around 780 people, 79% of which are Azeri nationals.
Indian Sub-Continent
ExxonMobil has reportedly arranged to acquire 25% of deepwater block G offshore Pakistan's Indus Delta. The block, operated by Eni, is said to be 230 km (143 mi) from the coast in 1,900 m (6,200 ft) water depth.
•••
ONGC had to call in India's Navy earlier this summer to help plug a gas leak from an unmanned platform in Mumbai High South complex in the Arabian Sea, 180 km (112 mi) offshore western India. After identifying the leak, the platform crew acted immediately to shut down operations, but rough weather prevented a response team from flying in the normal way to land on the deck. The Navy obliged by dispatching a Sea King N555 helicopter which winched the four-strong team onto the platform to conduct the repairs.
Southeast Asia
Woodside Energy has discovered gas with the Aung Siddhi-1 exploration well offshore Myanmar. The well encountered pay in both the upper and lower main targets, with the gas columns later confirmed through pressure measurements.
Australasia
First gas has flowed from INPEX' Ichthys LNG project offshore/onshore northwest Australia, with the first well coming onstream following the completion of final safety checks. Produced gas and condensate from the subsea wells in 260 m (853 ft) water depth are directed to the field's central processing facility Ichthys Explorer for separation. Gas is transported through an 890-km (553-mi) export line to the two-train onshore liquefaction plant in Darwin, while the liquids travel through a short pipeline to the FPSO Ichthys Venturer for subsequent offloading to tankers. At peak the offshore facilities will deliver 1.6 MMcf/d of gas and 85,000 b/d of condensate.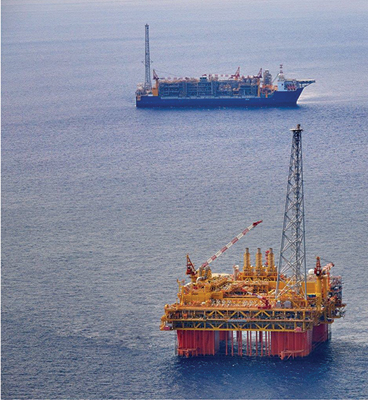 The central processing platform Ichthys Explorer and FPSO Ichthys Venturer at the offshore Ichthys LNG complex. (Courtesy INPEX)
•••
Quadrant Energy has discovered oil with the Dorado-1 well in the WA-437-P permit offshore Western Australia. Analysis of pressure data from the well confirmed multiple oil columns at various depths, and gas-condensate in one section.
•••
PTTEP has agreed to sell its full stake in the producing Montara oilfield offshore northwest Australia to Singapore-based Jadestone Energy, subject to regulatory approvals, for a basic price of $195 million, with further payments contingent on the attainment of future production and development milestones. Jadestone has various plans to extend the life and improve performance of the facilities, which could include an expanded role as a regional production hub.
•••
Chevron has contracted TechnipFMC to provide and install umbilicals, manifolds, and other subsea equipment for the Gorgon Stage Two development offshore Western Australia in water depths of 250-1,340 m (820-4,396 ft). Phase 2 involves upgrades to Gorgon's existing facilities to sustain gas production.
•••
Tamarind Resources has provisionally booked COSL Drilling Europe's semisub Hai Yang Shi You 982 to drill three wells on the PMP 38158 Tui permit offshore New Zealand. The line-up could be extended to include a side track and an exploration well. •