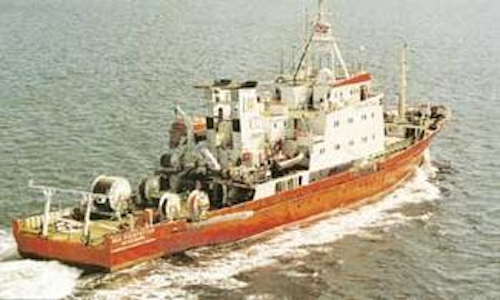 SEG
Several companies announced advances at the Society of Exploration Geophysicist convention in Salt Lake City, Utah, including:
•Vibtech launched its Infinite Telemetry System (it system) at the show. The company developed the new system using patented cellular radio technology. The system can network together an infinite number of cable-free sensors and telemeter the data to the central control unit for recording. Each of it's remote acquisition units uses four channels, making the system ideal for multi-component acquisition, as well as conventional sensor arrays. The system is easy to use, lightweight, has a lower volume per channel, and uses a license-free ISM band
•Rockware released RockWare Visual Seismic 2.0 (RVS), a PC-based 2D, 3D, and 4 D seismic visualization and interpretation system. RVS has visualization capabilities with the ability to adjust the color and opacity of any seismic object to highlight amplitude anomalies, allowing the user to generate prospects quickly
•Paradigm released its seismic data processing and imaging software for Linux workstations and clusters. The newly ported software will allow companies to run their analytical workflows in a hybrid environment using both Unix and Linux platforms.
Multilateral logging
Schlumberger Oilfield Services announced the successful mapping of a water injection profile in an openhole multilateral well. In the first field test of a new reservoir saturation tool, Discovery RST, three openhole laterals were entered and logged in the Shuaiba well in the Saih Rawl field in Oman.
The RST tool used with coiled tubing allows logging to be performed in one day, compared with up to nine days for some workovers.
Gas hydrates
The Ocean Drilling Program recently completed a two-month expedition investigating gas hydrates. ODP Leg 204 cut cores offshore Oregon in an area known as Hydrate Ridge. The objective was to determine how much gas hydrate is present where hydrates are known and widespread.
Leg 204 developed laboratory measurements of the hydrates' physical properties at sub-seafloor pressures for the first time. This was made possible by new tools developed by the European Hyacinth consortium. It also saw the first simultaneous acquisition of both core samples and logging-while-drilling data.
Research database
The Offshore Drilling Program announced their online DSDP/ODP Citation Database. This resource contains over 18,000 citations related to DSDP and ODP research from 1969 to the present. Approximately 40% of these citations are DSDP Initial Reports and ODP Proceedings series, and 60% are from serial publications, abstracts, conference proceedings, maps, and other resources. The database can be found at http://wwwodp.tamu.edu/publications/cite/ind-ex.html.
---
EXPLORATION
100 million x, y, z
Fugro Survey A/S completed a multibeam echo sounder survey off mid-Norway. Over 100 million x, y, and z measure-ments were made over 22,000 sq km. The data were acquired for Norsk Hydro as part of the Norwegian Deep-water Program Seabed Project, a joint industry project sponsored by BP, Conoco, ExxonMobil, Norsk Hydro, Petoro, Phillips Petroleum, RWE-DEA Shell, Statoil, and TFE.
Its main aims are to assess the safety and feasibility of exploration activities and field developments in the Møre and Vøring deepwater areas. Special attention is being given to slope stability and drilling hazards, which the new survey will help determine.
Fugro survey vessel Geo Prospector gathered the survey using a Kongsberg Simrad EM300 1x1 degree multibeam echo sounder. Processing is underway at Fugro's Oslo data processing facility.
Reconditioned vessel
The CGG Mistral recently completed a rebuild that involved tripling its propulsion power and overhauling its stern. A reconfiguration of the seismic decks increased the width of the rear deck by 40%. The expansion allows the vessel to tow 10 streamers instead of its previous six-streamer capacity.
New seismic equipment includes the Solid Seal seismic system and oil-free cables. Based on the 408 seismic technology, the system uses a reduced-diameter solid cable with distributed electronics, which allows single digitized-sensor recording. The vessel is the first to sail with the latest IBM Regatta server, increasing its onboard data processing capability. After completion of the six-month conversion at a German shipyard, the CGG Mistral is now gathering a 3D survey off Morocco.
---
TECHNOLOGY
Curved front projection
Landmark Graphics, a Halliburton company, opened its new Executive Briefing Center at the Houston, Texas, headquarters. The new facility is equipped with an SGI Reality Center powered by a 16-processor Onyx 3400 graphics supercom-puter with three InfiniteReality3 subsystems. The immersive visualization system is the first-ever front-projected installation using Digital Light Processing projectors on a curved screen with active stereo image projection.
Linux processing
Petroleum Geo-Services has installed Intel-based IBM xSeries servers running Linux for its data processing needs. The servers are cluster-ed together and linked over a network to act as a single, powerful computer system. The comp-any is moving its entire software portfolio to the new servers and plans to run all future capacity on the Intel/Linux platform.