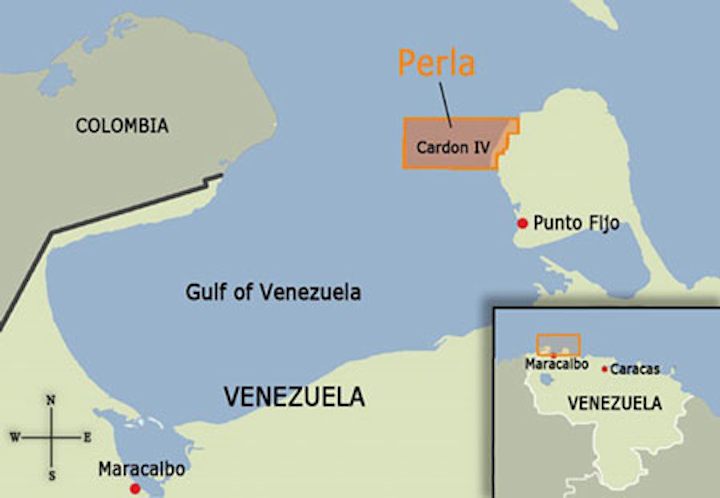 Jessica Tippee
Assistant Editor
Cardón IV S.A., a 50/50 joint operating company between Repsol and Eni, started production from the Perla gas field in the Gulf of Venezuela in July 2015. Located in the Cardón IV block 50 km (31 mi) offshore in 60 m (197 ft) water depth, Perla is estimated to hold up to 17 tcf of gas in place, or 3.1 Bboe. According to Repsol, this is the largest gas discovery in the company's history and the largest offshore gas field in Latin America. Eni says Perla is the first gas field to be brought to production offshore Venezuela.
Discovered in 2009, the Perla 1X well encountered a 240-m (775-ft) hydrocarbon column. During production testing, it produced high quality gas with a capacity of 600,000 cu m/d (approximately 3,700 boe/d) and 500 b/d of condensate. Perla 2, drilled in 60 m (198 ft) of water, found 260 m (840 ft) of net pay in a carbonate sequence with good reservoir characteristics. During production testing it flowed 50 MMcf/d plus 1,500 b/d of condensate. Perla 3, drilled in 70 m (230 ft) of water, encountered 210 m (675 ft) of net pay carbonate sequence with the same hydraulic regime as the discovery well and with excellent reservoir characteristics. The well flowed 68 MMcf/d of gas and 1,350 b/d of condensate during the production test. According to Eni, the third shallow-water well confirms Perla as "a world-class supergiant gas discovery, one of the most significant in recent years, and the largest ever in Venezuela." The Perla 4 appraisal well flowed 17 MMcf/d of gas and 560 b/d of condensate during the production test.
The three-phase development involves four relatively light platforms connected to 26 wells, with gas exported through a 30-in. subsea pipeline to a new two-train central processing facility onshore at Punto Fijo. The first phase is estimated to cost $1.5 billion.
The project was officially sanctioned in December 2011 when Eni and Repsol signed the gas sales agreement with Venezuelan national oil company Petróleos de Venezuela SA (PDVSA) and the Minister of Petroleum and Mines of Venezuela.
By the end of 2015, Repsol expects gas production to increase to 450 MMcf/d. Production should reach 1.2 bcf/d in 2020. PDVSA has contracted the gas for all three phases until 2036.
In October 2010, Cardón IV S.A. contracted Foster Wheeler AG's Global Engineering and Construction Group for pre-front-end engineering and design and FEED for the field's production facilities: offshore structures, trees, controls, offshore processing, subsea flowlines, export pipelines, the shore approach and utilities facilities from the wellheads to an onshore gas plant, and tie-in to an existing gas and condensate pipeline system.
As part of FEED in April 2011, Trident Risk Management was hired for reliability, availability, and maintainability analysis; a marine vessel collision risk assessment; an infield flowline risk assessment; and layers of protection analysis for offshore and onshore facilities.
In April 2013, Saipem was commissioned to transport and install a hub platform and two satellite platforms; a 67-km (41.6-mi), 30-in. offshore export pipeline; two 14-in. clad infield flowlines and other infield cables; and related tie-in operations. Most of the work was performed by the Saipem 3000 and Castoro 7 vessels between 3Q 2013 and 2Q 2014.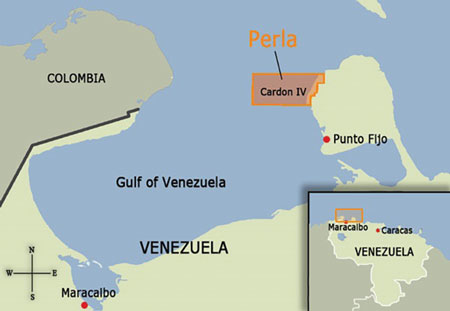 The Perla gas field is in the Cardón IV block 50 km (31 mi) offshore. (Map courtesy Repsol)
Seadrill received a $222-million contract for the LT-Super 116E jackup drilling rig West Freedom in July 2013. The 30-month charter began in late September 2013. At first production, seven of the 26 planned wells had been drilled.
Foster Wheeler was contracted to provide project management for the new production facilities in August 2013. The company supervised the engineering, procurement, and construction contractors, and the procurement of long-lead equipment, from engineering centers in Houston, Madrid, London, and Rijeka, Croatia. According to Foster Wheeler, contractors in more than 15 countries were involved in fabrication and construction of the equipment and materials at module and jacket fabrication yards, and for site installation.
Valerus won an engineering, procurement, and construction contract for the natural gas conditioning and condensate stabilization facility. The company performed the process design and fabricated the process equipment. Construction of the facility was executed by Consorcio La Perla, a consortium between Valerus Venezuela and Lindsay Venezuela.
The Minister of Petroleum and Mines of Venezuela and President of PDVSA Rafael Ramírez, Eni's CEO Claudio Descalzi, and Repsol's President Antonio Brufau signed strategic agreements in June 2014. The first agreement is a memorandum of understanding to create a new company (mixed enterprise) to develop and produce Perla's condensate reserves.
The new company will be jointly run by CVP (PDVSA's affiliate) with 60%, Eni with 20%, and Repsol with 20%. The second agreement establishes the key elements for up to $1 billion investment structure to finance CVP's share in the Perla development. Eni and Repsol will contribute with up to $500 million each. Both agreements are subject to final contracts being signed and approved by local authorities.
PDVSA exercised its 35% back-in right, and, after the signature of a sale and purchase agreement, it will get its ownership stake in Cardón IV S.A., which will be jointly operated. Eni and Repsol will each keep a 32.5% interest.
In April 2015, Seaway Heavy Lifting was contracted to transport and install the gas production platforms and tie-in to various inter-field pipelines that were already installed. The crane vessel Stanislav Yudin executed the lifting and installation work, and was outfitted with a saturation dive system to perform the tie-ins. The company handled project management and engineering from the Netherlands and its new project office in The Woodlands, Texas.
Perla is part of the Rafael Urdaneta gas project, which spans about 30,000 sq km (11,580 sq mi). It consists of 29 blocks: 18 in the Gulf of Venezuela and 11 in northeast Falcon state. According to PDVSA, the project aims to meet the domestic market's demand for natural gas.