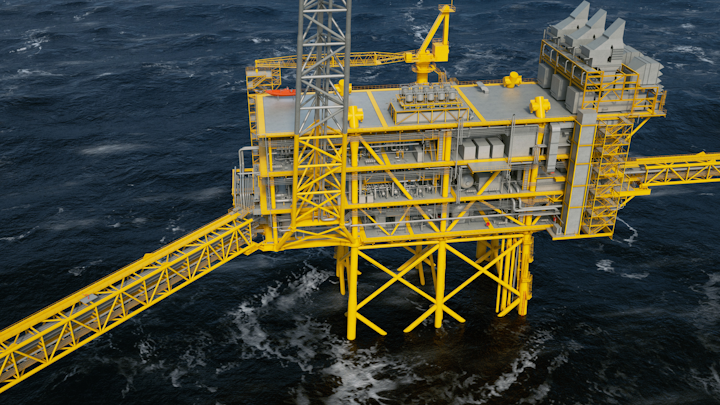 (Courtesy Total E&P Denmark)
Offshore staff
SINGAPORE – Sembcorp Marine has won two offshore platform contracts worth more than S$550 million ($406 million) that support redevelopment efforts at the Al-Shaheen and Tyra fields, located respectively in Qatari waters and the Danish North Sea.
The company will team up with customer North Oil Co. (NOC) to fabricate two wellhead platforms for the NOC-operated Al-Shaheen oil field, which will be bridge-linked to the field's existing facilities.
Awarded under NOC's Gallaf Batch 2 Project, the contract covers engineering, procurement, construction, installation, commissioning and offshore brownfield integration of the platforms, to be started-up at Al-Shaheen by December 2021.
The Gallaf Project is a multi-phase development for maintaining Al-Shaheen's production capacity at a plateau of 300,000 b/d of oil.
Located 80 km (50 mi) north of Ras Laffan, Al-Shaheen has one of the world's biggest oil reserves. It is the largest oil field in Qatar, contributing to 45% of the country's oil production.
Separately, Sembcorp Marine as a subcontractor will fabricate certain platforms and bridges for Total E&P Danmark A/S's Tyra Redevelopment project.
Expected to be ready in 1Q 2021, the platforms will, in part, replace ageing facilities and sustain output of 60,000 boe/d at the Tyra field over the next 25 years.
Tyra is the largest gas condensate field in the Danish sector of the North Sea. Post-redevelopment, it is expected to produce enough gas to power 1.5 million homes in Denmark.
12/26/2019