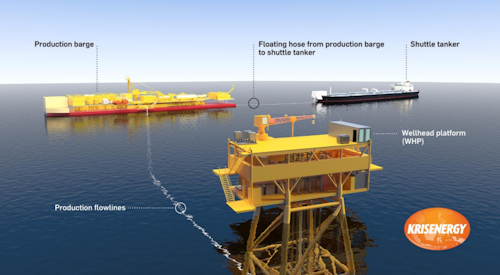 (Courtesy KrisEnergy)
Offshore staff
SINGAPORE – KrisEnergy has conditionally contracted PT Profab1 (Profab) to supply a minimum facilities wellhead platform for the Apsara oil field development in block A offshore Cambodia.
The work scope of the conditional letter of award covers procurement, fabrication, and construction of the jacket, topsides and other equipment for the platform, and includes full pre-commissioning and loading onto a barge for transportation.
All work will be undertaken at Profab's yard on Batam Island, Indonesia.
As this is the first development in the previously unproduced Khmer basin, KrisEnergy has opted for a phased development to reduce the risk and provide time for collection and analysis of data for use in future phases.
The initial Mini Phase 1A covers the platform and five initial development wells which will be connected to the Ingenium II production barge for oil, gas and water processing. From there the oil will be offloaded to shuttle tankers.
Apsara oil is due to start producing during the first half of next year with peak output in the initial phase of 7,500 b/d.
According to Kelvin Tang, CEO and president of the company's Cambodian operations, "Mini Phase 1A simplifies the development with a smaller platform, fewer wells and the use of lower cost lease shuttle tankers and will allow us to observe reservoir performance efficiently and effectively to evaluate the long-term potential of the Apsara field."
Upgrading and refurbishment of Ingenium II started last November 2018 at Keppel Shipyard's Benoi complex in Singapore. Offshore Construction Specialists Pte performed detailed structural design and process engineering for the platform.
Last weekend the vessel PTSC Researcher, operated by PTSC Geos and Subsea Services Co., started a geophysical survey over the proposed location for the platform. The goals include identification and delineation of possible shallow gas pockets, measurement of accurate water depths at the platform and production barge locations, and general topography/investigation of seabed conditions.
11/13/2019