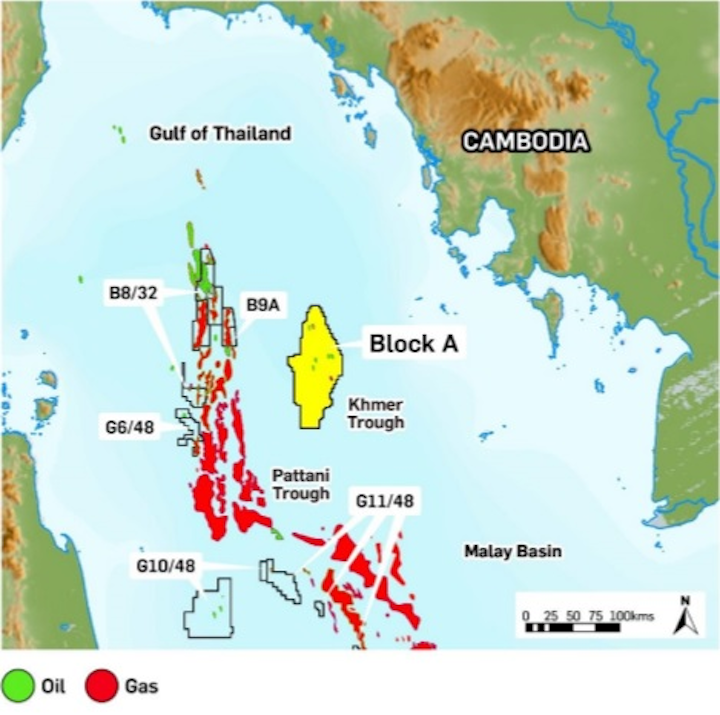 Offshore staff
SINGAPORE – KrisEnergy has committed to a first phase of development of the Apsara oil field offshore Cambodia, the country's first hydrocarbon development project.
Previous operator Chevron discovered the field in block A in the Gulf of Thailand.
For the Phase 1A development, KrisEnergy plans to install a single unmanned, minimum facility, 24-slot wellhead platform connected to a moored production barge capable of processing up to 30,000 b/d of fluids. The vessel will also feature gas, oil and water separation facilities. Oil will be exported through a 1.5-km (0.9-mi) pipeline for storage to a permanently moored floating, storage and offloading vessel.
Kelvin Tang, KrisEnergy's CEO and president of Cambodian operations, said: "Our technical and operations teams are preparing the necessary tenders for materials, equipment, and services.
"In parallel, consultations continue with parties interested to join this ground-breaking project to reduce our operational risk and capital expenditure exposure."
KrisEnergy operates Cambodia Block A with a 95% working interest, with the General Department of State Property and Non Tax Revenue of the Ministry of Economy and Finance holding the remaining 5%.
The block A contract area covers 3,083 sq km (1,190 sq mi) over the Khmer basin, with water depths ranging from 50-80 m (164-262 ft). Individual oil accumulations in the concession are small and spread over a large geographic area, and will therefore require significant funds and time to fully develop, KrisEnergy said.
In addition, reservoir production performance in the Khmer basin has yet to be proven. For these and other reasons there is some uncertainty over long-term production rates, reserves and commercial viability, hence the choice of a phased development.
Once the initial Phase 1A platform is onstream, there will be a period of monitoring reservoir performance before the partners commit to Phase 1B.
This will likely entail up to three additional platforms producing to the Phase 1A facilities.
Beyond that, Phase 1C could potentially add a further six platforms for the full Apsara development.
10/20/2017