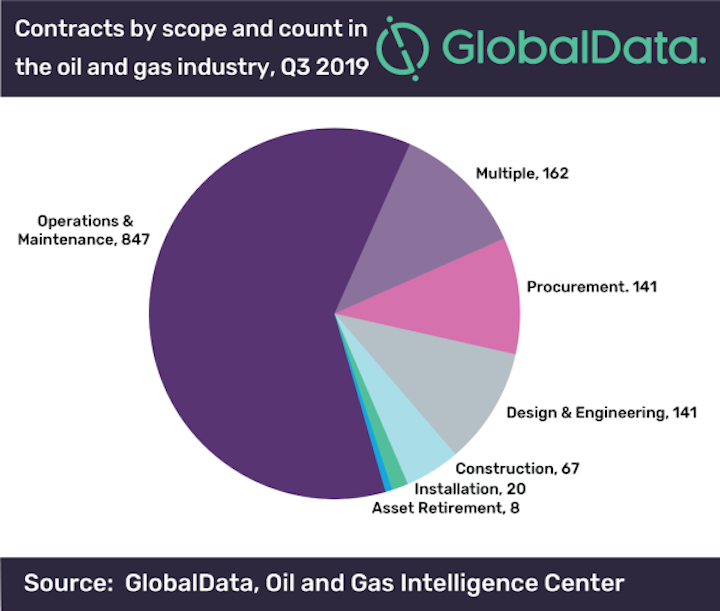 Offshore staff
LONDON – Middle East activity boosted the value of global oil and gas contracts awarded during 3Q 2019 to $44.4 billion, said GlobalData in its latest review.
The main factor was Saudi Aramco issuing 34 engineering, procurement and construction- (EPC) related contracts, worth more than $18 billion in total, for projects such as the offshore Marjan and Berri field incremental development program; and ADNOC's $3.6-billion contract for the supply of 1 MM metric tons of casing and tubing to support E&P in the UAE.
GlobalData analyst Pritam Kad said: "Saudi Aramco's commitment towards enhancing local presence is demonstrated in-line with its' In-Kingdom Total Value Add (IKTVA) initiative, which is designed to drive domestic value creation.
"The recent 34 EPC-related contracts…also support this initiative as most of the contract work will be undertaken by local companies/subsidiaries.
 On the similar note, ADNOC's … casing and tubing supply contract…has the potential to achieve an in-country value of over 50%, which is significant."
Beneficiaries of the Marjan and Berri awards included the McDermott International/COOEC consortium, responsible for a new gas-oil separation plant; McDermott also has a $1.7-billion EPCI program for offshore gas facilities and pipelines.
Other major awards went to the L&T Hydrocarbon Engineering/EMAS AMC consortium for the supply of oil facilities, tie-in platforms, wellhead decks, subsea pipelines and subsea cables, and the replacement of existing control gears at offshore platforms.
11/06/2019