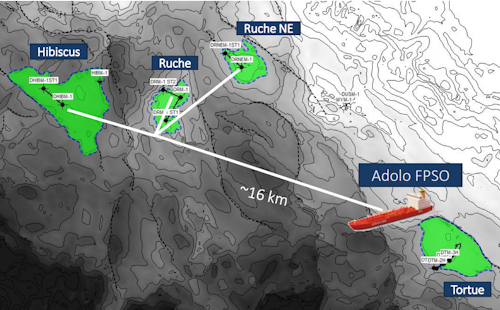 (Courtesy Panoro Energy)
Offshore staff
OSLO, Norway – BW Energy has revised the Ruche development plan to include the recent Hibiscus discovery in the Dussafu license offshore Gabon.
Under the revised plan, estimated gross production from Ruche Phase 1 is forecasted to double from 15,000 b/d to 30,000 b/d. These volumes will come in addition to the production from the Tortue field.
The changes to the Ruche development plan follow the recent successful Hibiscus exploration well (DHIBM-1). Under the revised plan, the contemplated wellhead platform will move 4 km (2.5 mi) to the west to incorporate the Hibiscus resources.
Ruche Phase 1 will now consist of four Hibiscus production wells and two Ruche wells, all from the Gamba formation. First oil is targeted for 4Q 2021.
Phase 2 will develop the additional proven resources through up to seven wells to maintain the production plateau.
Carl K. Arnet, CEO of BW Energy, said: "Hibiscus is proving to be a discovery of equal quality and magnitude to the Tortue field. The revised development will add significantly to our production capacity and take us above the FPSO's current nameplate of 40,000 b/d."
Estimated capex for Ruche Phase 1 has increased from $375 million to $445 million (gross). Estimated incremental reserves produced are 50 MMbbl gross. Total field operating costs including Ruche Phase 1 are estimated to be ~$10/bbl excluding royalties and taxes at current FPSO nameplate capacity.
Independent auditor Netherland, Sewell & Associates Inc. has assessed the Hibiscus reserves at 45.4 MMbbl of oil (2P) gross. This increases the total reserves at the Dussafu license to:
Proved (1P) reserves of 76.9 MMbbl
Proved + Probable (2P) reserves of 112.4 MMbbl
Proved + Probable + Possible (3P) reserves of 142.6 MMbbl.
BW Energy is currently drilling four new production wells on Tortue which will be followed by one more exploration well under the current sanctioned development program. This program is expected to result in an average gross production of 16,000 b/d in H1 2020 and 23,000 b/d in H2 2020. The Tortue field produced gross average of ~11,600 b/d in 3Q 2019. 
The company has agreed options for two more exploration wells with Borr Drilling. If the options are exercised, these wells will extend the current drilling campaign to 3Q 2020.
10/30/2019