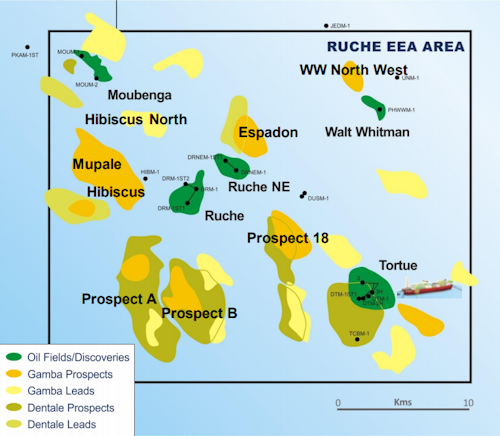 (Courtesy BW Offshore)
Offshore staff
OSLO, Norway – The Hibiscus Updip well (DHIBM-1) on the Dussafu Marin permit offshore Gabon has discovered hydrocarbons, according to partner Panoro Energy.
Logging operations are in progress. Post-evaluation, the partners will likely sanction a side track.
Earlier this week, Dussafu operator BW Offshore received a mid-year reserve report from auditor Netherland, Sewell & Associates (NSAI).
This assessed resources from the Tortue, Ruche, and Ruche NE fields as:
Proved (1P) reserves of 43.5 MMbbl
Proved + Probable (2P) reserves of 66.3 MMbbl
Proved + Probable + Possible (3P) reserves of 86.4 MMbbl.
"With the new report from NSAI, 2P reserves at Dussafu have tripled since we started the development project and when including production to date," said Marco Beenen, CEO of BW Offshore.
"Tortue Phase 1 has produced above expectation since first oil in September 2018, and successful drilling has added to the reserves. This proves that our strategy of phased field developments and redeployment of our own FPSOs accelerates time to first oil and unlocks further upside in subsequent phases."
08/30/2019