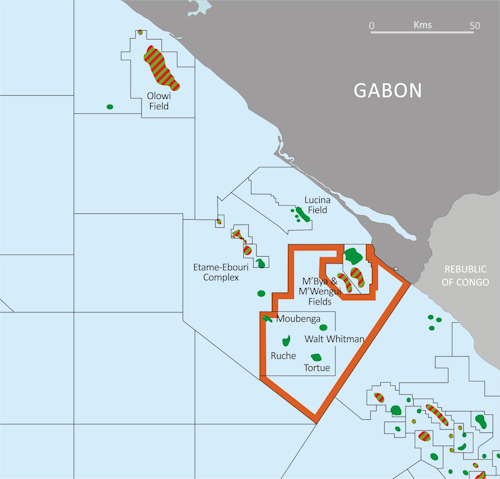 (Map courtesy Panoro Energy)
Offshore staff
OSLO, Norway – Borr Drilling's jackup Borr Norve has spudded an exploration well on the Hibiscus Updip prospect in the Dussafu Marin permit offshore Gabon, operated by BW Energy.
According to partner Panoro Energy, well DHIBM-1 is in 116 m (380 ft) water depth, around 56 km (35 mi) offshore and 1.5 km (0.9 mi) southwest of the Hibiscus well (HIBM-1) drilled by Arco in 1991 which encountered good-quality Gamba reservoir with live oil shows.
It will be drilled vertically to intersect the Gamba at what is thought to be an updip position from HIBM-1, also testing the Dentale reservoir.
On completion the rig will drill four consecutive horizontal production wells at the Tortue field on the same permit, followed by an additional exploration well in 2020.
The location for that final well will be based on 3D seismic currently undergoing re-processing. Based on the findings and the well results, two more exploratory wells could follow.
Panoro aims to start drilling the Salloum West prospect in Tunisia's Sfax Offshore concession toward year-end. It is presently reprocessing vintage seismic around the Salloum area.
08/12/2019