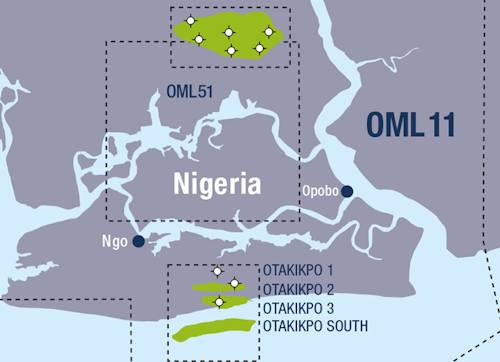 Lekoil
Offshore staff
LAGOS, Nigeria – Lekoil has formed the Otakikpo Joint Venture (JV) with Green Energy International Ltd.
The JV has signed a memorandum of understanding (MOU) with Schlumberger and a major IOC which has operated in Nigeria for over half a century.
This covers infrastructure sharing and a program of drill around a group of marginal field assets in the OML 11 lease offshore/onshore southeast Nigeria.
The phased development plan calls for drilling up to five new wells on the Otakikpo field in the swamp region; expanding processing infrastructure with a new onshore terminal located outside the Otakikpo field operations area; and construction of an export pipeline connecting the onshore terminal to an offshore buoy to handle production from Otakikpo and other fields in the lease.
Project management and associated asset management costs incurred by Schlumberger will be shared between the JV and the operators and owners of other marginal fields involved in the project.
The JV anticipates capex of around $170 million for the new wells and processing infrastructure, with the unnamed IOC providing funding to the JV alongside other funding partners, subject to due diligence, project economics, entry into definitive documentation and a final investment decision.
The partners will also enter an exclusive offtake agreement with the IOC for the sale of crude produced, with Schlumberger serving as technical and project execution partner to provide oilfield services and project management services to assist in ramp-up of production and long-term field management.
07/01/2019