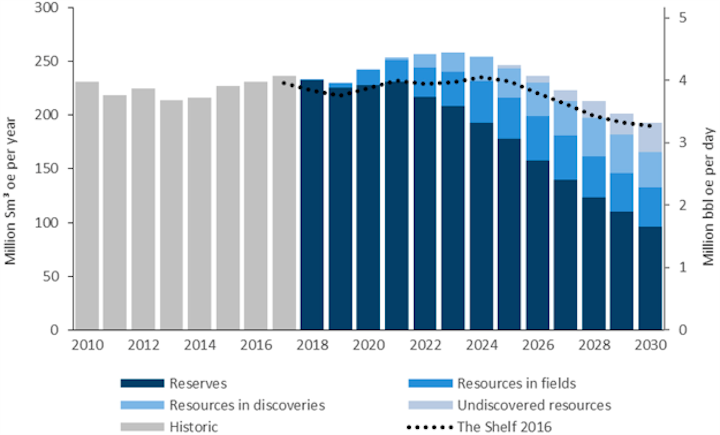 Offshore staff
OSLO, Norway – Norwegian offshore fields delivered record volumes of gas last year, according to a review by the Norwegian Petroleum Directorate (NPD).
Production of oil and gas looks set to continue rising until 2023, perhaps matching the previous overall high of 2004, when oil accounted for most of the output.
In 2023, however, gas should make up around half of the production.
Last year's Norwegian oil production was 2% lower, mostly due to an unplanned maintenance shutdown on theGoliat field in the Barents Sea.
Oil output will likely fall a further 2% this year and continue on a downward trend until 2020, when volumes fromJohan Sverdrup in the North Sea start to kick in.
However, there is uncertainty linked to the drilling of new wells, start‐up of new fields, the ability of the reservoirs to deliver, and the regularity of fields in operation.
Production from approved developments accounts for 90% of the volume expected in the five‐year period 2018‐2022, while the remainder looks set to come mainly from additional measures to improve recovery from the fields.
Recent history shows Norwegian fields are producing more than previously assumed, thanks to efficiency measures, particularly regarding drilling of wells and regularity on the facilities.
Production from undiscovered resources will likely take on greater significance in the run-up to 2030.
"The high production forecasts are good news for everyone who is interested in value creation in Norway," said NPD's Director General Bente Nyland.
At the end of 2017, 85 fields were producing on the Norwegian shelf, five of which came onstream during the year. In addition, companies submitted plans for development and operation (PDOs) for 10 new projects, while a further nine are under development.
"If production is to be maintained at a high level also beyond 2025, more profitable resources must be proven, including in major discoveries. Therefore, the Norwegian Petroleum Directorate believes that exploration activity must be increased from today's level, in both mature and frontier areas," said NPD Director General Nyland.
Last year, 34 exploration wells were completed, three fewer than in 2016, comprising 17 in the Barents Sea, 12 in the North Sea, and five in the Norwegian Sea.
These resulted in finds, seven less than the year before, although all were relatively minor. However, some could be developed profitably if tied in to fields currently in operation.
In 2017, the NPD updated its estimates for Norway's undiscovered resources, based on its own mapping of unopened areas in the Barents Sea North.
This suggests the volume of resources in theBarents Sea is around 80% higher than in the previous analysis from 2015, while the estimates for the North Sea and Norwegian Sea are unchanged.
"Nearly two‐thirds of the undiscovered resources are located in the Barents Sea. This area will be important in maintaining high production over the longer term," Nyland said.
The average cost per exploration well was around NOK240 million ($30 million) in 2017, about half the cost per well compared with 2013/2014. The largest discovery in 2017 wasLundin's Filicudi oil and gas find in the Barents Sea (10-20 MMcmoe).
In 2018, submitted plans indicate that most exploration wells will be drilled in the North Sea.
Overall E&P costs have come down progressively across the Norwegian shelf since 2014 following implementation of various measures in the planning, execution, and operations phases. These have led to improved efficiency, simpler solutions and more use of standardized solutions.
Development project prices have come down by 30-50% over while, at the same time, the oil price has risen, which will have a positive knock-on effect on project economics.
Operating costs have been reduced by around 30% since 2013/2014, partly through streamlining and lower supplier prices, although the latter are set to rise as a consequence of the higher activity level.
At the same time, efforts are under way to prepare new measures for additional improvements and cost reductions.
"The projects now being approved generally…can tolerate an oil price as low as $30‐40/bbl," Nyland said.
In 2018, the NPD forecasts total investments of around NOK122 billion ($15.3 billion), similar to last year, rising to just under NOK140 billion ($17.56 billion) in 2019.
Whereas investments in new facilities resting on the seabed and floating facilities look set to decline over the years ahead, investments in new seabed facilities, existing facilities and new development wells will likely increase.
Ninefield developments are currently ongoing:
North Sea:Johan Sverdrup, Martin Linge, Utgard, Oda, and Hanz
Norwegian Sea: Aasta Hansteen, Dvalin, Bauge, and Trestakk.
The authorities also approved eight PDOs in 2017 with total investments of nearly NOK50 billion ($6.3 billion).
Plans submitted for new projects last fall and others set to be submitted in 2018 and 2019 have a total projected investment level of around NOK240 billion ($30 billion).
However, there are few new, major projects under consideration.