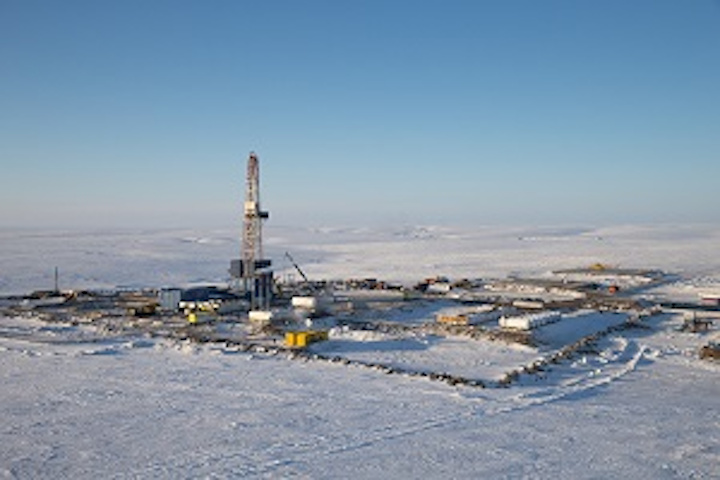 Offshore staff
MOSCOW – Rosneft has started drilling from shore the Tsentralno-Olginskaya-1 well into the Khatangsky license area in the Laptev Sea.
This is said to be the northernmost well to date on theRussian Arctic shelf.
Over the past year Rosneft completed 21 linear km (13 mi) of seismic studies that indicated 114 promising oil and gas-bearing structures. The company estimates suggest the Laptev Sea could contain up to 9.5 billion metric toe (10.47 billion toe).
There are no sea ports in the vicinity of the Khara-Tumus peninsula in northwest Russia, and the navigation period in this area only lasts for two months a year. However, last summer more than 8,000 tons of cargos were delivered from the port of Arkhangelsk to the drilling site.
Two ice-class cargo vessels had sailed 3,600 km (2,237 mi) across the White Sea, Kara Sea, and Laptev Sea to deliver the drilling rig, equipment and materials for the drilling, and accommodation modules: RN-Burenie, Rosneft's in-house service company, is managing the drilling campaign.
During the project's implementation results will be used from the work of the first year-round research base in the Arctic region, which Rosneft established last year close to the drilling site in Khatanga bay.
Design depth of the well is up to 5,000 m (16,404 ft), to be followed by a subsequent horizontal leg. Rosneft says its technology allows it to drill with a vertical deviation of up to 15,000 m (49,212 ft).
The Khatangsky license area is in Khatanga Bay, in the northern Krasnoyarsk Region, in a water depth of up to 32 m (105 ft).
Rosneft plans further exploration investments of up to RUB250 billion ($4.43 billion) across the Russian sector during 2017-2021. Later this year it will start drilling in the Black Sea, followed by a drilling program in the Barents Sea. In 2019, it plans to return to the Kara oil and gas field and continue another program of work in the eastern Arctic.
04/04/2017