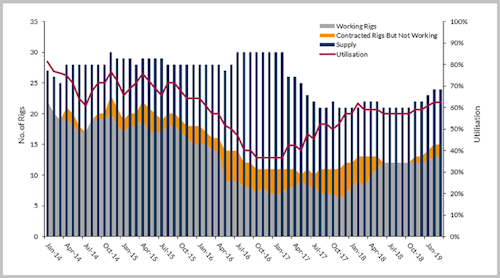 Offshore staff
LONDON – High-impact exploration in deepwater West Africa was disappointing last year, according to Westwood Global Energy Group, with only one potentially commercial discovery at Eni's Kalimba-1 well off Angola.
Failed wells includedKosmos' Requin Tigre-1 offshore Mauritania, FAR's Samo-1 offshore The Gambia, and two probably non-commercial presalt discoveries off Gabon – Petronas' Boudji-1 and Repsol's Ivela-1, said Westwood senior analyst Teresa Wilkie.
This year's line-up will include Total's Jamm-1 and Yaboy-1 wells offshore Senegal and Mauritania respectively, with Kosmos, carried by BP, drilling the 13-tcf prospect Orca.
Svenska is due to drill the Atum-1 prospect offshore Guinea Bissau, and Eni will likely continue its exploration campaign in block 15/06 offshore Angola.
Over the next few years several planned developments could provide long-term rig demand. Woodside Energy plans up to 25 wells using two floating rigs at itsSNE Phase 1 project off Senegal, while Aker Energy will drill up to 26 wells at its Deepwater Tano/Cape Three Points Phase 1 project offshore Ghana.
Total, BP, and Chevron also have long-term developments in prospect offshore Angola.
According to Wilkie, the West African jackup market peaked in January 2014, when all but one marketed rig was on hire and overall take-up was at 81%. However, once the downturn took hold take-up plummeted to 37% by October 2016 when only 11 of the 30 rigs in the region were under contract.
Drilling contractors reacted by retiring their older jackups, resulting in a supply decline of nine rigs by the end of 2017. There has been a recovery since, with jackup use reaching 53% early last month.
Shelf Drilling and Borr Drilling are the two biggest jackup contractors in the region, followed by others such as Vantage Drilling and Ensco. Day rates have remained subdued, although some high-spec rigs have secured fixed rates of $70,000-$80,000/d of late, compared with the previous figure of less than $60,000/d for many rigs.  
The downturn in West Africa's floating rig sector has been more severe, with the Canaries increasingly serving as a stacking ground. By last July, only 18 of 35 floating rigs in the region were on hire. Currently 19 are on hire or with contracts due to start this year and day rates remain low, between $130,000 and $170,000.
There are reports of two soon-to-be-awarded contracts for jobs starting in 2020 at fixed rates of $200,000-$300,000/d, although the operator is thought to be requesting drilling contractors accept contract conditions with high liabilities.
The wheels are in motion for a recovery in the African rig market, Wilkie concluded, but she did not see a rapid comeback as in other areas such as Norway. It would help if all operator exploration and development projects in the region were approved quicker, and if additional exploration successes followed such as the recent Total gas-condensate discovery atBrulpadda off South Africa.
04/10/2019