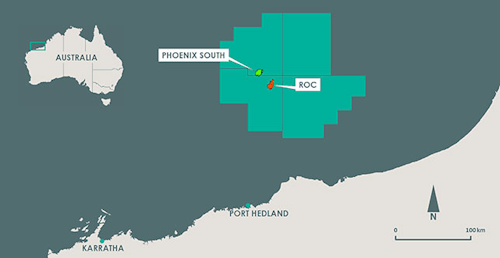 Offshore staff
PERTH, Australia– Quadrant Energy has confirmed a successful well test from the Roc-2 appraisal well, 165 km (103 mi) north of Port Hedland in the Bedout basin offshore Western Australia.
Roc-2 flow tested at a maximum (equipment constrained) rate of 51.2 MMcf/d of gas and 2,943 b/d of condensate from a 25 m (82 ft) thick perforated interval at 4,400 m (14,436 ft) below sea level.
Quadrant Energy says the successful test result highlights the prospectivity of the Bedout basin.
The Roc-2 well is located in the WA-437-P exploration permit in the North West Shelf. Quadrant Energy is the operator with 80% equity interest, and Carnarvon Petroleum holds the remaining 20%.
Since farming into the area in 2012, the Quadrant Energy-led joint venture has achieved a 100% success rate in three exploration wells:Phoenix South-1, Roc-1, and Roc-2.
Adrian Cook, managing director of Carnarvon, said: "The Roc-2 well has provided us with a significant amount of valuable new information, and the flow test result very clearly and unequivocally demonstrates the capability of these hydrocarbons to flow from quality reservoir within the basin.
"We are very happy with the Roc-2 well flow test results which are at rates that are significant in our industry."
10/19/2016