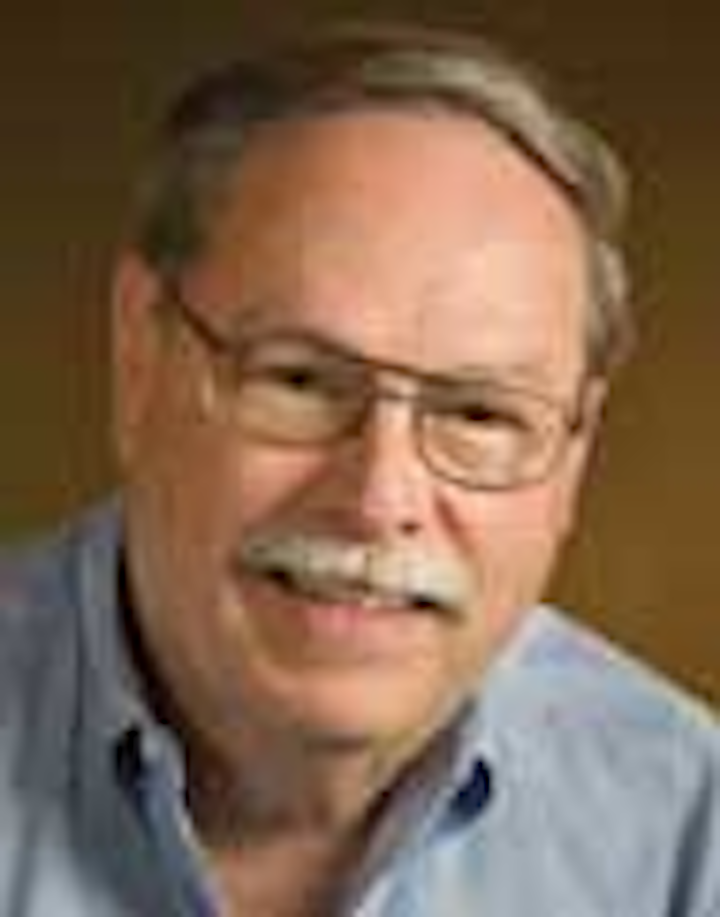 | | | |
| --- | --- | --- |
| | | Dick Ghiselin • Houston |
In anOffshore Technology Conference that transcended all previous records for attendance, the entire industry shone with optimism and enthusiasm on the world stage. More than 108,300 delegates and visitors packed the exhibit halls and technical paper sessions, and, as usual, technology advances took the spotlight.
Twelve technology innovations captured the prestigious"OTC Spotlight" awards. FMC Technologies and GE Oil & Gas both won two awards, and Schlumberger won in three categories. The majority of awards went to innovations in drilling and production technology and will be featured in this column. Other awards, just as significant, introduced new ideas in maintenance, offshore loading, signal telemetry, P&A slot recovery, and 3D seismic acquisition.
The following companies received thedrilling and production awards:
• Baker Hughes received the award for its LaunchPRO Wireless Top Drive Cement Head, a remote-activation system for deepwater cementing operations. Reducing risk while saving rig time, the device is capable of launching balls, darts, and plugs as required during cementing of long strings and liners. Activated by a single rig air hose, the system provides instant wireless feedback to the operator to allow for adjustments in the technique if needed. Real-time feedback and wireless control maximize safety by keeping all stakeholders informed of each stage of the operation.
• FMC Technologies won for an ISOL-8 pump for BOP activation. Providing secondary intervention capability from ROVs to safely close subsea BOP shear rams in the event of an emergency, the ISOL-8 pump fully complies with API Standard 53. When integrated with FMC Technologies UHD III ROV, the new pump can fully close the rams within 45 seconds. Capable of providing 50 gpm of actuating fluid at 5,000 psi, the device's independent pistons are synchronized with software control. According to the company, the system is depth-insensitive and can save operators up to $4.5 million per rig compared to existing solutions.
• GE Oil & Gas focused on solving a common issue with electric submersible pump (ESP) telemetry--electrical interference on the power cable that doubles as a telemetry conduit for vital pump condition and well performance information. By equipping ESPs with its new Ground Fault Immune monitoring system, operators are able to maintain continuous surveillance of their ESPs to sense when pump performance signals potential problems or well performance is sub-optimal. The new system cannot be disturbed by ground faults, common when telemetry is multiplexed over power cables, solving a 40-year problem.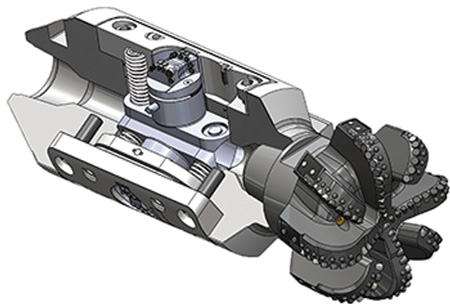 Halliburton's TDReam tool is designed to reduce rathole length and reach target depth in one run.
• Halliburton received the award for its TDReam Tool, a hydraulically activated reamer shoe that is deployed just behind the drill bit. By short-coupling the reaming operation with drilling, it is no longer necessary to drill lengthy rat holes or making an extra trip with a hole-opener before running pipe. The proximity of the reamer shoe to the drill bit also takes advantage of the bit's hydraulic energy to clear cuttings away and transport them away from the rock face. Steerability is also enhanced. According to the company, the new tool reduces rathole length while increasing the ability to reach target depth in a single run.
• SBM Offshore won for its Very High Pressure Fluid Swivel. Designed for ultra-deepwater production operations, the state-of-the-art fluid swivel increases the tool's operating range by cascading the pressure drop over multiple seals. The 12-in. prototype was successfully qualified to 12,000 psi on long-term endurance runs, but has the capability to maintain fluid integrity up to 14,500 psi. Targeting gas or water injection into ultra-high-pressure reservoirs from FPSOs, the design is scalable to meet specific situations.
• Schlumberger won awards in three categories: two in drilling and one in marine 3D seismic acquisition. Drilling and Production awards featured the Fluid Loss and Gain (FLAG) measurement developed by Geoservices, a Schlumberger Company, and Seismic-Guided Drilling (SGD) Pore-Pressure Prediction Ahead of the Bit. Recognizing the risk associated with undetected loss or gain of drilling fluid, Geoservices engineers developed a module containing accurate and sensitive Coriolis flow meters. Highly sensitive to fluid flow fluctuations but intelligent enough to prevent false alarms, the FLAG early-warning system quick-response metering module can be installed on any rig anywhere. It works in a variety of situations, including drilling, tripping, circulating, and cementing and with any fluid.
• Schlumberger addressed an issue that has threatened drillers for decades with its second Spotlight Award, a 3D look ahead seismic-while-drilling tool that can detect and provide early warning for over-pressured formations, hundreds of meters before they are penetrated by the bit. SGD combines surface seismic and logging-while-drilling (LWD) technology to provide a 3D velocity model with greatly-reduced uncertainty. Velocities ahead of the bit are re-calculated from seismic reflections using LWD velocities behind the bit as a constraint. According to the company, this provides more accurate results than any other technique to date, enabling the application of velocity-pressure transforms to give more accurate formation pressures.
• Weatherford won for its CasingLink, Electro-magnetic (EM) Antenna System. The tool enhances signal fidelity of EM telemetry encountered while drilling at extreme depths or extended reach lengths. Telemetry signals from downhole tools are detected by a borehole receiver located at the casing shoe and linked to a surface receiver via an insulated wire that is deployed unto the hole on the outside of the casing when casing is run and before cementing. Attenuation in the wire is negligible. The device extends the operating range of EM telemetry. Unlike mud-pulse telemetry, EM telemetry is working all the time, not just while circulating.
---
Phil Vollands joins Newpark
Oil and gas industry veteran Philip Vollands, recently named president of Newpark Drilling Fluids, North America, visited withOffshore at the 2014 Offshore Technology Conference to discuss his views on the current state of the business from the standpoint of a leading drilling fluids provider.
"We see exciting opportunities for our Evolution fluids system in North America, particularly in resource plays," he said. "Overseas, we have pursued excellent opportunities in Europe and elsewhere."
Vollands pointed out that many shale plays contain non-reactive clays and are excellent targets for the company's water- or polymer-based products. Such products present the best environment for resistivity-based logging and formation imaging instruments.
"Unlike many of our competitors, drilling fluids are our only business," he said. "We are able to concentrate our expertise and technical competence to focus on our customers' most vexing problems and work together to engineer solutions."
The company is growing its reputation worldwide with a strategy that includes delivering technical papers and articles at forums located in overseas markets. "What works in North America will work elsewhere," Vollands concluded.