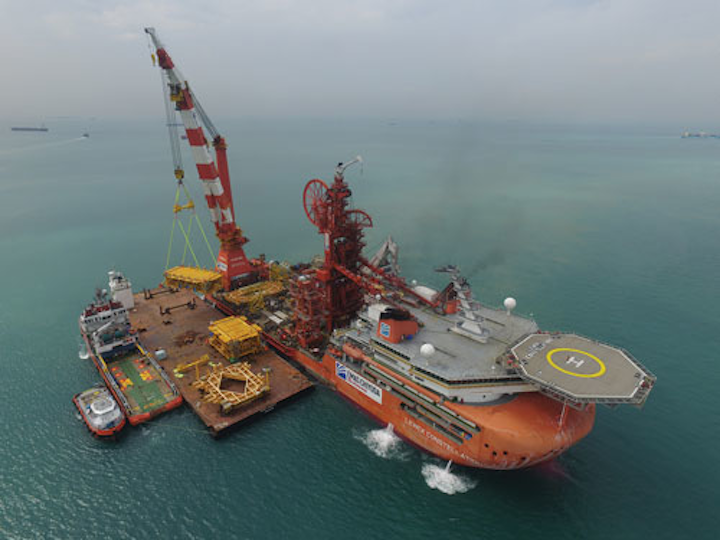 | | | |
| --- | --- | --- |
| | | Sarah Parker Musarra Houston |
With fabrication under way for Phase Two on the Giza, Fayoum, and Raven fields, Subsea 7 says the last stage of the offshore campaign is in progress for Phase One of the West Nile Delta project on the Taurus and Libra fields, located in the Egyptian sector of the Mediterranean Sea. The company's work on the East Nile Delta project is substantially completed and its engineering teams have mobilized for the newly awarded Atoll project.
The company has been awarded several contracts by the project operator BP and partner DEA since 2015 to cover the first and second phases. Subsea 7 was contracted that year for the engineering, procurement, installation, and pre-commissioning of subsea infrastructure for nine wells, including 75 km (46.6 mi) of umbilicals and 100 km (62 mi) of pipeline. In 2016, an EPCI contract for development of the Giza, Fayoum, and Raven gas fields offshore Alexandria, Egypt. The latter award was related to subsea infrastructure associated with 12 wells and includes 80 km (49.7 mi) of umbilicals, 220 km (137 mi) of pipelines, and installation of the export lines from the subsea location to the onshore Idku terminal.
Subsea 7 is cautiously optimistic about future prospects. It said that a degree of stability had been achieved, and that there are indications that project sanctions will increase.
Ezra, EMAS CHIYODA files for bankruptcy protection
EMAS CHIYODA Subsea Ltd. (ECS) is seeking to restructure through Chapter 11 bankruptcy protection, filed in Houston this March. The company had racked up substantial amount of debt, and it said that the filing would allow it to continue operations and make operational changes. Weeks later, parent company Ezra Holdings Ltd. and two affiliates filed for the same, in White Plains, New York. Its 20 largest creditors were owed more than $607 million as of Feb. 28.
"ECS' operational and financial performance is dependent on the macro outlook and expansion plans of oil majors. While ECS has an order book of over $1 billion, the commencement dates of many of these projects remain in flux, affecting utilization levels and negatively impacting financial performance," the company said in a statement.
Chiyoda Corp. formed EMAS CHIYODA Subsea with EMAS AMC, Ezra's subsea services holding, in March 2016. The 50/50 joint venture was to combine EMAS AMC's service capabilities and its installation and construction vessel fleet with Chiyoda's front-end engineering design and engineering, procurement and construction experience to offer a more integrated approach. In June, Japanese shipping company Nippon Yusen Kabushiki Kaisha agreed with the co-venturers to acquire a 25% stake of EMAS CHIYODA.
At the 2016 Subsea Tieback Forum & Exhibition, then-EMAS AMC COO Daniel Sack spoke toOffshore about the joint venture, as it was then expected to close in days. He said that the company had managed to prove itself as a tier one subsea construction contractor in a relatively short period of time through successful jobs like those performed for Noble Energy in the Gulf of Mexico (in 2015), on which the operator presented at the 2016 Forum.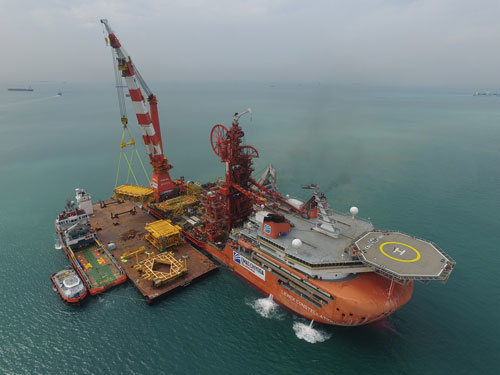 EMAS CHIYODA's Lewek Constellation is shown working offshore Australia on the Julimar project for operator Woodside in 2016, soon after the ink had dried on the JV between EMAS AMC and Chiyoda Corp. The subsea contractor had to file for Chapter 11 bankruptcy despite claiming an order book of over $1 billion. (Image courtesy EMAS CHIYODA)
In connection with the filing, the company received a loan of up to $90 million from Chiyoda Corp. and Subsea 7. Subject to bankruptcy court approval, the financing will be made available to support ECS' continuing business operations and make necessary operational changes.
The Houston Chronicle says ECS employs a staff of around 200. The company opened its doors in Houston in 2011 before moving to City Centre 5 last year.
Singapore's The Strait Times said that among ECS' court documents was a list of creditors; the 40 largest unsecured claims included Singaporean bank DBS, with claims of around $84.6 million, and OCBC Bank with $13.1 million. Keppel Shipyard also had a claim for $2.8 million, among other contractors.
In February, Chiyoda and NYK said they incurred "extraordinary loss" from ECS' reduced value and wrote down investments upwards of $300 million and $115 million, respectively.
The Singaporean paper also pointed to a few other recent indications of ECS' financial health. Bibby Offshore filed for arbitration against ECS, claiming it was owed $14.7 million from $18.1 million of contracts performed in Trinidad in 2016. Also, Forland Subsea AS said a unit of EMAS AMC had defaulted on a charter payment for theLewek Inspector.
ECS was awarded work at least as recent as January through its consortium with Larsen & Toubro Hydrocarbon Engineering to supply and install four wellhead decks in the Safaniya oil field in the Persian Gulf.
EMAS-AMC AS, ECS' Norway based wholly owned subsea subsidiary, has been placed under members' voluntary liquidation in Norway. A separate independent, it has not filed for bankruptcy protection.
The day after Ezra filed, EMAS Offshore Ltd. warned that this action might negatively affect the company and its subsidiaries. If the company's ability to refinance its financial obligations and liabilities is impacted, it could face a going concern issue, it said.
McDermott tapped for Hess tieback
McDermott International Inc. has received a contract award from Hess Corp. for subsea tieback work for its deepwater Penn State Deep (PSD) field in the Gulf of Mexico. Discovered in 1996, the field is located in the Garden Banks block 216 in about 1,500 ft (457 m) of water. PSD began production in 1999; the subsalt discovery was tied back to the nearby Baldpate in Garden Banks 260. The lump-sum contract will be reflected in McDermott's 1Q 2017 backlog.