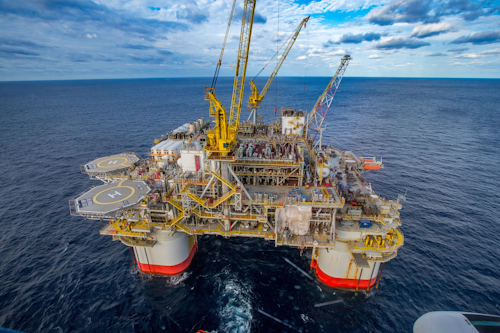 (Courtesy Business Wire)
Chevron to increase production at St. Malo field 
Chevron Corp. has sanctioned a waterflood project in the St. Malo field in the deepwater Gulf of Mexico.
This is the company's first waterflood project in the deepwater Wilcox trend and is expected to contribute an estimated ultimate recovery of more than 175 MMboe. It will include two new production wells, three new injector wells, and topsides injection equipment for the Jack/St. Malo floating production unit.
Located about 280 mi (450 km) south of New Orleans, the St. Malo field has an estimated remaining production life of 30 years. The field lies in Walker Ridge block 678 at a water depth of 2,100 ft (640 m).
Steve Green, President of Chevron North America Exploration and Production, said: "The St. Malo field is a world-class asset that is positioned for highly economic brownfield development. With our leading technology, experienced workforce and broad portfolio, we're delivering value in the Gulf of Mexico."
Chevron, through its subsidiaries, Chevron U.S.A. Inc. and Union Oil Company of California, holds a 51% working interest in the St. Malo field, with co-owners MP Gulf of Mexico, LLC (25%), Equinor Gulf of Mexico LLC (21.5%), Exxon Mobil Corp. (1.25%), and Eni Petroleum US LLC (1.25%).
BHGE deploys downhole intelligent wet-mate system 
Baker Hughes, a GE company, reports the successful deployment of its SureCONNECT downhole intelligent wet-mate system, which enables real-time production monitoring and control of the completion system across the entire wellbore in multi-trip completions. BHGE says that the system is designed to enable operators to make data-driven decisions to optimize reservoir performance and proactively mitigate risks.
BHGE and BP deployed the SureCONNECT system in the Clair Ridge development offshore Scotland, marking the world's first multi-trip completion installation with fullbore fiber-optic capability. This is a milestone for BP's plan to improve surveillance data and well-performance functionality, with the goal of ultimately introducing fiber-optics in subsea wells. The operations resulted in successfully mating six optical fibers—each the size of a human hair—between the upper and lower completions, more than a mile below the earth's surface. The data gathered will be used in parallel with conventional well surveillance data to provide a better understanding of fracture performance in real time.
Multi-trip completion designs are most often used in offshore, subsea and other complex wells to reliably get the completion assembly to depth without damaging the reservoir. While this addresses the associated risks, it also restricts the ability to run fiber, electronic and hydraulic lines across the full wellbore. The SureCONNECT system is designed to address this by enabling connection and re-connection of the upper completion components and lower completion. It is said to offer a modular approach, connecting hydraulic, electronic and/or fiber with one system design, further driving reliability and consistency across applications.
ABS, Keppel develop rigs with Smart Notations 
ABS has partnered with Keppel Offshore & Marine (Keppel O&M) in developing the first two newbuild drilling rigs with Smart Notations. One of the rigs, which was delivered earlier this year for work in offshore Mexico, is already online with its performance being monitored from Singapore.
In line with issuing the ABS Guide for Smart Functions for Marine Vessels and Offshore Units, Keppel O&M is recognized as the first shipyard group to integrate smart functions into rigs.
Demonstrating ABS and Keppel leadership in offshore digital technology, the rigs use data collected from a range of sensors monitoring machinery and structural health to improve their performance.
As part of a joint development project with Keppel, ABS refined its methodology to verify and validate Smart Functions, supporting a more data-centric approach to survey after construction and ultimately assisting rig owners to move to a rig-specific condition-based class approach.
"These rigs set a new benchmark for offshore assets, underlining how ABS is setting the pace in digital innovation in the marine and offshore industries," said ABS Chairman, President and CEO, Christopher J. Wiernicki. "Smart functionality for both machinery and structures provides a rich stream of data we can leverage in a condition-based class approach, offering data-driven insights to focus surveys on areas that need attention—while potentially offering increased uptime and optimizing maintenance practices."
Chris Ong, CEO of Keppel O&M said: "These are the industry's first drilling rigs with Smart Notations and demonstrate how Keppel is adding value with our proprietary RigCare Solution. This encompasses a suite of digital services, which in close collaboration with ABS and partners, supports the rig's lifecycle needs. RigCare Solution will significantly transform the efficiency, safety and operability of the rig." •